How

How to use Live Games page
Main features
This is our main page where you can see all in-play games with current stats and odds. Let me show you what kind of information we can provide here! Clicking on LIVE GAMES we can see all in-play games where we are able to show you current in-play stats with lines and odds. We are also able to check some important pre-game information with one click.
Let's take one game, for example, to show you what and how we are able to check on the site. Some things should be pretty clear here. We can see current game time, home team, current score and away team. Infront of teams, we have yellow cards count and after team names, we can see league position before the game. You can also sort the games by statistics. Important here is that the site sorts statistics putting the games with the highest difference of actions on top and to get maximum out of it, click on REMOVE LABELS. This takes out the league name rows and enables you to have better overview of sorted statistics.
Corners & Shots on/off target
Now the interesting part. In the first column, we can see current corners count. The top row shows full game corner count and under that, we can see the momentum corners.
The momentum you can add on the main page and set it as you prefer personally. Last 5 minutes, last 10 minutes, last 15 minutes etc.
The second column shows you shots on target count. Again the logic is same as with corners. The first row shows you current stats and the second row shows the momentum shots. The third column shows shots off target. Same logic as before.
Red = Corners, Green = Shots on-targets, Blue = Shots off-targets
Attacks & Dangerous attacks
The last column in this list shows dangerous attacks and again same logic as in previous columns.

Brown = Attacks, Yellow = Dangerous attacks
Odds
Also, Asian Handicap section shows INPLAY LINE! An important thing to remember.
Last but not least, Goal Line sections. Also current line and odds in-play, odds and lines same as in Bet365.
The small star behind the games is for adding the games into your favourites.
Clicking it brings the game on top of the page, so all games you are interested in to follow more closely are on top of the page.
Historical data
Next trick! Clicking on the icon (plus & minus) before the game name opens up some interesting statistics.
The first part of the information provided! Pos column shows us the position on teams in league table BEFORE the game. Also, we can quickly see both teams last 5 games, how many games they have played in the league, points gained, wins, draws, losses, goals scored, goals conceded and goal difference - in the same order.
Now probably more confusing part, Average Stats section:
G (All) shows us the average amount of goals this team have scored in the league playing at home and at away grounds.
G (Home) shows us average goals for the home team scored on their own ground.
G (Away) shows us average goals for away team scored on away ground.
Corners show teams average corners. Important here is that here we can see average corners totals, home and away.
STS shows us average shots. Here we can see shots off and on target at home and away overall.
STS (On Target) shows us teams shots only ON TARGET. This number shows shots on target on both, at home and away.
STS (Off Target) shows us teams shots only OFF TARGET. This number shows shots off target on both, at home and away.
ATS shows us attacks average on home and away ground.
DATS shows us dangerous attacks average on home and away ground.
Also when clicking on the button after the game name, we can see team/league notes. These notes all private and every user can write their own notes regarding team news, mutual matches and particular league.
Latest goals
On the main page, there's also the possibility to open a window where all latest goals are shown!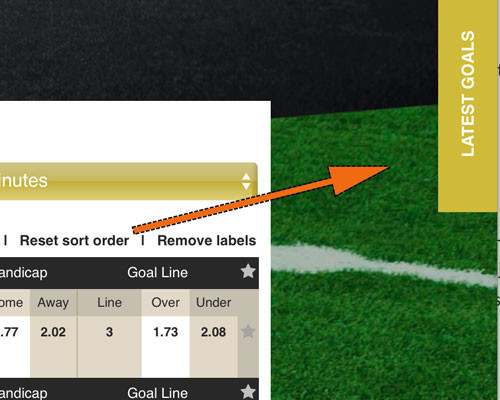 On the main page we can also check all finished games. All games there are in order by the time they finished.
Clicking on Finished favourites we can see all finished games which were on our favourites list
Search
Now our search engine! Type in team name and tool gives you at first all recent games with similar team names. To see the certain team, click on Show more results. This leads us to TEAM PAGE. To the TEAM PAGE, we can get also when clicking on any team name in the main page. Information provided there and how to find it we will cover in next video.