News / Updates
11.10.2017
NEW! Live in-play page has been updated! We replaced open details icon with plus and minus icon and also added icon information menu.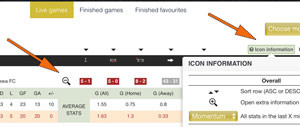 19.08.2017
NEW! Momentum function on "Live in-play" page - check last 5, 10, 15, 20, 25, 30 or 35 minutes stats!


NEW! Underdog is ahead! If underdog is ahead then score will be bordered with red color.

14.06.2017
NEW! Notifications! This part is still under development, but you can set-up your own notification rules. Ensure that you will receive notifications as soon as development will be completed - add your own notification rules already today.
12.06.2017
NEW! Live in-play page has been updated! There are two new extra sections - "Finished games" and "Finished favourites".
03.06.2017
Timeline (vertical / text based - game page)

See exact time when shot on target and shot off target had made. Just open the game and look vertical timeline for that information.

Attacks graph (game page)

League selection filter added for attacks graph
Average attacks, attacks to score and average goals per game projections added

15.05.2017
Today we have more functionality than RBallDB.com ever had, also there are tons of new features coming all the time.
Be prepared for new ULTIMATE punter tool!
As you can see website visual is a bit robust, but don't worry, front end visual is in development and will be ready in a week or two!

14.05.2017
BETA Launched for all users

12.05.2017
BETA Launched for RBallDB users

10.05.2017
Affiliate system launched.
Want to earn up to 15% on every reccommendation you make?
Not as a one time payment, but for a lifetime?
Sounds good, then register account, set up your affiliate account, share the link and start to generate your passive income.
No limits for earnings, no limits for schedules.