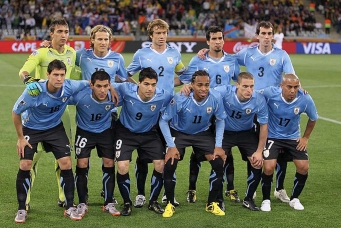 FIFA World Cup 2018 Group A.

Russia
Russia as the host nation plays in Group A in FIFA World Cup 2018. They didn't play in qualification groups of course and I afraid this is a big disadvantage for them.
This means not much competitive football and a majority of their players are playing in a local league.
They are second favourites to advance from the group by the bookies in front of Saudi Arabia and Egypt and after Uruguay.
Russia has been eliminated in the group in each of the last three World Cups and last two European Championships.
Russia has managed to keep a clean sheet in 4 of their last 15 matches only. They conceded 9 goals in their last 3 friendlies against Spain, France and Brazil.
Drawing against Spain 3-3 and loosing other 2 games. They managed to lose only 0-1 against Argentina, but all these games were played in Russia.
Although they scored 3 against Spain, I wouldn't pay too much attention to these goals. I saw all these games and opponents played these games out more like exhibition games.
They have 2 upcoming friendlies against Austria and Turkey before the group games. In these games, they will probably tighten the defence or otherwise, it will be tough 3 group games for them in FIFA World Cup 2018.
Tactics and manager
Stanislav Cherchesov was appointed as manager after disappointing Euro 2016 campaign. Former coach Leonid Slutsky gave over the ageing squad. Cherchesov had to start rebuilding quickly and added some youth to the team, keeping in eye the FIFA World Cup 2018.
Viktor Vasin, Fedor Kudryashov, Georgi Dzhikiya and Aleksei Miranchuk were added to the rotation.
New coach prefers to use 3-5-2 tactics instead of 4 at the back. Russia team have been quite negative and rather direct with their gameplay in recent years.
Adding some extra strength to the midfield with raising wings, they want to improve their tactics. During the Euros, they played mostly with long balls and both their goals were headers. With a new manager, they try to hold the ball longer and not depend so much on these long balls, depends of course who they will use as a starting striker.
In Legia, he tends to play with a narrow team on the field. Building the game from the back and much more attacking team than the previous managers for Russian national team.
This can be a big advantage considering their current squad, as its mainly players from Russian league.
In Russian League, he was the manager for Dynamo Moscow, Spartak Moscow, Terek and Amkar.
Cherchesov started his managerial career in Kufstein and Wacker Tirol, before coming to Russia.


Squad information
The average age of the squad was 29 during the Euros and same in 2017 Confederations Cup. Old horses in defence were dropped quickly.
Vasili and Alexei Berezutski with Sergei Ignashevich have been main players in defence for over 10 years.
There's a lot of experimenting and if we take out legend Yuri Zhirkov and Dmitri Kombarov, (both over 30 years old), most caps for the team have Igor Smolnikov, 25 games.
A big problem against strong squads where most of the players are playing in top leagues against world class players every week.
Also, a big problem when the defenders face some world class strikers like Salah, Cavani and Suarez.
Luckily for Russia, they are in one of the weakest group in FIFA World cup 2018.
Anton Miranchuk with a stunning goal in his debut game for Russia. pic.twitter.com/lVt5SgBmG0

— Stefano Conforti (@confortistefano) September 3, 2017

There are some big missings for Russia also. Striker Aleksandr Kokorin (48 games, 12 goals for Russia) will miss the tournament due to injury.
He plays for Zenit and had 10 goals in 22 games for the team. Defenders Dzhikiya and Vasin missing the tournament also due to injuries. Both had more games for the national team than half of the defenders in the preliminary squad. Another defender, Ruslan Kambolov (Rubin Kazan) were withdrawn just before the squad announcement and replaced by 38 years old Sergei Ignashevich. Glushakov and Kombarov, who both have over 40 games for the team, are not called up. Surprising for me, as Kombarov could have been a good addition to the team considering the lack of experience in defence.
Preliminary squad overview for FIFA World cup 2018



There are 2 main weaknesses in their squad before FIFA World Cup 2018. Inexperience on playing national level and the fact that most of the players are playing in the local Russian league. There's probably no more than 3 players in the whole squad who is playing in a foreign league.
Midfielder Denis Cherysev is playing in Spanish La Liga, defender Roman Neustädter is playing in Turkey. Goalkeeper Vladimir Gabulov is playing in Belgium.
Gabulov isn't in starting 11 I'm sure, as the main goalkeeper has been for years and will be in this tournament captain Igor Akinfeev.

Defence - All these missings made Russias already a rather weak defence more vulnerable in my opinion. Goalkeeper Igor Akinfeev has to raise his game.
He depends on defence where only 2 players have more than 20 games for the national team. Some stats here are misleading though, as Brazil-born defender Mario Fernandes (1 game for Brazil national team) got Russian citizenship and is in the list. Also, defender Roman Neustädter, who played 4 seasons in Schalke, can represent Russian team now. Only 4 players have more than 10 games, but their midfield has some dark horses.
Midfield - There are two old quality names on the list in my opinion. Yuri Zhirkov and Alan Dzagoev. Zhirkov has played in Chelsea from 2009-2011 and Dzagoev have played his whole career in Russia. We all should remember how good he was in 2012 Euros where he finished with 3 goals.
As Russian team has history to have twins in the team, there are two young twin brothers in the list also for World Cup.
Anton Miranchuk and Aleksei Miranchuk, 22 years old and they are the dark horses I mentioned earlier. I really think they can have a good impression if they can keep their head cool and show the world what they have to offer. Another young gun is Moscow CSKA midfielder Aleksandr Golovin, who has the perfect chance to show how gifted he is technically. Two of them at least will surprise at the tournament and Aleksei and Aleksandr have goals already scored for the team.
Another quality in midfield is, of course, Denis Cherysev from Villarreal.
Attack - two strikers fighting for the spot are Fyodor Smolov and Artem Dzyuba. I'll go with Smolov here, plays in Krasnodar and scored 14 goals this season with 18 in last season. 12 goals in 30 games for Russia against 11 goals in 22 games for Dzyuba.


Uruguay
La Celeste has played in last 4 World Cup playoffs and finally managed to qualify directly after Brazil. It was very tight though. Uruguay managed to collect 31 points and Colombia, who qualified as the 4th team, had 27 points. Peru played in playoffs this time and finished the main tournament with 26 points.
Chile was left out this time with 26 points. They started the journey strong, winning against Bolivia at away ground, which is always a hard task.
Two draws against poor Venezuela and everything was possible before the last game against Bolivia, where they managed to win 4-2. They won only 2 away games out of 9 with a negative goal difference.
What is worrying again is their results in friendlies. 3 losses and 1 draw in last 4 games against Ireland, Italy, Austria and Poland. There were slight improvements in China Cup games, but I'm quite sure they can show step ahead in their friendly against Uzbekistan.
Uruguay is, of course, the main favourite to win the group and considering their strong core of the team and opponents in the group, I'm sure they will advance from FIFA World Cup 2018 group stage.
Uruguay starts their group games against Egypt on 15 June. The second game is against Saudi Arabia on 20 June and last game is against the host on 25 June in FIFA World cup 2018.
Anyone remember this ❓ ?

Dario Rodriguez scored one of the best goals of the 2002 @FIFAWorldCup when he struck this scorcher for Uruguay #OnThisDay in 2️⃣0️⃣0️⃣2️⃣...

? #FifaWorldCup2018 #FIFA18 #WC2018 pic.twitter.com/Yj6N2NSr2j

— Football On This Day (@footieonthisday) June 1, 2018
Tactics and manager
Uruguay's coach, Oscar Tabarez, has been there since 2006. The teacher has coached over 10 different football clubs and was the coach for Uruguay also from 1988 - 1990. Tabarez has been coaching also Uruguay youth teams and due to that knows the local system and players very well.
This is a big advantage for Uruguay and Tabarez has brought them back to top on South American teams. With him in charge, Uruguay hasn't failed to qualify from the group stage and also they won 2011 Copa Americana.
Tabarez likes to play fast football oriented for attacking and speed. He has dropped some old guns from the midfield who's main strengths were getting the ball back but lacks offensive creativity. In 2010 FIFA World Cup, Uruguay's team were runnings the most without a ball according to stats and were also the best in defence.
What also describes the team's tactics best is a quote from Tabarez: " Today's game involves a lot of running, is very intense. "
For these reasons, it's always a pleasure to watch counter attacking Uruguay's games when they line up with their 4-4-2 tactics and star players in attack - Luis Suarez and Edinson Cavani.
I dare to say that we can see even more physical, running and attacking Uruguay than during last World Cup. That's because during last year or so Tabarez has been adding new additions to the team, mainly in midfield. Young and talented mainly offensive players like Vecino, Arrascaeta, Bentancur and Valverde have finally taken a spot from Gonzales, Rios and Hernadez. Also one of my pick for a transfer to the top club after the FIFA World Cup 2018 would be Lucas Torreira from Sampdoria.
Two good seasons in Serie A for this central midfielder and connects well with teammate Gaston Ramirez.

Squad information
The team has a great core of older experienced players added with some explosive young talent in FIFA World cup 2018.
Goalkeeper Fernando Muslera has 92 games and in front of him, there's Atletico Madrid defensive pair Diego Godin with Jose Gimenez.
Atletico is regarded as one of the best team in defence and these two are a force! In midfield, there are experienced Cristian Rodriquez and Nicolas Lodeiro with 20-year-old Rodrigo Bentancur (20 games for Juventus in Serie A) and 19-year-old Federico Valverde (24 games for Deportivo La Coruna in Spanish La Liga, on loan from Real Madrid).
Matias Vecino has been an integral part of Inter Milan team in Serie A this season with 29 games and of course Torreira. Nahitan Nandez from Boca Juniors is playing in the top European club next season, I'm quite sure.
In attack, they can brag with two names. Luis Suares and Edinson Cavani. Suarez had 25 goals in Barcelona and Cavani had 28 for PSG, enough said I think, but no.
There's a smell of new young talent for the team also in attacking department. Maxi Gomez, 21 years old prodigy had 17 goals in Spanish La Liga for Celta de Vigo this season. 2 goals more than Antoine Griezmann!
There's no influential missings and team is good to go! They have 6 players with over 90 games with the international team, world-class players mixed with young talent.
Last chance for the golden generation to write their names into history books in FIFA World Cup 2018.
Preliminary squad overview for FIFA World cup 2018
As mentioned above, a team with good and experienced core with some young talent and unknown quality for a lot of teams.
This team has some weaknesses tough and one of them for some reason is defensive inconsistency.
Without Godin tough, they conceded 3 against Italy and Ireland in friendlies. In qualifications, they conceded 4 against Brazil at home and 3 against Chile at away and this is too much if your intentions are to play for the top spots in FIFA World cup 2018. They addressed the issue tough and Coates and Rios lost their place in starting 11.
Defence - Goalkeeper Fernando Muslera has played last seasons in Galatasaray but were 4 years also in Lazio. Good goalkeeper in front of Godin and Gimenez who have played together for Athletico Madrid since 2013. There's also experienced Maxi Pereira, Martin Caceres and Sebastien Coates.
Tabarez has experimenting with side defenders and hard to say who will take the positions.
The understanding between 3 core players is strong and luckily there's plenty of talent to fill other positions.
Midfield - Cristian Rodriguez has 104 games with 11 goals for the national team. Nicolas Lodeiro stands on 53 games and Gaston Ramirez is on 43 games.
Lodeiro and Rodriguez are not playing anymore in European top leagues and this is a worry in my opinion.
There have to be someone stepping up immediately from the young players and look out for Bentancur, Valverde, Torreira, Nandez and Vecino.
I'm really convinced that one of them will have major tournament although its tough to shine in a team with strikers like they have.
Attack - Cavani and Suarez, both players will be legends and remembered for a long time in Uruguay and overall in the football world. Be it because of their magnificent goals or biting the opponent. I'm not sure if it's a bless or a curse for other 2 strikers in the team at the moment. Cristhian Stuani had a great season himself for Girona in Spanish La Liga, scoring 21 goals. Talented youngster Maxi Gomez definitely wants to get his first national team goal after a superb season for the Celta Vigo.
When all the attention is on Cavani and Suarez, they can have their chances and impact in FIFA World Cup 2018.


Egypt
Egypt qualified via African Nations Championship from a group with Uganda, Ghana and Congo. They collected 13 points from 6 games and qualified with 4 points in front of Uganda. 8 goals scored and 4 conceded and only loss came against Uganda 1-0 at away ground.
Their last World cup tournament was in 1990, where they finished group F as the last team with 4 points.
Two draws 1 loss and one scored goal against two conceded goals. Nothing to brag about, but they managed to get a draw against the Netherlands who had players like Koeman, Gullit and Van Basten. They lost 1-0 against England with Shilton, Gascoigne and Lineker.
They have been a force in Africa for a long time, but hit some serious lows for years and changed coaches more than there has been a spoon in a toddler's mouth. Gerard Gili, Marco Tardelli, Bob Bradley, Ruud Krol and finally have managed to find a coach who has stayed for more than a year, Hector Cuper.
First game for Egypt is played on 15 June against Uruguay. They play against host on 19 June and last game which probably should decide their qualification is against Saudi Arabia on 25 June.
In two friendlies they lost 0-1 against Greece (without Salah) and 2-1 against Portugal, where Ronaldo scored two goals late in the game, and I mean late.
Tactics and manager
Hector Cuper was once a hot name in the coaching market. UEFA coach of the year in 2000, La Liga coach of the year in 1999. Steered a small Mallorca to Copa del Rey final and Valencia to UEFA Champions League final 2 years in a row. How he will be remembered though is that he didn't manage to win any big final game except Supercopa de Espana with Mallorca and Valencia. After the Spanish clubs, he joined Inter Milan and coached them from 2001-2003.
Third and second place in league, Champions League semifinal loss against fierce rival AC Milan and back to Spain!
Cuper is under heavy criticism at the moment in Egypt. One reason is his defensive style fo play and waiting the chance to counter and the second one is the experimenting.
He used a lot of new players in a friendly against Greece with a reason to test the players.
When there's major tournament coming soon, I agree, you shouldn't test anymore totally new players and the squad core should be already intact.
Then there were also accusations taking part in match-fixing and giving out sensitive information to betting syndicates.
Cuper tends to play pressing 4-4-2 and 3-5-2. Keywords are pressing, hard work, direct play and pass the ball to Salah!
Squad information
Mohamed Salah ?? Goals & Skills pic.twitter.com/juakMx22BH

— Magic Skills & Goals (@Skills_Goals_) June 19, 2018
Mohamed Salah has scored basically the same amount of goals then entire called up squad. Their 45 years old goalkeeper will probably be the oldest player ever playing in FIFA World Cup group stages. Mohamed Salah is undoubted the leader of the team.
There's also Elmohamady with great experience in English Premier League with Mohamed Elneny from Arsenal.
Hegazi in defence is playing in Premier League also with youngster Sobhi from Stoke City.
Midfielder Sam Morsy have only 4 games for the international team, playing in English League One Wigan.
He should have more games tough but were suspended from the team after showing his emotions after being subbed out in a game against Ghana in 2016.
23 years old midfielder Trezeguet had a good campaign in Turkish higher division for Kasimpasa with 13 goals.
In general, they are better than Saudi Arabia in any department and definitely worse than Uruguay. In conclusion, there's Premier League level player in every line except goalkeeper and this with a magical touch of Salah they dream of getting into playoffs and a probable obstacle is Russia.
Salah has to play also in Champions League Final against Real Madrid which means that the season will be a long one for the Premier League player of the year.
Preliminary squad overview for FIFA World cup 2018
Thinking a little bit further, my first thoughts of having 3 Premier League level defenders were false. Elmohamady played this season in Championship, 44 games for Aston Villa and definitely at least Championship level player. In last season he was there tough playing for Hull City.
Ahmed Hegazi played 17 games in Premier League for West Bromwich. We all know how their season finished, so not sure if we can call him a player on this level.
Defender Ali Gabr is in the list for West Bromwich also but played only 2 games in Premier League 2. Elneny is also a bench player with 13 games this season and total of 38 games for Arsenal in last 3 seasons. Sobhi had 24 games and 2 goals for Stoke City tough and I think that one of the three players: Trezeguet, Koka or Morsy have to step up huge in order to turn defenders attention to them also in FIFA World cup 2018.
Defence - 45 years old goalkeeper El-Hadary plays now in Saudi league and other options are playing in Egypt league. So there is big lack of quality in my opinion compared with other lines. With Elmohamady, Hegazi and probably Gabr the defence will edge Saudis. Shouldn't be much worse than the line Russia will put up also.
Ahmed Fathi, the vice-captain managed to hold Portugal without a goal for 93 minutes with Hegazi and Gabr.
Midfield - Sobhi, Trezeguet, hopefully Morsy and Elneny should be the core in the midfield. Cuper is using Trezeguet as a forward also when playing more offensive and El-Said in midfield from KuPS, Finland. I admit I haven't seen them play, but this team can beat Russia when having some luck and a good day.
Attack - Koka from Braga is playing in Portugal highest league and had 20 games with 5 goals in this season.
He and Trezeguet have to take the attention from the star man. FIFA World Cup 2018 is the perfect stage for them to get attention from bigger clubs. Mohamed Salah, of course, is the main reason neutral fans are watching Egypt games at all.
I just hope that his superb season doesn't affect his show on the field. Definitely one of the most wanted players on the market at the moment and there are already rumours circulating about Salah's club for next season.


Saudi Arabia
Saudis were usual suspects in World Cup final tournament until 2010 and 2014. They were playing there in 3 previous tournaments and were always the worst team in their group. Worst tournament for them was probably in 2002 where they finished with a negative goal difference of -12.
This time they qualified tough with 19 points in AFC third round behind Japan with 20 points and in front of Aussies with 19 points also.
They are heavy outsiders of course also in FIFA World Cup 2018 also and to be honest, it's justified. I even predict that they will be the team with most conceded goals.
The reason is their group with Russia and Egypt where the 2nd place can easily be decided by goal difference.
Uruguay should top the group and Russia and Egypt has to score as much as possible against them. Edge on Egypt as they play their last game against them.
Friendlies have a lot of mixed emotions, as they played against weakened teams and in preparation period they play against Italy and Germany where they can practice defending against top teams.
Saudi Arabia plays their first game against host Russia on 14 June, followed by a game against Uruguay on June 20 and final game against Egypt on June 25 in FIFA World cup 2018.
Tactics and manager
Oh my, what are you doing guys? Coach Bert van Marwijk was doing great in his 2 years stint and finally brought the team to the World Cup final tournament again.
And what they did? Got rid of him straight after the qualifying was sealed. In came Edgardo Bauza, who was also pushed out after just 2 months in charge!
In came Juan Antonio Pizzi who has been coaching a lot of local clubs and most recently Valencia and Chile national team.
It's too early to say what tactics and style they are going to play under the new coach. Pizzi likes to play intense and high pressing style.
A hard-working team who closes down opponents while interfering the passing lines. Also, he likes to attack with many players and keeping the pace high.
He has done it with his previous teams at least but I highly doubt this kind of play is manageable with players he has at the moment.
The usual formation has been 4-3-3 or now probably 4-2-3-1 for FIFA World cup 2018.


Squad information
#Innovative Kwool #SaudiArabia #Football World Cup 2018 Team Introduction #Promo #WorldCupRussia2018 #Jeddah #riyadh #sports #football

For More Great Content Subscribe To Our #Free You Tube Channel:https://t.co/0PfsQdWpRH pic.twitter.com/9RP2hJmj8i

— Halal Incorp (@Halalincorp) June 7, 2018
Former so-called hot shots, Shamrani and Shalhoub, both with 19 goals, are not in the squad. Both are over 34 years old and this is not a questionable decision to leave them out.
A football game is won by the team who scores more goals and their main striker Sahlawi has 28 in 38 games. Midfielder Jassim has 18 goals and Muwallad 10 goals.
Keep in mind though that these goals are mainly scored against Cambodia, Laos and Timor-Leste.
Don't trust Wikipedia here which shows that there are players in Spain leagues.
Some players were sent to train with European clubs to get some more experience on a higher level. For example, Sahlawi were sent toManchester United camp.
This squad consists of players from local Saudi Arabia league and there lies their biggest weakness. Yes, they won friendlies against Greece and Algeria, but both teams were with weak squads.
Untested local league players haven't used to play against such opponents and on this level. Being unknown force can be their advantage. Main players to look out for should be Sahlawi, Muwallad, Dawsari and Abed.
Preliminary squad overview for FIFA World cup 2018


Defence - Goalkeeper and all defenders will be from Al-Ahli or Al-Hilal. At least they have played together and known each other's strengths and weaknesses.
No competitive games on a higher level is a big disadvantage though.
Midfield - Two players training with Spanish clubs. Dawsari with Villarreal and Shehri with Leganes. Jassim with 18 goals in 129 games for the national team.
Few pieces of training with the teams and sitting on the bench because of paid money don't make players a lot of better tough.
Attack - Muwallad with Levante and Sahlawi in Manchester. Muwallad has 10 goals in 42 games and Sahlawi with 28 goals in 38 games.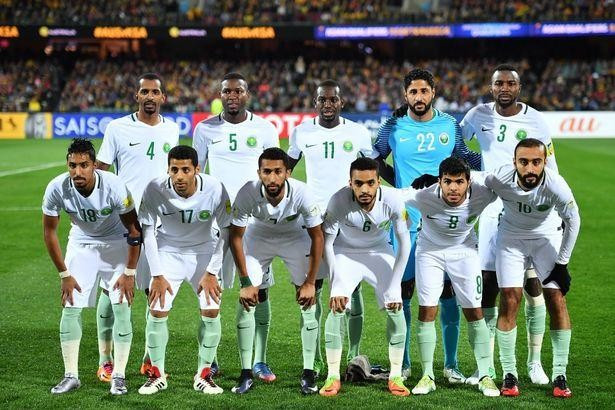 ---
Sie können auch mögen
Kategorien
Beliebte beiträge
Autor