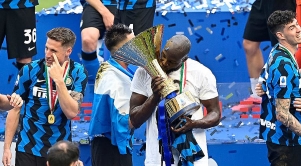 Big football leagues are back! - Italy Serie A
Italy Serie A is back! What assumptions can we make from the first round in the Serie A? Who's summer signings started to deliver from the start?
Many big transfers during the summer despite tough times. A lot of top-class players changed the clubs for cut-price or for free.
England Premier Leagues clubs paid the three highest fees, and I'm sure that their dominance will continue. This should be a must for them.
Except for PSG, who pulled off the biggest business during the summer. I mean, this summer will go down in history as one of the biggest summers for one club.
Lionel Messi and Raphael Varane changed their long time clubs and left Spain. Manu and PSG stole the show until Lukakus move.
So let's check what happened and what to expect based on the first rounds of the big league's football top clubs.
Inter Milan, can they defend the Italy Serie A title?
Inter took some massive hits during the summer. The biggest one was around 96 kg, 190cm tall, and he scored 47 goals during his last two seasons. Selling Lukaku to Chelsea with some other departures helped Inter make around 150m during the summer transfer window. Hakimi went to PSG for 54m and was the star of the team as well. 7 goals and 37 games last season and will be hugely missed. And, of course, Christian Eriksen. We are just happy to see the smile on his face again.
Ashley Young went back to Aston Villa as a free agent. In total, there were 4-5 very important players who left the club during the summer and played a big part in the title-winning season.

They got in 3 'marquee' signings. Denzel Dumfries were bought from PSV for 11m to support the midfield, especially its right side, instead of Hakimi. As Hakimi, he can play the defence and support the attack, covering the position also in the Netherlands national team. They added 2 new players as free agents who both were instantly in the starting lineup and scored in their opening Italy Serie A league game. Hakan Calhanoglu from AC Milan and Edin Dzeko from AS Roma. Both players have been regulars in the league, and the Turkish national team midfielder had one of his best seasons in 2020. The new additions are not equal to the force they lost, but brilliant moves by Inter considering the club's financial situation. The first game finished 4-0 against Genoa and both, Dzeko and Calhanoglu scored and assisted, so that's a good sign. Once Lautaro Martinez is back, Dzeko will become a great sub from the bench.

As other competitors in Italy Serie A didn't invest any serious money to strengthen the squads, Inter should compete for the title once again.
AC Milan
AC Milan is priced as 5th and 6th favourite to win the league. The previous season 2nd place lost two key players but got in some nice additions. Yes, Ibra is not getting any younger also and not sure how long Kessie will be injured, but I see some harsh odds there.
As it came out already, they lost Hakan Calhanoglu, which was a big big loss. Also, the main goalkeeper Gigi Donnarumma left the club as a free agent. He was replaced with Mike Maignan from Lille. French champions main goalkeeper for 11m was a smart business. They also signed last season loanee players Tomori, Tonali and Brahim Diaz extended the loan deal. They bought Olivier Giroud from Chelsea and, as Ibra is injured, was a starter in the opening game.

They won 0-1 against Sampdoria without Ibra and Kessie on the field, so there's some room for improvement. Youngsters Ibrahim, Leao and Saelemaekers should only get better in time, also Tonali and the future looks bright while they are searching for a younger striker and some depth to the squad.
Atalanta
Atalanta is priced as the third favourite to win the Italy Serie A. They lost one main defender, as Cristian Romero went to Tottenham on a loan transfer with Pierluigi Collini, who had 25 games last season.
Collini was covered with Juan Musso from Udinese, who was between the sticks in the opening game. Davide Zappacosta was bought out from Chelsea, and central defender Merih Demiral were loaned from Juventus and were a starter in the first game.
So, they basically covered the positions where they had the biggest losses. Nothing lost, nothing gained.

They won 1-2 against Torino in their opening game with Muriel and Piccoli on the score sheet. I can't see why they shouldn't be able to fight again for the top 3 positions with this squad, considering that there's a lot of room for improvement once De Roon, Hateboer, Toloi and Zapata are back in the squad.
Juventus FC
The main favourite to win the league this season. Lost Cristian Romero and Merih Demiral. The first one was loaned out last season, and Demiral got 15 games. So, not much lost overall.
They signed Weston McKennie from Schalke for 18m, and he was an important player for them during the last season while he was a loanee player from Germany. Buffon era is finished and probably under the shades of Messi and Ramos eras.

There is nothing much to write about their summer transfers so far, and I can't understand why they are such heavy favourites here—especially considering the situation with Ronaldo.
He obviously wants to leave; the fans want him to go and probably like half of the squad and manager also. He was used a sub in the opening game, and we all saw that he doesn't want to be there.

Despite all the criticism he gets, he scored 29 goals in the previous season and with such a short time to find a suitable successor, Juventus has a huge problem.
The opening game finished 2-2 against Udinese at away ground while they were leading 0-2 in the halftime break with Dybala running the show.
I mean, they are top 3 candidates for sure, but such a heavy favourite?
Napoli
Napoli is in the same 'pot' as Roma and AC Milan. They are priced between 4th to 6th place. During the summer transfer window, as most of Italy Serie A clubs, they were rather quiet.
Lost right-back Elsad Hysaj to Lazio for free, and Tiemoue Bakayoko returned to Chelsea. 24 and 32 games for them during the last season. They made Matteo Politano loan transfer permanent by buying him from Inter for 17m.
A needed move for sure, as the pacey winger scored nine goals last season. Juan Jesus was bought in as a free transfer from AS Roma. Thirty years old central defender can't be considered as a serious upgrade for the current squad.
So, they depend on pretty much the same squad as on the previous season.

In the opening game, they won 2-0 against Venezia as expected. It wasn't a smooth win tough, as Nigerian striker Victor Osimhen somehow managed to grab a red card already in the 23rd minute.
3 important players from last season are injured, as Mertens, Demme and Ghoulam are waiting to get back into match fitness. Everything except the top 5 finishing place is definitely considered as a failure despite the quiet transfer window.
Lazio
Lazio is priced as the outsider from the top 6-7 clubs. 6th last season and missed the top 3 spot by around 10 points. The only more serious loss has been Andreas Pereira, who went back to Manchester United.
They bought Toma Basic for 6m from Bourdeaux and Felipe Anderson for 3m from West Ham. Pedro from AS Roma and Elseid Hysaj from Napoli were added as free transfers.
On paper, the team who lost the least and gained the most in Italy Serie A during the summer.

The problem is that they need to build from their 6th position and the squad depth is not as good as some of the competitors. Pedro is 34 years old, Felipe Anderson is far from the revelation he was once for West Ham.
They won 1-3 against Empoli in their opening game, and Anderson got his first assist while Immobile started the season with a scored penalty.

At least a top 6 place at the end of the season is on the cards once again. Can they fight for the top 3? I afraid they are too short for this challenge.
AS Roma
Roma was 7th last season with the same amount of points as 8th placed Sassuolo. Obviously, a lot of work was waiting, and they hired Jose Mourinho to run the show. The new coach usually also means new signings and leaving players.
Roma spent the most during the summer in Italy Serie A. Players like Alessandro Florenzi, Pau Lopez, Cengis Ünder, Pedro, Edin Dzeko, Juan Jesus and Justin Kluivert all left the club as free transfers or just returned to their home clubs.
Striker Edin Dzeko was probably the hardest hit as they needed a new starting striker to cover his 7 goals from last season and hopefully add some more.
For this job, they bought Chelsea outcast Tammy Abraham for 36m. During the 2019-2020 season, Abraham scored 15 goals in Premier League. The next year, the new coach came in, and Abraham game time and obviously goals tally shrank a lot.
Still only 23 years old, he got now a new chance to review his career as a top man for AS Roma and Mourinho. The coach also has a plan B in case Tammy doesn't find his form. The name of the plan B is Eldur Shmourodov.
Eight goals for Genoa in the Serie A last season means he knows how to score in the league. Is 15m a price he can live up to? Only time will tell.

New left-back came from Brazil league for 4.5m. Matias Vina was also inserted into starting lineup in the first league game. Rui Patricio from Wolves replaced 2 leaving goalkeepers, and Roger Ibanez loan deal last season was impressing enough to buy him from Atalanta. 20 years old right-back Bryan Reynolds was added from MLS. 87m in total was spent on new additions, and 4 of them were in the starting lineup.

AS Roma won 3-1 against Fiorentina in the opening game, all three goals were assisted by new players.
If new strikers start delivering and new defence can hold on, we can see some surprises at the end of the season.
Mou has done the impossible before, and now he has a perfect chance to show why he is a 'special one' once again while leading the outsiders in the league in Italy Serie A.
---
Sie können auch mögen
Kategorien
Beliebte beiträge
Autor