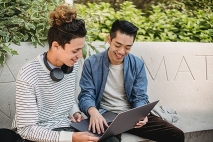 What Are Sports Betting Referral Programmes?
Sports betting referral programmes - what are they? Why should you join one? With bookmakers looking to attract new punters, they are a great way to earn additional winnings from your bets.
Post summary:
Learn what is a refer a friend programme

How they work

Why you should join one
What are referral programmes?
A referral programme is a deliberate and systematic way that companies encourage loyal users to tell other people (namely their friends, family and peers) about your product or service - to get them to use the company's products and services.
A referral programme, then, is a way of purposefully encouraging referrals. Modern referral programmes use software to detect referrals, keep track of them, and payout referral rewards to the referrer (and sometimes the referee).
It is important to note several referral type programmes, including partner programmes, affiliate programmes and customer referral programmes. The most popular and relevant in sports betting are customer referral programmes - the so-called ''refer a friend programme''.
Simply put, refer a friend programmes are people purchasing products based on someone else's opinion or influence because people trust other people's views in their lives and people they respect, whether that be family, friends or colleagues. 84% of people are more likely to buy from a product, service or brand if it has been recommended by others they trust.
And when you think about it, this makes perfect sense. We regularly receive advice from our friends on which TV shows to watch, movies to rent, or restaurants to go to. And, as end consumers ourselves, we want to share our stories, the products we buy and the brands we choose. This becomes magnified when the buying experience and products are exceptional.
How do refer a friend programmes work then?
The referrer is most likely to make a referral in refer a friend programme due to a recent happy experience whilst using your product or service.
The effectiveness of a refer a friend programme depends, in part, on when a user is prompted to make a referral. Suppose a user is prompted right after a happy moment. In that case, they are much more likely to make a referral even if they have previously had a bad experience.
After referring a friend, there are two alternatives to reward those involved:
Reward Me (reward the referrer only) or Reward Both (reward the referrer and referee).
Reward Me
Rewarding the referrer relies on your brand being strong and that your product or service is so good that the referee will be glad they would be recommended a product. The referrer will get cash, gifts, or even upgraded access to certain online services to suggest the product.
The concern with this option is that referrers can recommend products for their friends to get the reward and not whether they actually will benefit from it. This can lead to bad customer reviews and user experiences and lead to more damaging brand awareness.
Reward Both
Rewarding both the referrer and referee means that the reward is given to both - so whether either party likes the product is not in question - both will be rewarded. The disadvantage with the Reward Both option is that it is open to abuse by opportunists - who sign up to use products to get the reward on offer and leave the company for a competitor.
Hardly a bastion of customer loyalty!
This is why refer a friend programmes can be challenging to create. Generally, though, refer a friend based customers are better matched as the referred customers are likely interacting with people similar to themselves.
Examples of top refer a friend programmes:
Dropbox
Dropbox'sDropbox's refer a friend feature permanently increased signups by 60%, with users sending 2.8 million direct referral invites by April 2010. Dropbox gave free storage space of 500MB up to 16GB for both the referrer and the referee so both would gain.
PayPal
PayPal'sPayPal's referral programme gave users (and their friends) cash – something that only online payment platforms can offer. Referrals helped PayPal achieve 7 to 10% daily growth, catapulting its user base to over 100 million members.
Amazon Prime
Amazon Prime's referral programme is pretty well put together – no surprise, coming from a market leader like Amazon. Amazon Prime asks you to put in up to 5 email addresses at once. The email recipient of the invite is told who invited them, thus adding social proof - if your friend is using it and suggests you sign up - then maybe you should?
Why should you join a sports refer a friend programme?
Most sports betting sites offer bonuses to new customers to encourage them to sign up or reward regular customers for their loyalty. The bonuses and rewards available are some of the significant benefits of betting online. However, bookmakers want more customers too - and if you like using their online website - then surely your peers do too?
Sports betting websites then will offer you a reward (typically cash in your account, although sometimes better odds are offered) if your friends sign up.
Better still, if you have friends who place sports bets online - then get them to use the same website as you and take advantage of a sports betting website referral bonus programme.
For example, StatisticSports does not have a referral scheme, but we have an affiliate programme for people you refer.
To get started with our affiliate programme, begin by clicking here.
Conclusion
Refer a friend programmes are designed to acquire customers through paying existing customers to refer like-minded individuals. Utilising customer referrals provides trust to the new customer - but the acquisition and retention rates are higher. So a win-win for the company, the referrer and the referee.
Sports betting refer a friend programmes adopt the Reward Both option - where you and your friend both receive a bonus if your friend signs up. With this in mind - ensure you find the right refer a friend programme that best suits your online betting.
For example, bonuses and rewards can potentially have a significant impact on how much money you make (or lose!) overall. If you or the person you recommend are new to online betting, the bonus received could offset any damages while you learn about betting online.
---
Sie können auch mögen
Kategorien
Beliebte beiträge
Autor