How to spot a football fix?

Its more often than not that I have to answer questions like is there really a lot of football fix in today's sport? Do you sell fixed matches and can you buy this kind of information from Facebook?
Yes, no and no. There is a lot of rigged games in today's sport, a lot! Why do you ask? Because the potential return of investment is very very high.

I'll write in this article about one recent game, played in the Europa League. Let's start at the beginning! At first, the money of course.
The higher calibre game it is, the more money you can stake on the game. On the European League games, although only qualification game, you could stake tens of thousands with a click of a button through the agent services.
Would it be players in it only or arranged game by someone out from the club, doesn't matter.

There has to be the ability to stake on this game and big. This is one reason why not to buy games from Facebook scammers selling you games with odds 25-35 on half-time/ full-time markets.
What's the point of doing them like this if the guys can't have their money on these markets!

So, in order to make a successful football fix, they are looking for games and markets where they can put high stakes in order to make a profit.
Some recent statistics in an article provided by Reuters. Also some statistics and numbers are taken from Live football scores - statisticsports.com page.
Lufterari v Ventspils played on 19th July 2018


Let's start with the overall situation and opening - closing odds.

The first leg finished 5-0 to Ventspils where we already saw some bigger pre-game odds movements favouring Ventspils and a lot of goals.
Understandable a bit as it's very hard to price these games correctly.

Teams from different leagues, never have played against each other and there are some summer transfers bookies don't know how to put in the odds.

After the first game, the tie was quite literally over and Lufteraris chances to win the return game with 5 or more goals thinner than the odds for Burnley winning the England Premier League.

Perfect spot to make some money if you ask from me!

The second game played in Albania and Lufterari was a small favourite to win the game and around 2-3 goals expected in the game.

Nothing suggesting for a potential football fix.



Pre game lines and odds


Goal line odds.





Now, the game starts and up until 10th-minute, there's nothing strange in the odds. It changed and a lot!

As there were a lot of goals in the game, I'm not concentrating too much on asian handicap odds up until late of the game.
On 8th minute, goal line was 2.5 and odds on over were 1.8 - 1.9. For the 25th minute, odds on over 2.5 goals were 1.4!
Like what? Odds should raise not drop when there are no goals in the first 25 minutes?

At least the goal line should change, but this didn't happen also for some reason.





Fast-forwarding to the end of the game, when the scoreline was 3-2 for the home team and 10 minutes to play.

Home team leading the game 3-2, but the overall aggregate score still for Ventspils with 4 goals. 10 minutes to play and goal line on 5.75!
In a normal game, it should be goal line 5.5 and odds over 3 at least.
It was 83rd minute when the goal line was 6, so in case of 1 more goal in 7 minutes you would have got a refund, that's nonsense and so so wrong on many levels.
From these odds, bookies were strongly expecting one more goal, very strongly, with 6-7 minutes to go?


Odds for next goal


Let's see odds for the next goal. So it's minutes from 82 to 89 basically and home team leading 3-2. Odds for Ventspils to score next goal were around 1.5 when there were like 5-6 minutes to play?

Again, normal odds above 3. They raised a little to 2.0 with 3 minutes and additional time to play. Not even close to where they should be and odds started to drop again!
88.53 played, so basically 2-3 minutes with additional time to play and odds for Ventspils to score next were 1.67. This is an utter joke and huge indicator for a potential football fix.




The lines and odds were rigged throughout the game on goals, draw, asian handicap and next goal.
There's an example of asian handicap line and odds when less than 10 minutes to play.

Ventspils were behind 3-2 and asian handicap line was on -0.75 with odds 1.5 and 1.7.

Everyone who bets regularly knows these odds and lines are ridiculous.

Asian handicap should have been on -0.25 or 0, not on -0.75 with so low odds. There's a big sign that Ventspils were expected to score and of course they did so.



Here we have odds on 1x2 market. Closing odds for a draw were around 3.5! Now, 2-3 minutes to play, Ventspils behind 3-2 and odds for draw dropped from 2.6 to 1.8.
Even 2.6 were way out of line and just a few minutes before the final whistle odds dropped more?
Once again, odds for a draw were 3.5, 2 minutes to play and the score is 3-2 and now odds for a draw to happen in the game are lower than before the game started?
I might be deluded or too much suspecting, but this is dead wrong on so many levels!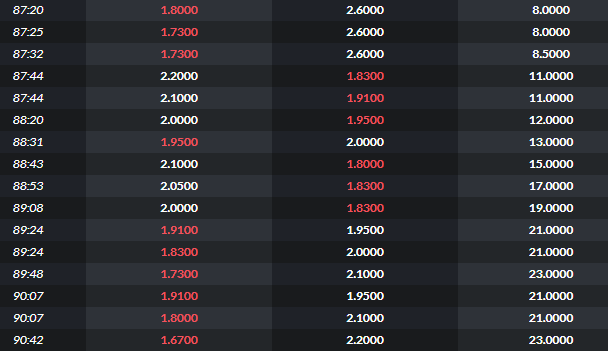 Additional screenshots and video of goals, football fix or not?
Not much to add here, to be honest. 3-2 score and around 7 minutes to play and odds for another goal were 1.27. In a normal game, these odds would be around 3.
Ventspils to at least draw this game were 1.56. Another example of how rigged the games can be and a great example of a football fix? You decide it yourself.


There's also youtube video available of the game and goals.

You can also find the full game video, but seeing the goals should be enough already to decide if this is a good example of a football fix or not.

With some goals you could question the legitimacy and if these were honest or not. But just check the last goal for example and there shouldn't be any doubts.
Very high defensive line, through pass and 2 strikers immediately running on a goalkeeper.
Focus on defenders, do they want to catch the strikers or not? 2 of them basically standing still and two defenders at least making some effort.

You can read about this game also in Federbet yearly report about high potential rigged games!
---
Sie können auch mögen
Kategorien
Beliebte beiträge
Autor