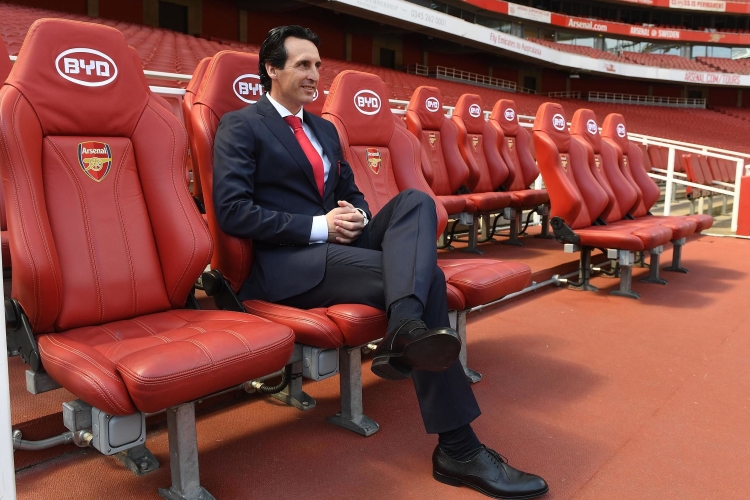 Can Unai Emery's Arsenal continue to defy football stats?
Football stats, xG and Arsenal
The term 'football stats' has become an important part of football fans' lives over the course of the last few years. In modern football, every debate and analysis is constructed on these stats. Football fans on football forums and social media regularly use different football terms. Terms like expected goals, key passes etc. to drive across their observations.
There are still many conventional followers of the game who would tell you that numbers and predictive models can never paint a full picture of what is happening on the pitch and football stats.
At the same time, these football stats have changed the entire landscape of the football fandom. A modern football fan is much more knowledgeable about the nuances of the game, and thanks to social media. He is obsessed with dissecting every tiny little aspect of the action. A similar debate has captured the fascination of the Arsenal fan-base in the last couple of months.
New era
The Gunners have started a new era in their history under new management in Unai Emery this season. For obvious reasons, Emery's players are under intense scrutiny this season, and their performances have been discussed to length. They started the season with back-to-back defeats to Manchester City and Chelsea. Since then, Arsenal has remained unbeaten in their last ten games in the league.
This impressive run speaks volumes of the work being done under the guardianship of Emery. It has also reinvigorated the fan-base, that had been demanding a change for quite some time. Undoubtedly, there is a lot of optimism in North London. The state of the current Arsenal mood could be best described as 'cautiously optimistic'. And football stats could be partially blamed for this cautiousness in the air.
What are
the expected goals and their importance in football stats
Before we delve deeper into Arsenal's ongoing problems, let us shed some more light on the metric 'expected goals'. This term first came into light in 1993. A paper that investigated the effects of artificial surfaces on the home team's performances in English association football. Over the course of years, the metric has undergone a lot of research and modifications. It has emerged as the most reliable indicator of the play. In a 2012 blog, Opta analyst Sam Green talked about a model to determine a "shot's probability of being on target and/or scored". He further added: "we can look at each player's shots and tally up the probability of each of them being a goal to give an expected goal (xG) value".
Since then, Opta has analysed over 300,000 attempts on goal. Idea is to determine the likelihood of a shot converting into a goal from various parts of the pitch. The modern model to calculate this metric considers various factors. Such as distance from the target, the angle of the attempt, situation of play, quality of assist etc.
Hence, football analysts swear-by this metric to judge various football sides and their performances. This is where it gets problematic for Emery's Arsenal and their ambitions this season.
You would be hard-pressed to find an Arsenal fan who hasn't been in involved in a heated debate about expected goals in the recent weeks.
The main problem with Arsenal's current run is that they are consistently defying their expected goals. Hence football stats and almost all analysts would tell you that it's near impossible to sustain this kind of form in the long run.

Arsenal defying expected goals
After 12 rounds of games in the ongoing Premier League season, Arsenal finds themselves in the fifth spot with 24 points. They sit only three points outside the top-four. They are very likely to reduce this gap this week as Tottenham host Chelsea at Wembley Stadium. Considering their poor start to the season, Arsenal has done very well to remain in pursuit of the top-four sides. They have had problems with their defence, but they have been quite prolific on the scoring front and have scored 26 goals in their 12 games.
However, if expected goals are to be believed, the Gunners are not doing as well as the league table suggests. Their strikers have been consistently overperforming as their xG tally currently stands at 16.95. In other words, Arsenal should have scored around 17 goals in their first 12 games, not 26. A look at the xG league table paints an even bleaker picture for the North London side. In the xG table, Arsenal doesn't even figure in the top half. They are way down in the 11th spot with just 16.21 points and a negative xGD. Hence, they have picked almost eight more points than they should have had so far this season.
The difference is not so huge between actual goals conceded and xG conceded. This means that Arsenal has been hugely reliant on their goalscorers taking their chances well. Arsenal players are scoring at a conversion rate of 20%, which is almost unheard of in the history of the game.
Arsenal's journey so far in terms of football stats
Since their 3-2 defeat at Chelsea, Arsenal has won seven times and drawn three times in ten games. Three out of these seven wins, against Watford, Fulham and Everton, have come in very extraordinary circumstances. The Gunners first defied xG when they claimed a 2-0 home win over Everton in the last week of September. According to the xG metric, Arsenal should have lost to the Toffees with the scoreline of 0.93-1.07. Instead, a brilliant finish from Alexandre Lacazette and an offside goal from Pierre Emerick-Aubameyang helped the London side grab all three points that day.
In their next game, the Gunners were even more fortunate as they claimed a 2-0 home win over Watford. Emery's side should have lost that game 1.57-2.62, but they end up claiming all three points and keeping a clean sheet. Arsenal was second-best for the majority of the game, but they managed to score two very late goals thanks to Alexandre Lacazette and Mesut Ozil. However, this time, they were also helped by Watford's wastefulness in front of the goal.
Show at Craven Cottage
Arsenal played some beautiful football in their next game as they eased to a 5-1 win at Fulham. The Gunners were not convincing in the first half, but they scored some spectacular goals in the second half of the game and ripped apart their opponents. However, even this performance wasn't enough to satisfy the football statisticians. Arsenal fans, at Craven Cottage, proclaimed that they have got their club back. Analysts were quick to point out that the Cottagers had bettered their opponents 1.32-1.14. This London derby could serve as a perfect example to highlight the drawbacks of relying too much on statistics. Arsenal fans would argue that their side never looked like losing the game at Craven Cottage, and in the end, they quite comfortably grabbed three points.
Arsenal outperforming against Palace and Wolves?
The Gunners were also particularly lucky in their draws with Crystal Palace and Wolverhampton Wolves. Their pulsating 2-2 draw with Palace at Selhurst Park should have ended 2.11-0.82 in favour of the Eagles. Arsenal needed a spectacular free-kick from Granit Xhaka and a controversial goal from Aubameyang to claim a point in the South London.
Emery's side was once again second-best as they somehow managed a 1-1 home draw with Wolves in their last game before the break. According to the xG model, the Gunners should have lost that game 0.97-1.90. Their defence was split wide open by their opponents, time-and-time again. They had goalkeeper Bernd Leno to save their blushes in front of the home audience. The German keeper produced his best performance this season as he made multiple one-on-one saves against Wolves' players.
Have there been examples of teams defying xG in the long run?
A look at the historic xG data would tell you that football sides rarely defy xG over the course of a season. There are very few examples of sides continuously defeating this model.
Swiss manager Lucien Favre is one such name who has gained notoriety among the football analysts. His sides have continuously produced better results than their performances. His current club, Borussia Dortmund, have started the new season in the same vein. Dortmund currently tops the Bundesliga table with 27 points. BVB enjoy a four-point lead on second-placed Borussia Monchengladbach. With eight wins and three draws in 11 games, they are yet to suffer a defeat this season and they have scored 33 goals. So far this season, Dortmund have outperformed xG with a bigger margin than Arsenal. According to the xG Model, Favre's side should have scored only 22.48 goals. They should have been sitting in the third spot with 21.31 points.
Burnley standout season
In Premier League, Sean Dyche's Burnley managed to make a mockery of xG last season. The Clarets were the standout side in the league last season as they finished in the seventh spot with 54 points. Arguably, they were the biggest over-achievers in the league last season, and the xG points table tends to agree. As per the alternative table, the Clarets should have finished in the 14th spot with 41 points. Hence, Dyche's players were able to outperform the xG model by 13 points – an impressive feat by the side.
Sevilla and PSG
Now if you are wondering if Unai Emery's sides are known for defying xG, then the answer is No. Over the course of last five seasons, Emery was in charge of Paris Saint-Germain for two years and Sevilla for three years.
His Sevilla side scored fewer goals than the xG model for three consecutive seasons from 2013 to 2016. The same trend continued with PSG in 2016-17 as the Parisians scored four goals fewer then xG and finished in the second spot in Ligue 1. The situation improved drastically for PSG during the 2017-18 season. Neymar's arrival meant that PSG was far more clinical in front of the goal in 17-18 and they scored an astonishing 105 goals in the Ligue 1 season. Not that it would have made any difference to the final league table, but the champions scored almost 11 goals more than the expected total.
PSG's 17-18 season is the only example of Emery's side outperforming the expected goals metric. Can Arsenal repeat the feat in 2018-19 or they need to improve considerably their football stats?
A look at Arsenal's prospects in the coming weeks
Quite clearly, Arsenal has been lucky this season. It would be far-fetched to say that there is no progress being made under Emery. There are many players who are performing much better than the last season according to football stats. Also. there appears to be a good team-spirit present in the camp. However, they have suffered from another strange phenomenon so far this season. Arsenal has made a habit of starting slowly in the first half. Then they are taking control of the match in the second half as the football stats prove.
This run of form has given birth to another Arsenal-related football stat which has amused footballs fans this season. Arsenal has been so reliant on their second-half form, that they would have been in the 17th-spot if all games were to end at half-time. As things stand, the North London side are yet to lead a league game at half-time this season. Only Cardiff City, placed 16th in the table, share this unwanted football stat with the Gunners in the league.
Defence and offence
Quite obviously, this approach is full of risks, and the Gunners have had to pay the price with three consecutive draws in their last three games. Furthermore, Arsenal's poor first-half displays have played a major role in their troubles with the xG metric. More often than not, Arsenal has allowed big chances to their opponents in the first half of their games by leaving huge gaps in their defence.
Undoubtedly, Emery needs to do a lot of work to bring stability in his defence, but his side has looked very impressive on the attacking front.
They have managed to outscore the likes of Liverpool and Tottenham so far in the league. This has largely been down to the presence of world-class strikers Pierre Emerick-Aubameyang and Alexandre Lacazette. Emery's players have managed to find crucial goals at crucial times through some clinical finishing. Aubameyang has scored seven goals with an xG total of 4.75. With five goals, Lacazette is doing marginally better than his xG total of 4.29.
These two strikers are capable of playing in any side in Premier League, and Emery has relied on one or the another to find the net.
Midfield stability
The North London side have also found some stability in the midfield with the arrival of Lucas Torreira. Another crucial addition has been Bernd Leno. The German keeper has made some critical saves in the last few games. However, the Gunners have to start dominating their games from the start. They are starting their games slow and giving way too many chances to their opponents, and Emery is well aware of that. He has repeatedly mentioned that he intends to bring further stability to his defence, and we expect him to sign at least a couple of defenders in the next two transfer windows.
For now, Arsenal players can only concentrate on what lies ahead of them, and December seems like a crucial month for them. They have to face Tottenham and Manchester United in the next few days. They won't be able to rely on their luck against such opponents and need to improve their football stats.
---
You may also like
Categories
Popular posts
Author