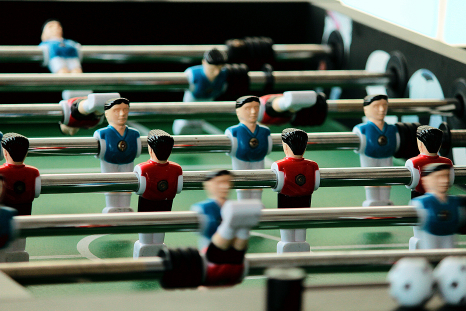 European football rankings.
Football rankings can be tough this time of year, but that doesn't mean it isn't valuable to look at the top teams in European football. So, that's exactly what we'll be doing today. We now know who will be suiting up for each of the biggest sides, at least for the next few months. Using that information as well as how last season went for the teams selected will give us our rankings. In essence, this will be a football (power) ranking of the top seven teams in Europe currently. This list uses a number of factors. European success is a big consideration, while league success is also taken into account. Summer transfer dealings are also very important, as are managerial changes made by clubs. All of that can be taken into account when ranking them, and that is what we have tried to do here. So with that said, let's start from the top, shall we?

Market values of the top 15 clubs according toTransfermarkt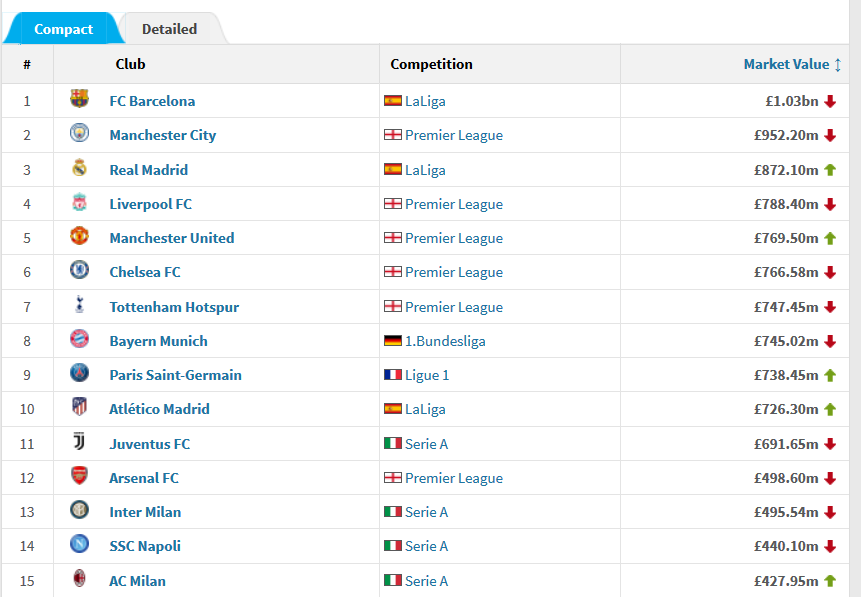 It's rather easy to make this selection here and put Real on 1st position in our football rankings. Real Madrid is three-time defending Champions League winners and have also won it three of the last four years. Despite having had two massive departures over the summer in manager Zinedine Zidane and forward Cristiano Ronaldo, Los Blancos are still one of the teams to beat. They have started their La Liga season well this term already. Although they lost in the UEFA Super Cup to rivals Atletico Madrid.
They might have lost Ronaldo and Zidane, two of the club's greatest legends of all time. Sometimes moves have to be made in order to move on in the future. That is what Zidane pointed toward, anyway. Lopetegui will bring a new look to the team. Luckily there are stars like Isco and Karim Benzema look to gain from the change. Benzema has looked much better in front of goal this term. Perhaps due to a chip on his shoulder, and that is not a bad thing at all considering they also brought back Mariano. Real have that strong midfield with Luka Modric and Casemiro to boast once more. Gareth Bale also looks like he will be getting more minutes on the pitch now. That can only be a good thing if he is able to channel the kind of play he brings to big games along with him. So, until we are a couple of months more in, this is the team to beat, whether you like it or not.
The team that Real Madrid knocked out of the UEFA Champions League in the quarterfinals last season comes in at #2 on our football rankings list for good reason. They have absolutely crushed the opposition in Italy for years now, and they are once again poised to do so again. They have strengthened by not only bringing back Leonardo Bonucci to the club but also adding Cristiano Ronaldo to its ranks. Had it not been for the Portuguese's intervention in that quarterfinal tie last season, the Old Lady could well have knocked Madrid out for the first time in nearly three years. Instead, he still played for the side all in white, meaning Juve once again had to suffer a defeat. If Juventus can do just about everything they did last season, as well as adding the lethal nature of Ronaldo in front of goal in Europe, they have a legitimate chance of hoisting the European Cup once again. With Bonucci back in the team, they have even more options tactically, something that manager Max Allegri will continue to look to exploit. Whether they go with three or four in defence, they will once again be a team that most would very much like to avoid.
Manchester City may have had another disappointing outing in Europe the last term, but their exploits in England have got to be commended. They were simply outstanding, dominant, and all-encompassing in the Premier League last term. Marching toward the title by a clear 19 points and thus I put them as third in mu football rankings. They only lost twice all season and became the only club in history to take 100 points in the PL. Because of that, they have to be acknowledged. It was a bitter blow for them to fall at the feet of Liverpool, but on the whole of it, this is a side that has more quality than the Reds. They still have a big hump to get over in terms of Europe, no doubt. There is no reason to think that they could not do it. Ownership has stated that they want to win the Champions League within the next ten years! If we are truthful, that should time period is very, very reasonable.
The Citizens have tons of cash backing them, and they have only strengthened in the summer with the acquisition of Riyad Mahrez. The Algerian, though, might not be the biggest personnel 'move,' however. The return of left-back Benjamin Mendy is a huge deal because it gives them added tactical flexibility. This will allow them to play Gabriel Jesus and Sergio Aguero up front more together. Something that Pep Guardiola was not able to do the last term due to his left back's early-season injury. Guardiola is still one of the greatest minds in the game, but there will be questions asked if he once again falls short in Europe. A final should be the minimum for them, but it's a place he has not reached in some time. He has a good shot at it with this particular team.
Guardiola's former side comes in at #4 in our football rankings list, and for good reason, too. Like City, Barcelona crushed the opposition in Spain's La Liga last term. In addition to that, they would go on to capture the Copa del Rey crown as well in dominant fashion. They lost just once on the whole of the season in 38 matches. Toward the end when it looked like they would go the entire season unbeaten. Like City, however, this side has had its struggles of late in Europe. It's been a while since the Blaugrana have gotten to the biggest stages, falling in the quarterfinals in each of the past three seasons. There is little doubting now that Ernesto Valverde has what it takes to lead them to domestic glory, but it will be asked if he can get them over the line in the Champions League again. The way they went out, at the hands of Roma, last season would not have been pleasing at all. They not only looked out of energy in that match, but they also looked like a team devoid of a 'Plan B.' With that said, they have reinforced in the summer.

While Andres Iniesta has moved on to Japanese football, they have brought in Arturo Vidal. Vidal is more capable of going forward than Sergio Busquets, but he also can play a destroyer role if needed. That could be most valuable to Valverde this go-around with his side looking to shuffle the pack. They have also brought in a couple of other players in areas to shore up the team. Chiefly winger Malcom and centre back Clement Lenglet.
The former was one of Ligue 1's finest young talents last term. Lenglet was Sevilla's rock in an impressive Champions League run that saw them beat the likes of Manchester United. In the past, they had used Javier Mascherano. Now-departed, at the back, but now they have a little bit of extra depth that could prove vital to their campaign. If Lionel Messi and Luis Suarez are on their games, as they have been early on this season, this team can go anywhere and accomplish anything it wants to. Especially if Philippe Coutinho kicks on in his first full season with the club.
Coutinho's former club comes in one spot lower than his current club in our football rankings here. Liverpool had a tremendous season last term by all accounts. They are largely on this list due to the fact that they had such a deep run in Europe. Having gotten a bit of a luck throughout the Champions League in most of the draws, it must be said, the Reds finally succumbed to Real Madrid in the final in large part due to errors from departed goalkeeper Loris Karius. Despite playing some of the 'easier' teams, they had crushed just about everyone on their way to the final. Hammering the likes of Porto away and Roma at home along the way. They also looked much improved in the Premier League, finishing in third place below the two Manchester clubs. But it was a close-run thing thanks to a stuttering run of form toward the end. That will have been something that required changes this summer.
A big part of the reason for their ranking as #5 is the aforementioned summer dealings. Jurgen Klopp, having seen Coutinho leave and Virgil van Dijk come in back in the January window, flourished with the lack of a need to shoehorn Coutinho. But there was still clearly more work to do. And thus, the Reds have added Naby Keita (though he did sign last year from RB Leipzig) and Fabinho in midfield, as well as goalkeeper Alisson from Roma and winger Xherdan Shaqiri. So far, Keita has looked a real treat, giving them dynamism going forward and the ability to win the ball back in midfield. Alisson has made an error that could have proved costly on another day, but overall he has looked the part as they have won four in a row to start the season. The other two have been peripheral figures thus far, but the added depth is something they will be glad to finally have. Along with their dangerous front three of Firmino, Mane, and Salah, this could just be their year in England. But it will still be tough for them if they are competing on two fronts.
Unlike Liverpool, the sixth-ranked side in these football rankings will very much be expected to compete on two fronts. Or, rather four. Management has changed in Paris, with German Thomas Tuchel, formerly of Borussia Dortmund, taking the helm. It's an interesting change, but he has proven that he can be a success in the past. PSG come into this season after a bounce-back year in France. They ran the rule over Ligue 1. Reclaimed their crown from AS Monaco, the same team they took World Cup star Kylian Mbappe from. Though they once again disappointed, like cousin ultra-rich side Manchester City did in the Champions League. PSG still have a very good chance of making serious waves in Europe. They shouldn't have much of a challenge again in France. They should in all honesty waltz toward victory in the league and in both domestic cups. But it is the Champions League where they crave success most. Having one of the top two front threes (splitting hair between them and Liverpool) will be a big help to them. Neymar, Cavani, and Mbappe will be formidable against anyone. It's elsewhere that worries one about the Parisians. Are they up to the test in midfield and at the back? They might have been higher in this list had they made some better moves in the transfer window. A couple of common sense moves, like bringing in Lenglet and/or Steven N'Zonzi could have helped shore things up. Instead, they remain a question in the back. It'll be up to the front three to carry them forward under their new manager.
7.

Bayern Munich
Last but not least in our football rankings are another team under new management this term in Bayern Munich. The Bavarians have once again parted with Jupp Heynckes. The manager who saved them from what could have been an ultra embarrassing season last term. They have appointed former player Niko Kovac as manager. They should still very much dominate in the Bundesliga, as they have done for years now since the demise of Borussia Dortmund. As always, they are looking for European glory. This is going to prove quite tricky, though. Not only is Kovac new to managing at this level, but the team hasn't made all that many changes. Serge Gnabry, who is looking a real talent, has returned. Leon Goretzka has come into the team, and that is possibly the biggest deal they have made in some time. The German midfielder has all the tools to play as a box-to-box midfielder. But the concern is that they are ageing and stagnating. Muller, Ribery, Robben, and Lewandowski are still key members. Each of them, whether it is due to age or just sheer complacency, have seen better days. Bayern won't be an easy out in Europe, but it's tough to make a case for them in the Champions League this time around. But don't throw in the towel just yet if they don't quite figure it out this season.
Honourable Mentions in football rankings outside of top 6
Other clubs are also worthy of being acknowledged in these football rankings. Chief among them has to be Atletico Madrid. They might have had issues in the Champions League last fall, but they won the Europa League and UEFA Super Cup. They only miss the list due to a poor start to the season. Chelsea, on the other hand, has had an excellent start to life under Maurizio Sarri. The Italian boss has them on 12 points from four games, and that is nothing to scoff about. Lastly, Manchester United deserve a shout out. Jose Mourinho is enduring a difficult period, for sure, but United still have a spot in the Champions League. They are still a force to be reckoned with, especially after keeping hold of Paul Pogba in their midfield and deserve a spot in top 10 in my football rankings.



---
You may also like
Categories
Popular posts
Author