How

How to use Live Dashboard page
Main features
Clicking on LIVE IN-PLAY we can see all in-play games where we are able to show you current in-play stats with lines and odds, including opening and closing lines with odds changes. We are also able to check some important pre-game information with one click. Clicking on the loupe on the right side of the game, we can open a small window with calculated averages for goals and corners. Also, we can see recent matches information and team notes.
On top of the picture, we have some quick filters, including momentum change, Time range, 1st and 2nd half and Reset stats after half. All of them are explained further under FEATURES link.
On top of the right corner, we can open DASHBOARD SETTINGS. From there you can add some additional statistics and odds on the main page, or switch them off. Also, you can change the orders of the columns.
Let's take one game, for example, to show you what and how we are able to check on the site. Some things should be pretty clear here. We can see current game time, home team, current score and away team.On both sides of the scoreline, we have teams current league position (before the game started) and cards count.Then comes the statistics columns and odds columns. As you can see, we provide a plethora if different stats and odds, including opening and closing odds. More information can be found from FEATUERS link.







You can also sort the games by statistics. Important here is that the site sorts statistics putting the games with the highest difference of actions on top and to get maximum out of it, click on REMOVE LABELS. This takes out the league name rows and enables you to have better overview of sorted statistics.Keep in mind, that there's several different ways for sorting and also you can sort the games by any statistical category!


Corners & Shots on/off target
Now the interesting part. In the first column, we can see current corners count. The top row shows full game corner count and under that, we can see the momentum corners.
The momentum you can add on the main page and set it as you prefer personally. Last 5 minutes, last 10 minutes, last 15 minutes etc.
The first column shows you corners count and logic is same as explained before with momentum. The first row shows you current stats and the second row shows the momentum stats. The second column shows shots on target. Third column shows shots off target and fourth column shows you total shots count.
Red = Corners, Green = Shots on-target, Blue = Shots off-target, Brown = Total shots.
Attacks & Dangerous attacks
Green column shows you attacks and the last column in this list shows dangerous attacks and again same logic as in previous columns with momentum rows.
Green = Attacks, Blue = Dangerous attacks
Odds
We are providing 3 different odds lines. L - Live odds, C - Closing odds and O - Opening odds. Opening odds are the first odds with which bookmakers are offering the game.
Closing odds are the ones with which the game comes to in-play. This helps you to quickly identify if there some raise and heavy backing during the pre-game period.
ON this example, I don't have NEXT GOAL ODDS, but you can activate them from DASHBOARD SETTINGS.
WDW odds are the most used by the bookies and they stand for home win, draw and away win. Asian handicap odds are easy enough, with home and away team odds and line offered
with these odds. Then comes goal line and odds for over and under the goal line offered.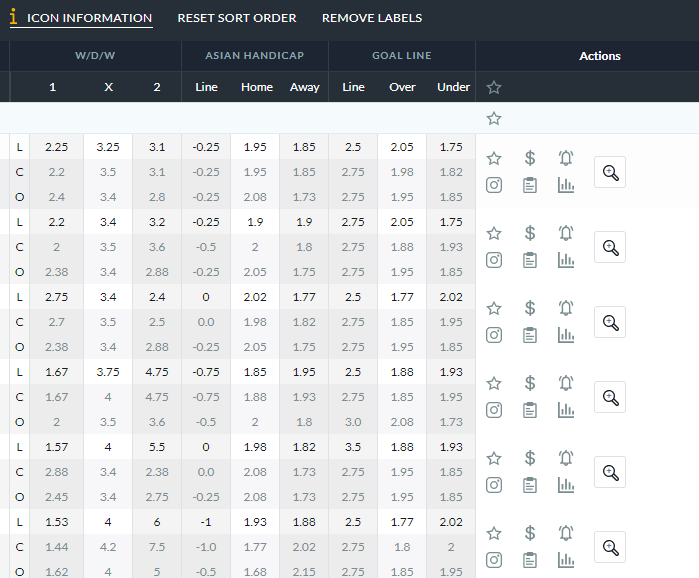 Historical data
Next trick! Clicking on the icon (Loupe) on the right side with other icons, opens up some interesting statistics.
The first part of the information provided! Pos column shows us the position on teams in league table BEFORE the game. Also, we can quickly see both teams last 5 games, how many games they have played in the league, points gained, wins, draws, losses, goals scored, goals conceded and goal difference - in the same order.

Now probably more confusing part, Average Stats section:
(Home) Goals all - shows us the average amount of goals this team have scored and conceded in the league playing at home..
(Home) For - shows us average goals for the home team scored on their own ground.
(Home) Conceded - shows us average goals for home team conceded on home ground.
(Home) Corners all - shows us the average amount of corners this team have gained and conceded in the league playing at home.
(Home) For shows us the average corners they have gained in the league while playing at home.
(Home) Conceded shows us the average corners they have conceded in the league while playing at home.
Away team rows are showing the excact same things, but for away etam. How many goals and corners they have
gained and conceded while playing at away.
Search

Now our search engines! Type in team name and tool gives you at first all recent games with similar team names. To see the certain team, click on Show more results. This leads us to TEAM PAGE. To the TEAM PAGE, we can get also when clicking on any team name in the main page.This is the function of the top Search from history bar. You can also search the in-play games with the bottom search bar - Search in Live games!