How

How to use Team page

In this tutorial, we cover team page.

First thing - if you are looking for some team page and statistics - the easiest way - use search. Just type the team name and press enter. Also, you can navigate to team's page through the Live games page or through the games pages by clicking on team's name.

Now we have 2 options. Under the Games, we can see all games with similar team name and games played in particular league as I used in search tool name Chelsea.

When clicking on a team name, team page opens. There we can see quickly team's recent games.

Team general details
Also by scrolling down, we can see team recent games at home and at away ground. We can also check team's last in certain competition by clicking on Choose league. We can also change the number of games we want the site to display by clicking on 15 games (default).
Under the games, we can see team overall stats on home and away ground (in circles).

Recent games information
Scrolling down a bit and here we have a lot of different information. On the left side, you have the option to add additional information for all recent games.




In the main section, we can see stats on all recent games. These are all recent games with full game stats, but we can also change them. When clicking on Last Matches, we can also choose if we want to see only last home or last away matches. When clicking on Show 5 games, we can choose if we want to see stats for last 5 to 20 games. Also when clicking on 10 last games for AVG, we can see more recent games average stats.

All information related to the particular game is in the same column. Game stats then averages before the game and under that closing odds for 3-way market and also asian handicap line with odds and totals line with odds.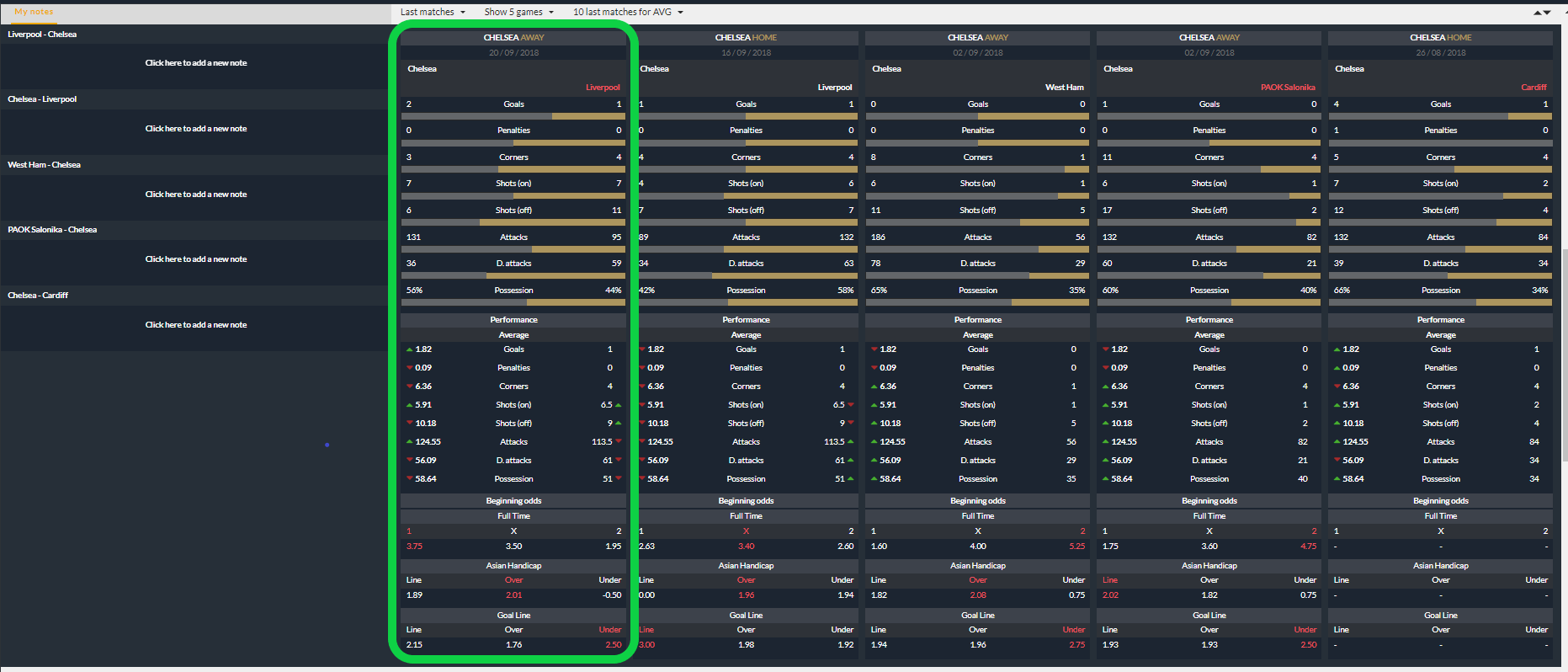 At the bottom of the page, we have different pregame statistics. We can see there Corner Statistics, Goals Statistics, Red and Yellow Card statistics.

Corners, goals and cards
Let's start from corners. At first, we set the tool up to show us only stats from last 10 games. Also, we can set the tool up to show us averages for 5, 15 or 45 minutes. I prefer 45 minutes, so we can compare stats by halftime.



So now we have average corner statistics for Chelsea team sorted for last 10 matches and by 45 minutes period. We can easily see how many corners they have had while playing at home or away and if they tend to get more corners on 1st or 2nd half. Under the graph, we have totals and averages written out by our tool to make your job a little bit easier and to see fast what is the averages while playing at home or away.
Exactly the same logic applies when checking Goals statistics and Cards statistics. We can set the tool to show us last 10 matches, last 20 matches or for last 3 or even 12 months and averages are written out under the graph.