EXCLUSIVE

EXCLUSIVE - Night with a Punter!

Hey

It´s always interesting to know how other punters find and analyse their bets. Statisticsports.com has a post on their site, where one of the punters has described his night with live games. Enjoy the read!

Hi guys,

I'm going to show you how the statisticsport.com site can help you in picking some good value picks!

I logged in on the evening of June 7th, when there were some friendlies and Europa League qualifier games ongoing. There were around 30 games played at the same time. Going to check them one by one from the bookie's page takes a lot of time and is a hassle. When checking the statisticsport.com site, it gives you a good overview of potential bets in seconds!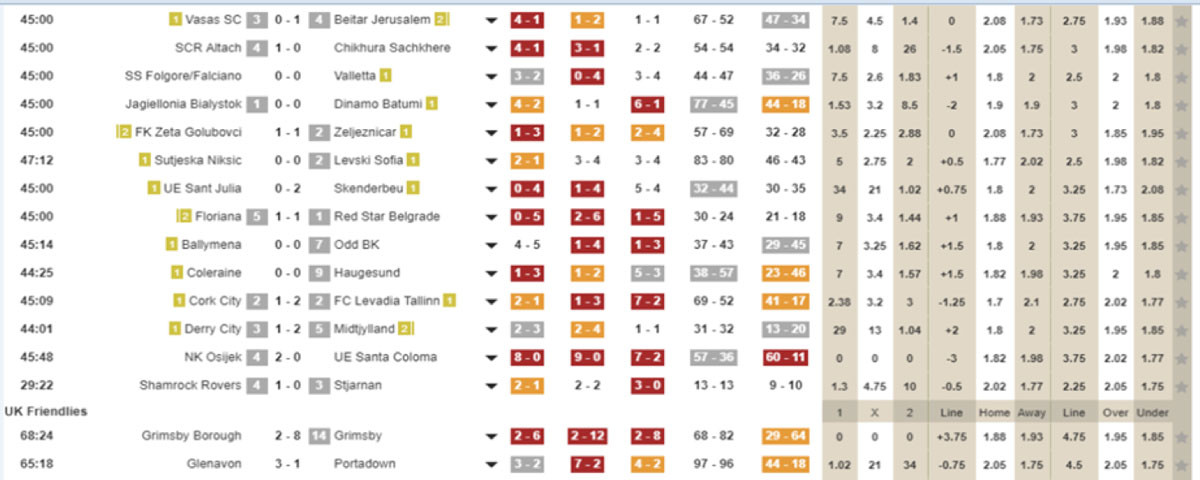 At first, I'll add in the favourites of all the games, where one team has a bigger edge in attacks, dangerous attacks, shots and corners. I'll also drop games that are going to finish in less than 15 minutes.
The Peru Primera game with Ayacucho – the home team started with 2.1 odds as the favourite and is currently behind 0-1. Not really a big pre-game favourite, as I would like to take them from a losing position. Up on attacks, but not so much on shots and corners. Holding the ball but not creating enough possibilities, probably dancing with the ball in the centre of midfield and clueless in the final third, not a bet for me.
UK Friendlies – as mentioned, always a question of motivation and squad chances with substitutions. Aberdeen leading 0-2 at halftime and up on every attacking stats line. Glenavon also up 3-1, 20+ minutes to play and huge scoreline already in Grimsby Borough v Grimsby.
In the Aberdeen game, it's worth starting to keep an eye on 2nd half stats when they start playing again to see whose Gatorade is kicking in faster and whose coach gave them a stronger hairdryer team talk.
Glenavon won the 1st half 3-0 and despite being ahead of stats in every attacking category, they conceded a goal in the 2nd half, so it looks like they aren't bothering as much as I would like.
In a game where they are scoring goals for fun, the goal line at the moment is over/under 12. So we would need 2 goals minimum for the refund with 19+ minutes to play. NOT ready to sweat here for 3 more goals to get my ticket green, although it seems that both goalkeepers are still on holidays or had a long night at a local pub and their hands are still shaking.
Now the good part! The Europa games, where there´s still a lot at stake. Ok, not in the Osijek game, as they won the first 0-2 at away and are now leading 2-0 at home and are pretty safe. Not getting involved here, as I'm not sure if they want to put these guys from Andorra in a situation, where they start to consider their career moves and going back to flipping burgers at a local bar instead of wasting their time at football practices. Cork City losing at home against Levadia 1-2, while on top on stats. Won their first game at Levadia's home 0-2 but have conceded already twice while being on top, not convinced of this defence, and Levadia still looking for a goal and have to go all in at some point, leaving themselves vulnerable at the back for counters.
So, after 2 games, at the top of my favourites list I'm going with:
Olimpija Ljubljana vs VPS
A quick check of their first game:
Click on the game and take the competition and set the 2nd column as None (personal preference!).
As we can see, VPS won the first game at their home 1-0, and actually, Olimpija were way better on stats! As I like to say, stats are like a mini skirt, they show plenty, but not as much as you would like! VPS got 1 shot on target, 2 shots off target and managed to score a goal, whereas Ljubljana had way more shots, attacks, corners, but couldn't score for some reason and probably were thinking that they will put this tie in bed at their own home.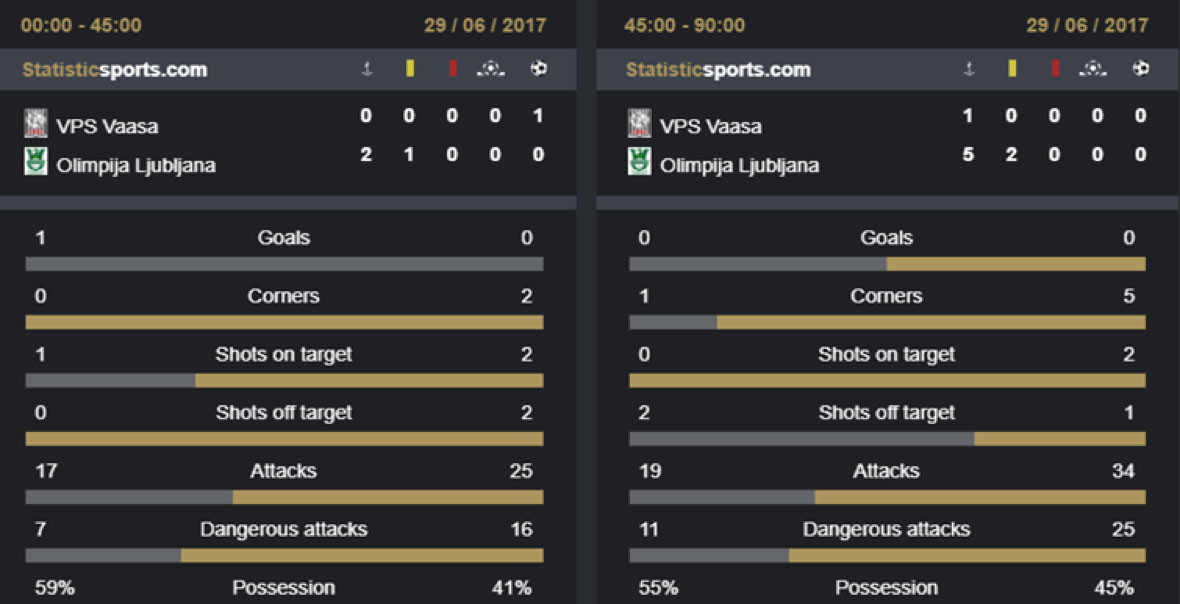 Back to the current game: Home team much, much better on stats in the 1st half, and we can use the sliders in the 2nd half column to check the stats from 45 to 60 minutes.
The first 15 minutes were much more equal, but we know that the home team has to go for it and, obviously, they have to go all in there at some point.
But as they conceded in the first game while being a much better team on stats, I'll go with a goal line there and will stake over 1 goal line in 5 minutes when odds have hit the 1.8 mark.
The tool shows that the opening goal line was 2.5 and with around 30 minutes to go, the home team is well up on stats and lost the first game 1-0, so we have a bet!
Update!
Game finished......0-1 to VPS! A little bit harsh of a result to be honest, but the VPS goal in the 66th minute gave us a very, very good chance to get paid on our over 1 goal line bet! Unfortunately, the home team failed to deliver once again and that's life, cancelled my KFC home delivery thanks to this bunch of Nicklas Bendtner's*!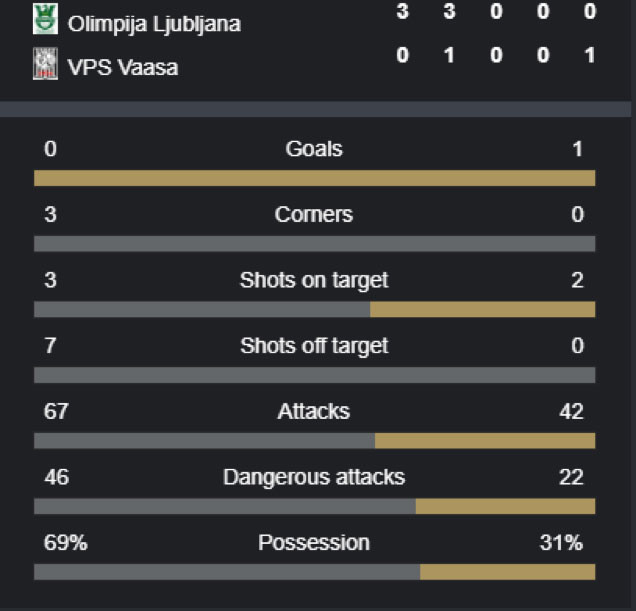 * Nicklas Bendtner – once quoted as next big thing... scored 3 goals in Wolfsburg in 31 games, 2 goals in 15 games in Nottingham, and finally found his form in Rosenborg, enough said.
Jagiellonia Bialystok vs Dinamo Batumi
A quick check on their first game: Jag won first game at away ground 0-1. Better team in first half and equal teams in 2nd half. Keep in mind that for these smaller teams it's always harder to play on away ground and 0-1 at away ground was defo a good result.
Now 0-0 at halftime, up on aggregate with 1 goal. Very dominant in 1st half and Batumi with some random attacks by the stats. 39% of balls probably from clearances and long balls.
Asian handicap on -1.25 and we have to wait 5-10 minutes into the 2nd half to get the home team -0.75 Asian. Why I prefer the Asian handicap there instead is that they managed to score at away ground with worse stats and are in total control here, with a strong home team, and started on -2 Asian!
So a 2 goal win expected by the odds, as they dropped a little in bet365 from 2.1 to 1.88. Will throw some on -1 when it reaches and will add some money when the 0-75 comes when it's still 0-0... pray for the good old Polish apples*.
Polish apple* - very pleasing in appearance and taste, never fail to deliver!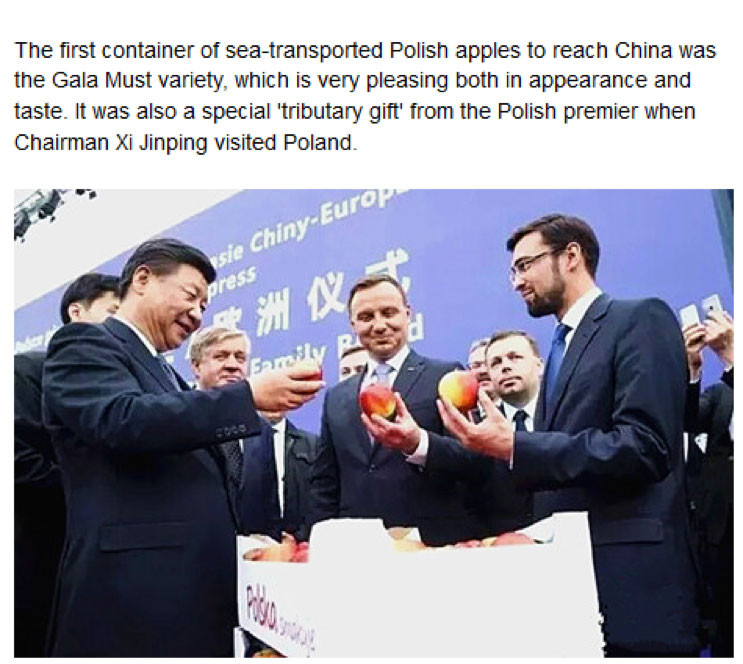 Update!
Polish apples delivered! Jag scored not once, not twice, but 4 goals for us and cleaned the game, put the Dinamo guys to bed silently, and although in the 2nd half the away team had some more attacks, they also got a red card and the bet was never a sweat. 4-0 final score and will buy some Polish apples from the local store today.
Best Regards chaps, more to come soon!