FIFA World Cup 2018 Group B.



Portugal
Portugal, European champions and captained in last big international tournament by one of the best we have ever seen playing this beautiful game. Loved by many, hated by plenty. This is the price writing your name into sports history for decades. But enough about Ronaldo, there's other 22 players in this team and 10 in starting eleven. Portugal had superb qualification tournament by numbers. 27 points in their group with Switzerland and 32 scored goals against 4 conceded. 9 wins and only 1 loss. For me, there's a lot of questions about this team tough and I'll try to explain it. At first, when they won Euros, they went through the group with 3 draws. In playoffs, they advanced twice after extra time and also in final, they won against France in extra time. In their group stage for FIFA World Cup 2018, they were in the same group with weak Hungary, Faroe, Latvia and Andorra.
Portugal team is still too dependant on Ronaldo and ageing defence with Pepe, Jose Fonte and Bruno Alves, but there's some young talent now who needs to take it over and fast. If and who will start filling the big boots, only time will show. Fact is that this is the last chance for a lot of legends to win World Cup for Portugal.
In recent friendlies, Portugal won against Saudi Arabia 3-0, drew 1-1 with the USA and won 2-1 against Egypt. Not making much out of these results, as Portugal played with mixed squads there. A recent 0-3 loss against the Netherlands should be alerting for them tough.
They are playing in the same group with Spain (15.06), Morocco (20.06) and Iran (25.06) on FIFA World Cup 2018.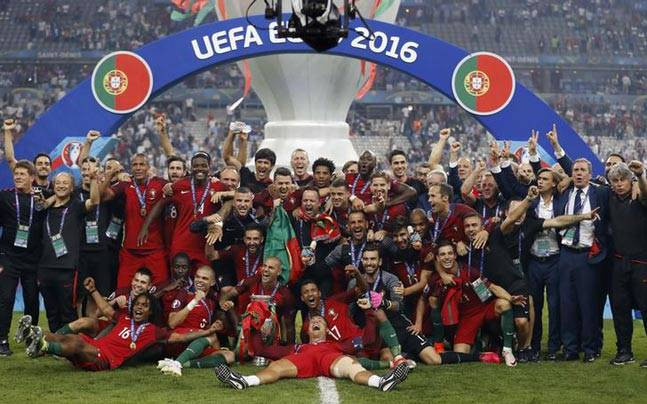 Tactics and manager
Portugal is coached by 63 years old Fernando Santos. After the Euros, there was, of course, a lot of talking about his defensive tactics and defend first, attack the second tendency. He was the coach for Greece for 4 years after taking over the Portugal seat after all! I'll be honest, I'm a big fan of how the coach managed to beat coaches like Low, Conte, Deschamps and Del Bosque being an outsider and playing in final against big favourite France basically without Ronaldo. This is why we love football, everything can happen. Santos is very clever and tactical coach. You have to play with the players you have and make most out of them and this is exactly what he does. There are very clear positions and commands for every player and everyone knows exactly what he has to do. Santos can adjust his tactics quickly, as we saw against France in the final of Euros. He had to change the team and tactics in minutes and weathered the storm, applause. Fernando is very analytical and doesn't afraid to experiment a lot with new players and tactics and adjust to the situation. Just see the squad he called up and his comments on the choices. "I'm not here to play beautiful, I'm here to win." There are changes compared with the squad who played in qualification matches. Some of them due to injuries and some due to bad form. Functionality, defensive solidity, cautious, possession domination and well-oiled machine are the keywords. His favourite set up seems to be 4-4-2 with false nine and packed midfield without big wing play which leaves opponents small room to operate and exploit the midfield.


Squad information
As always with Santos, there were some surprises. We all remember when 18 years old Renato Sanchez, unknown for most football fans at that time, amazed us in Euros. He started in the final and in quarterfinals. Went from Benfica directly to Bayern Munich after the competition but were loaned quickly to Swansea. I hope that we will see some big games from him and his time will come to shine in the club level also, still 20 years of age only. He isn't in the squad for FIFA World Cup 2018 tough. The bigger surprise for me is that Nani and Andre Gomes (Barcelona) were cut from the preliminary squad. Defender Fabio Coentrao isn't in good shape and there's international debutant in the squad, Ruben Dias from Benfica. I'm more than convinced that Santos has some surprises in his sleeves once again prepared for FIFA World Cup 2018.
Lyon goalkeeper Anthony Lopez brought in, Porto (joining Leicester) defender Ricardo Pereira and Napoli's defender Mario Rui. All 3 players have only 10 games altogether for the national team. 32 years old Manuel Fernandes from Lokomotiv Moscow travels...well, he was there probably already...to Russia. Three core defenders are all 34 years or older and Quaresma is already 34. Moutinho is 31, Ronaldo is 33, so there's a big need for fresh and young blood and I hope Santos has found some answers with this squad already. Defenders Guerreiro, Soares and Rui are getting good games on a high level. In midfield, there's Bernardo Silva, Joao Mario and William Carvalho who have to step up. AC Milan striker Andre Silva had a good season and 11 goals for the national team in 20 games. Also, Goncalo Guedes has been quite impressive at times for Valencia and is still only 21, so there are some candidates to deliver on the big stage for Portugal in FIFA World Cup 2018.

•Cristiano Ronaldo?

•The most complete player?

•2017/18 Edition?

•Goals / Dribbling / Passes / Skills?

•Still outclassing everybody? pic.twitter.com/wLXz1pOWj7

— Diego (@ronaldocomps) June 3, 2018
Preliminary squad overview for FIFA World cup 2018
Some good news, and some bad news for the coach Santos. A lot of players who delivered in Euros are not playing on the level coach would like. Sanches and Coentrao are not fit and not showing the quality everyone expects. Adrien Silva missed almost half of the season due to failure in paperwork during the transfer. Andre Gomes isn't the main player in Barcelona of course and Eder plays now in Russian Premier League. Defence is one of the oldest in FIFA World Cup 2018 and probably getting slower during every day through the competition.

Defence - Strong options between 2 goalkeepers, Patricio and Lopes. Both main team players in good leagues. This is where the good news may finish. Guerreiro played only 9 games for Dortmund. Alves, Pepe and Fonte aren't getting any younger and are playing in China, Turkey and Scotland leagues. Pereira, Rui and Dias as mentioned, have only 4 games for the national team. Hope to see confident Pereira and Soares here during the FIFA World Cup 2018.
Midfield - Joao Moutinho as the most experienced here with 107 games for Portugal, 7 goals. All other midfield players have 9 altogether. As their main job is to defend and provide the ball to Ronaldo, Quaresma and Silva, this isn't a problem. 32 years old Manuel Fernandes was a surprise here with Bruno Fernandes, but I'm sure they have their higher purpose in Santos mind. High hopes on Bernardo Silva who joined Manchester City (35 games, 6 goals) after he had 3 great seasons with Monaco.
Attack - 149 games with 81 goals and last chance for the World Cup title. Be afraid, as he is the player who will get his chances in every game to score. Also famous for his rabona passes and crosses, Ricardo Quaresma, will have his last chance. I have seen some Besiktas games and Quaresma, despite his age, is still fun to watch and difficult to defend. Add Andre Silva in this attack and they can score against any team in this tournament. Gelson Martins and Goncalo Guedes are both still very young, but talented players and can surprise in this tournament if given a chance. I'll pick Guedes to impress during the FIFA World Cup 2018.


Spain
2008 and 2012 European Champions, 2010 World Cup winners. Dropped out from group stages in 2014 World Cup behind Netherlands and Chile, lost against Italy in the round of 16 in 2016 Euros. Spain is hungry and like a wounded animal. Always one of the favourites and have still players in the squad who won the World Cup in 2010, Euros in 2008 and were left in the group stage in 2014. Spain has world class players in every line. They could put out 2 different teams and still reach to playoffs with both of them.
28 points, 36 goals scored and only 3 conceded in 10 games. Qualified in front of Italy (23 points), Albania, Israel, Macedonia and Liechtenstein. Drew with Germany 1-1 and demolished Argentina 6-1 in last friendlies.
Great squad mixed with experience, young talent and privilege to have all the players from top leagues and world top clubs. Majority of the players are from Spanish La Liga clubs, one from Germany Bundesliga, one from Italy Serie A and 4 players from English Premier League. La Roja is the only national team so far with three consecutive wins in the major international tournaments. 2010 and 2012 Spanish side is widely considered as one of the best international team in the history of football.
Spain will have 2 friendlies before the FIFA World Cup 2018.
They will polish the tiki-taka against Switzerland (03.06) and Tunisia (09.06) before the group stage games.
Spain will play in group B with Portugal, Iran and Morocco. Main favourites to win the group of course and will meet a team from group A in the first round of playoffs.
If they win the group, their likely opponent will be either Russia or Egypt...or Saudi Arabia.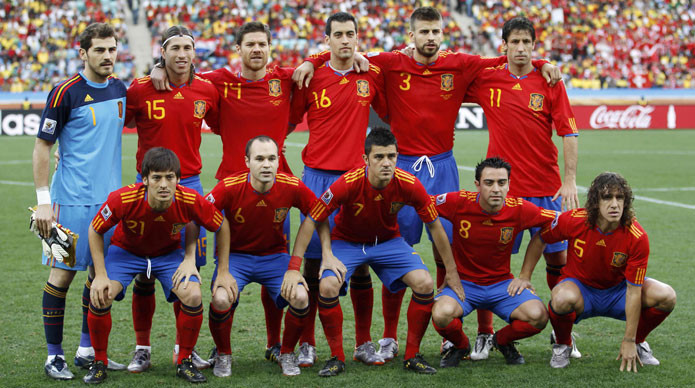 Tactics and manager
Spain is led by the former goalkeeper, Julen Lopetegui. 1 game for Spain and 3 games for Basque national team! He was coach of Rayo Vallecano for 5 seasons before taking over Real Madrid B team for one season. From 2010 to 2014 he lead Spain U19 and U21 teams.Their current style isn't much different. The usual formation is 4-3-3 (4-2-3-1) with great and fast ball movement.
Spain was famous for their tiki-taka style of play and there's even Wikipedia page for this!
"In my opinion, the generation that has just passed is, without doubt, the most brilliant not just in the history of Spanish football, but one of the best in the history of world football, so comparing anything to that is not fair and would be a mistake" said Julen and there's enough said about the legends we all should appreciate.
Lopetegui isn't a coach who afraid to experiment and call up some surprise players. As he were the coach for youth teams before, he knows the players very well and throws them into the men's team without hesitation. This is good of course, as the team is going through the transition. Strikers like Fernando Torres and David Villa have been legendary for the Spanish team. Iniesta has his last chance, moved from Barcelona to Vissel Kobe in Japan. No Xavi, Fabregas, Xabi Alonso who has been influential for the trophy run they had during 4 years and 3 big trophies.
He started coaching the Spain men's team from 2016, after 2 seasons as a head coach for Porto. They play beautiful passing football at it's best with while holding the ball a lot, especially on the final third. There's also good off the ball movement with good width and fullbacks helping the attacks a lot. As their opponents tend to sit deep and try to close down the defence, they have to stretch the field to make room for their players and passing lines during the FIFA World Cup 2018.


Squad information
Sergio Busquets and Dani Carvajal are recovering from smaller injuries and I'm quite sure they will be ready for the WC. As I said, the coach is bringing in new faces and a lot it's a forced decision due to ageing old forces. Goalkeeper Kepa has only 1 game, but I'm quite sure he is only 3rd choice after de Gea and Reina. Saint Iker is 37 already, although he played a vital part in Porto this season. Defender Alvaro Odriozola has only 2 games for Spain, but this 22 years old defender has to fill boots of Ramos and Pique in the next big tournament already. There are big rumours about his transfer to some big club this season from Real Sociedad.
Dani Carvajal and Jordi Alba should be the winger's place sealed and delivered, with Azpilicueta and Monreal as backups.
Real Madrid 3rd CB, Nacho, has only 15 games for the team also despite being already 28. When he had to play for Real, he did very well, so a defence has backed mostly with players from Real Madrid and Barcelona. Luxury any other team would like to have!

Lopetegui has brought Saul Niguez (23 years old, 9 games) to the team from Athletico Madrid with his teammate Koke finally playing an integral part in the midfield.
David Silva and Isco are the main force building the game from midfield, supported by Barcelona duo Busquets and Iniesta (leaving to Vissel Kobe).
Real Madrid youngster Asensio (10 games, 22 years) is another player who should start carrying the team in the future with Niguez.

Some may say that leaving Alvaro Morata, Callejon and Pedro out from the striker's list is a surprise. They probably haven't seen Iago Aspas this season. Quick and lethal this season, for Spain he has only 8 games and 4 goals despite being already 30. Starting striker spot will be for Diego Costa, who went back to Athletico Madrid and links well with 2 teammates from midfield. Lucas Vazquez from Real Madrid is in the squad as well, with Moreno from Valencia.
Costa has 18 games and 7 goals for Spain and other 3 striker/winger players has 17 games and 6 goals between them.
This means that in my eyes, this is the weakest link for Spain, inexperienced on the international level.


The heir to the throne of the Spanish midfield.#Isco #Magisco #Madrid #Talent #Opportunity #Recognition #Football #India #Delhi #Monaco #RealMadrid #Disco #Spain #Messi #CR7 #CL #BallonDor #WorldCup #FIFA #FIFAWorldCup #Neymar #NJ10 #LM10 #Espania #WorldCupFacts pic.twitter.com/mfxlWPj5ie

— GoPlayBook (@goplaybook) June 6, 2018



Preliminary squad overview for FIFA World cup 2018


There's a plethora of quality players watching the games from TV, who could be in starting lineup in most of the other teams: Marcos Alonso, Marc Bartra, Alberto Moreno, Javi Martinez, Asier Illarramendi, Ander Herrera, Suso, Mata, Fabregas, Morata, Callejon, Pedro, Gerard Deulofeu. This is the price of being a Spanish! Overall, the squad has some big leaders with experience on the highest level, and what's more important, winning the big trophies. Mixed with some interesting younger players and all players playing in top leagues for the top clubs, Spain has some high hopes there.

Defence - de Gea, Alba, Carvajal, Pique and Ramos. Call me deluded, but this the strongest defence in this tournament. Close are Brazil and France. Brazil missing Dani Alves and France have some not so experienced defenders on the international level.
Midfield - Thiago's season were cut short due to injury, a slight worry here. Iniesta, despite being 34 already, was still superb during the season. Busquets, Koke, Niguez, Silva, Isco and Asensio had all great seasons. A lot of central midfielders playing as DM or CM, but this suits for Lopetegui's style of play. Lucas Vazquez, Aspas, Isco, Asensio and Silva can stretch the game and make room cuts perfectly.
Attack - A lot of trusts here for Costa, as he is the most capped striker in the squad and starter. Rodrigo had a super season for Valencia with 16 goals, Aspas had 22 for Celta Vigo. Both of them with few games for the national team tough and doesn't feature regularly on the highest stage on club level also. All 3 of them have totally different qualities tough and this makes it easier to change the tactics quickly enough to make some chaos on the opponent's side of the field during the FIFA World Cup 2018.


Morocco
Morocco's last World Cup final tournament appearance was in 1998 in France. They finished the group on the 3rd place after Brazil and Norway, ahead of Scotland. They were close to going through but drew 2-2 with Norway who had some proper stars. Ronny Johnsen (played in Manchester United), Henning Berg ( also played in Manchester United), Tore Andre Flo (50 goals for Chelsea) and of course Ole Gunnar Solskjaer (also in Manu). Also, Brazil had sealed the first place before last game against Norway and took it easier, Norway won with two late goals.
Morocco sailed through their group in qualifications for the World Cup. 12 points, 3 draws and 3 wins with goal difference 11-0! They played in the same group with Ivory Coast, Gabon and Mali. Some quality names in these teams: Max Gradel, Franck Kessie, Giovanni Sio, Wilfried Saha, Salomon Kalou, Gervinho, Wilfried Bony, Seydou Doumbia, Pierre Aubameyang, Mario Lemina etc.
Morocco has had strong enough squad to dominate African football for years, but for some reason haven't clicked when it matters. I would rate their chances to qualify a little bit higher in other groups, but not in this one. There are players with good level, but not comparable with Spain and Portugal.
Morocco will play the first game against Iran on June 15, followed by Portugal game on June 20. Last game is against Spain on June 25 in the FIFA World cup 2018.
This is what #Morocco are going to do to the #WorldCup2018 who agrees ?
Take Note People Take Note ? #Spain #Iran #Portugal #football pic.twitter.com/Tq8ci1dBje

— OMZ BK (@OmzBk) June 3, 2018
Tactics and manager


Morocco is coached by legendary Herve Renard, legendary in Africa tough. He has won the African Cup of Nations with Ivory Coast and....Zambia! There are some interesting clubs in his resume also. FC Sochaux, Cambridge United, USM Alger, SC Draguignan, Song Da Nam Dinh and Lille. Charismatic, emotional, flamboyant and a father of Candide Renard (go google!). He is definitely only football coach in the world who have called up for a visit by Morocco's King Mohammed VI.
Jokes aside, Renard has done a great job with the Atlas Lions. He turned basically the same squad from zeroes to heroes. Morocco is playing with much higher spirit and energy, tactically more mature and of course smarter. They know their weak spots and strengths. Morocco plays with quite usual tactical formations: 4-4-2, 4-2-3-1 and 4-3-3 when they need to score.
Defensively they are solid and playing with great understanding. The main problem is scoring against stronger defences. Younes Belhanda and Hakim Ziyech from midfield should be the best shots there.
One major problem for them is time. Renard has been there around a year only and have tested a lot of players in different positions so far. This means there's still no certainty except 3-4 players before the FIFA World cup 2018.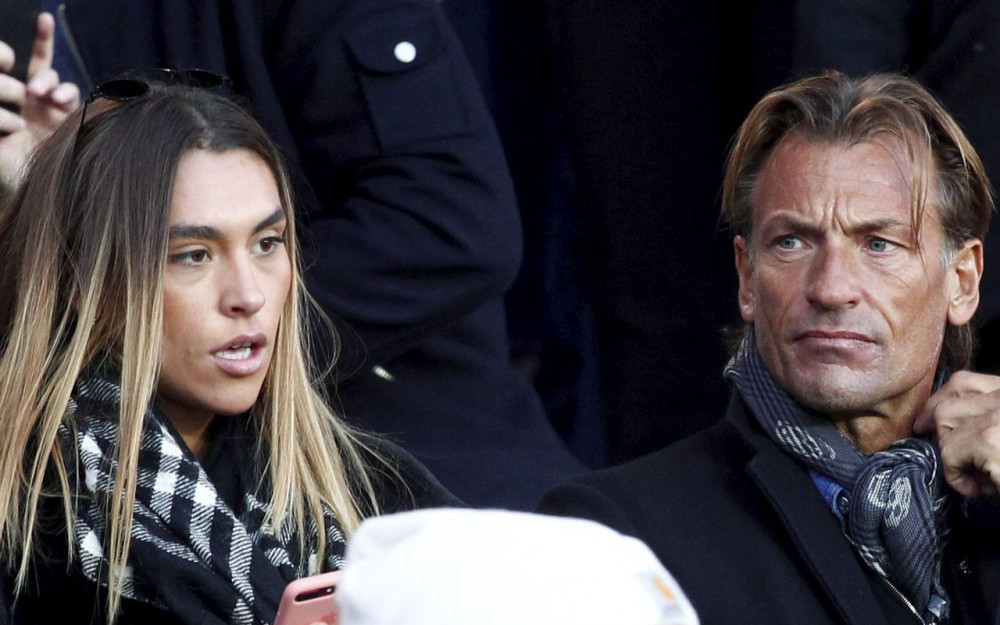 Squad information
Probably a lot of football fans couldn't name over 1-2 players from Morocco team. Some good players were left out from the squad. Zouhari Feddal has played in Spain and Italy highest leagues, Sofiane Boufal from Southampton, Zakarya Labyad from Utrecht and 15 goals this season. In overall, there are a lot of players playing in Netherlands and France league and some of them have played their youth games for these nations.
Several different reasons for them not being in the squad, but there's also good quality already in the squad. Only 3 players playing in local leagues and the core playing in Spain, Italy, Turkey, England, Netherlands and France. Good squad to start the FIFA World Cup 2018.

Quality in defence is offered by Mehdi Benatia from Juventus ( 35 games over 2 seasons, joined from Bayern Munchen). He is supported by Nabil Dirar from Fenerbache, who was in Monaco for 5 seasons before. Manuel da Costa has played in Fiorentina, West Ham and currently plays for Basaksehir in Turkey where they finished 3rd and finished only 3 points behind winner Galatasaray. Achraf Hakimi plays in Real Madrid and got 9 games behind Dani Carvajal.

In midfield, they have Mbark Boussoufa from Al Jazira, but plenty of experience playing in Belgium and Russia. Karim El Ahmadi playing currently in Feyenoord but had 2 seasons for Aston Villa. The star in midfield, Younes Belhanda, plays currently for Galatasaray. He is well known for his heroics in France for Montpellier where he won the league in 2012.
Nordin Amrabat played last season for Leganes, on loan from Watford. Faycal Fair plays for Getafe and has played several seasons in Spain.
Hakim Ziyech had a big season for Ajax and decided to play for Morocco after they had a meeting with Renard in a coffee shop.
Amine Harit plays in Germany Bundesliga for Schalke.

In attack, they are counting on Khalid Boutaib, had a good personal season for Yeni in Turkey with 12 goals and Aziz Bouhaddouz from FC St. Pauli.
Morocco's final World Cup squad contains an impressive seven under-23 players:

?? Achraf Hakimi (19)
?? Amine Harit (20)
?? Hamza Mendyl (20)
?? Youseff El Nesyri (21)
?? Sofyan Amrabat (21)
?? Youssef Aït Bennasser (21)
?? Ahmad Tagnaouti (22)

Amine. Harit. ? pic.twitter.com/mtohtNLwyP

— Scouted Football (@ScoutedFtbl) June 5, 2018
Preliminary squad overview for FIFA World cup 2018
Well experienced defence with players playing in high level. Supported by midfielders on the same level and with some players who can change the game. Weakest links are goalkeeper and striker, as there are no players balling in high-level league day in day out.

Defence - Benatia, Dirar, Hakimi supported by Manuel da Costa and Romain Saiss can make a tough day to top teams. Munir Mohamedi in goal isn't such a liability needed against Spain and Portugal tough.
Midfield - Ageing Mbark Boussoufa and Karim El Ahmadi anchoring the midfield. Boussoufa, despite playing in Al-Jazira, can be very annoying and plays with high energy. Belhanda and Ziyech are the higher hopes to score some vital goals. I afraid these will be against Iran rather than against Spain and Portugal. Amine Harit, Sofyan Amrabat and Youssef Ait Bennasser playing in good leagues and will be the future of Morocco.
Attack - Clubs for strikers are Yeni Malatyaspor, FC St. Pauli and RS Berkane. Not something to brag about against Spain and Portugal defences, but some promising youth raising through the ranks.


Iran
In 2014 FIFA World Cup, Iran finished last in the group behind Argentina, Nigeria and Bosnia and Herzegovina. A 0-0 draw with Nigeria and a 1-0 loss against Argentina are nothing to be ashamed though. They cruized through the qualifications with ease, but this is also due to a lot of weak opponents in the Asian region. In the group phase, they finished with a goal difference of 26-3. Opponents like India, Guam, Oman and Turkmenistan. They finished also on 1st position in third round group ahead of South Korea and Syria.
Iran plays first time in their history in consecutive tournaments and afraid they will play with Morocco for the 3rd place during FIFA World Cup 2018. So far they have collected only 1 win from 12 games, the historical game was against the USA in 1998.
Iran's first 2018 friendly against Libya was cancelled on the 14th of March. Three days later they played against Sierra Leone and won 4-0. They lost against Tunisia and Turkey and won against depleted Algeria and Uzbekistan. They had another 2 friendlies cancelled and at the moment there's only game against Lithuania on the cards. Very bad situation considering that there's no high calibre games and FIFA World Cup 2018 knocking on the door.
They start the FIFA World Cup 2018 against Morocco on June 15, where there's their best chance to get second win of the history for the country. On June 20 they play against Spain and last game in a group is against Portugal on June 25.

Tactics and manager


Coach Carlos Queiroz have lead the Team Melli for over a six years now. Plenty of time to attach his system in and to learn the players. He has coached teams like Sporting CP, NY Metro Stars, Nagoya Campus and even Real Madrid. Also some national teams in his CV like Portugal, South Africa, United Arab Emirates and finally Iran. Twice he has worked as an assistant in Manchester United system. So there's plenty of experience and different challenges behind him and a big challenge ahead of him.
Queiroz must be the only coach, or at least one of the few, who have qualified to the World Cup with 3 different teams!
Carlos is well known for his defensive tactics and being a mastermind behind several defensive set ups. More used formations for Iran have been 4-1-4-1 and 4-4-1-1. This helps to keep 2 lines of players between the ball and goal and limiting the space and caps in defence. Fullbacks are more likely keeping the positions than roaming forward.
Teams coached by Queiroz are working efficiently, are well developed, organized and working great as a unit.
What I do like about him is that there's no one's place sealed in the starting 11. He uses always the best options at the moment, not for old favours. This has changed the squad more competitive and harder for opponents to make their pregame tactics.
Compared with last World Cup, I do expect a little bit more from Iran this time they have better options in attacking department and ready for the FIFA World Cup 2018.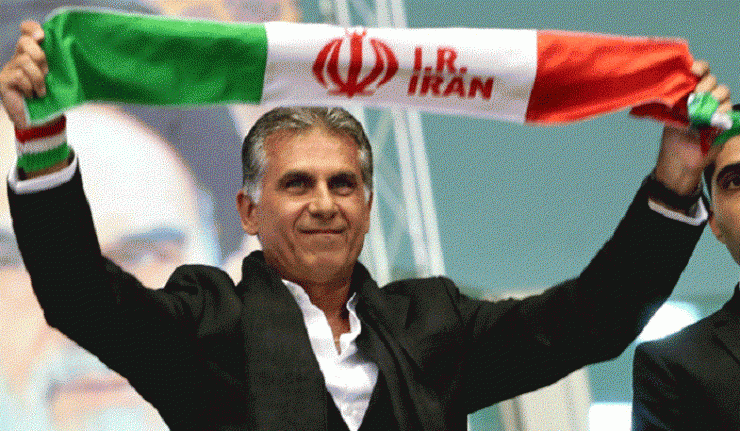 Squad information
Although well known with their defensive approach, just looking where the players are playing, the defence seems to be the weakest link.
For the most important game, opening game against Morocco, they have some really bad news. Young, but highly rated midfielder Saeid Ezatolahi will miss the first game due to suspension. Also, there are changes in central defence pair and it's questionable how 34 years old Pejman Montazeri can handle the Spain and Portugal. 4 defenders are playing in Iran league which finished in May, including Montazeri. The main goalkeeper Alireza Beiranvand plays also in Iran, Persepolis, and isn't reliable in high calibre games I afraid.
Strikers option should make the coach more happy than ever.
Team cornerstones are Ashkan Dejagah (played in Bundesliga for years, currently Nottingham), Sardar Azmoun (Rubin Kazan in Russia, 23 goals in 32 games for Iran) and Reza Ghoochannejhad (Heerenveen, 9 goals this season and 20 in previous). Of course also Saeid Ezatolahi, who will miss the most important game.
Also, midfielder Ehsan Hajsafi, playing in Olympiacos, has integral part next to Ezatolahi in the usual lineup.
Karim Ansarifard from Olympiacos had 17 goals season in Greece, which is another great sign for the FIFA World Cup 2018 journey.
I liked a @YouTube video https://t.co/0HDG9sbs2J Ashkan Dejagah / Iran / Al Arabi & Fulham / goals, skills and assists

— BEJAN (@JEFFGORDON5) March 26, 2017

Preliminary squad overview for FIFA World cup 2018

Weakest points in the team, as I mentioned before, are goalkeeper and defence in my humble opinion. Also the possible fitness, due to a lot of cancelled friendlies vital for them and players playing in Iran league. This league is just so much behind even from Netherlands, Greece and Russian leagues. There's a good mixture tough in midfield and attack with players in foreign leagues and scoring goals for fun in the leagues and also for the national team when called up. 3 striker 25 years old or younger with 4 young midfielders is a good sign for the future though. Just hope that some of them will start carrying the load during FIFA World Cup 2018.

Defence - 2 goalkeepers playing in Iran league and 1 in Portugal, Maritimo. Bad is that Amir Abedzadeh is a bench heater there and that's the reason he isn't number 1. Ramin Rezaeian plays in Oostende but isn't also the first option there. Milad Mohammadi gets's proper games compared with others in Russian Premier League for Akhmat Grozny. Although know for very defensive tactics, more quality players in other parts of the field.
Midfield - Ezatolahi has a great future ahead of him for Iran national team, no doubt. Not surprised if he changes the team after the FIFA World Cup 2018. Ashkan Dejagah brings quality, but 32 years old and those legs aren't getting sharper anymore. Hajsafi and 34 years old Shojaei should be partners in crime on the midfield trying to keep opponents away from goal.
Attack - Azmoun is the first striker, no doubt. Taremi (Al-Gharafa) and Jahanbakhsk (Alkmaar) should fill the winger's positions in midfield and help out Azmoun as much as the situation allows. Reza Ghoochannejhad is a proper option from the bench when trailing in the game.
1️⃣0️⃣ DAYS TO GO! ???#Iran scored 10 goals in our final qualification group stage for Russia 2018 to win our group above South Korea. This is Azmoun's goal against them ??⚽ pic.twitter.com/t3RpFTT8Jw

— Iran Football (@IranFooty) June 4, 2018
---
Vous aimerez aussi
Catégories
Posts populaires
Auteur