FIFA World Cup 2018 Group G.

Belgium

Belgium..despite having one of the most interesting and strongest team on paper for FIFA World Cup 2018, historically they haven't achieved anything in big tournaments. 12 appearances in World Cup and the best place is 4th in 1986. In Euros, 5 appearances and runners-up in 1980. Belgium raised from a mid-table team to the top teams around 5-6 years ago only. They had some more known players like Marc Wilmots and Mpenza brothers, but nothing so spectacular like at the moment. New generation made a mark in Uefa Euro U21 championship in 2007, when they reached to semifinals, losing against Serbia 2-0. Vertonghen, Lombaerts, Mirallas, Pocognoli, Fellaini, Vanden Borre, Witsel, Ciman, Mertens were the important names in the team. Hazard, Lukaku, De Bruyne, Benteke were playing in U19 and U18 teams and there a lot of promising signs for the Belgium national team. Fast forwarding to 2014 World Cup, where Belgium had already one of the most feared squad, although young and inexperienced. They won the group and USA in extra time in first playoff rounds. They fell in quarterfinals against Argentina 1-0. Around 15 then too young players should be ready for the FIFA World Cup 2018!
Qualification group were a walk in the park. 9 wins and 1 draw with a goal difference of 43-6. Lukaku and Hazard as top scorers for the team with 11 and 6 goals respectively. Last lost match for Belgium was in 2016 and it's easy to see why they are one of the main favourites to lift the FIFA World Cup 2018 trophy.
The first game is against Panama on June 18. The second game is against Tunisia on June 23 and the last match is against England on June 28 in FIFA World Cup 2018.



Tactics and manager


After several coach changes in a short time period, Belgium announced Spanish coach Roberto Martinez as the boss for the Red Devils. Martinez coached some English Premier League clubs before that, Swansea, Wigan and Everton. No international team experience and it was a brave move from Belgium team, so far so good tough.
Martinez 3-4-3 formation is often criticized and I'll jump on the bandwagon here. It works for some teams, but this means, that they need to use defensive minded, hard working wings in the midfield. Belgium doesn't do that and I guess that Martinez just tries to put on the field as many his attacking stars as possible. There's a big gap between talent in defence compared with midfield and attack. Not that there are no decent defenders for Belgium, but other parts of the field have much more 5-star players if 5 is maximum on the scale! I'm pretty confident, that considering previous seasons and level of players, Belgium 4 attacking players are the best on paper in FIFA World Cup 2018 compared against any other team. All three defenders, when healthy and their peak, were top defenders in Premier League. Also, there are strong central midfielders, but they lack fullbacks who can support the attack and at the same time provide strong support for defence. Players like Marcelo, Kimmich, Sidibe, Dani Alves etc. Carrasco and Meunier are the likely wingers, but Carrasco, for some reason, is playing in China as the attacking midfielder and team star who doesn't need to defend at all. In central midfield, Martinez trusts Witsel and De Bruyne. Witsel also went to China for some reason. Some are saying its money, but I'm quite sure he did well in Europe money wise. He is a top dog in midfield and can break any attack on a good day. His partner is De Bruyne, who is also much more winger and attacking players in his club than providing the support for defence. It looks like they don't care much about defence, because they know they can score more than any other opponentin FIFA World Cup 2018.
They have absolute top talent when bringing the ball up and attacking, but 3 defenders and 1 supporting midfielder mean's that they are vulnerable against counter attacks with the relatively old and rather slow defenders. On the club's, these defenders have much more support than in Belgium team and when they don't score 2-3 against top teams, they can be trouble. Expect Brazil, France, Germany, Spain, Argentina to score against them..ok, Uruguay also. Why on earth you left Radja Nainggolan out from the squad..WHY???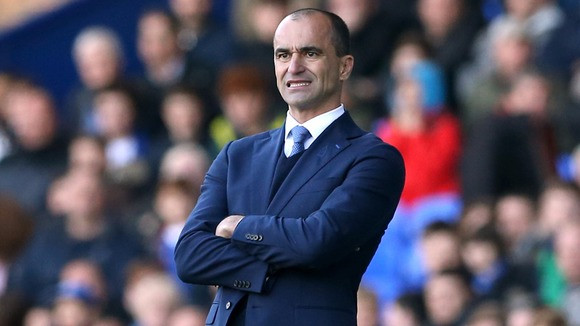 Squad information

AS Roma midfielder Radja Nainggolan is exactly what this team is missing from the midfield to support the defence. This guy can defend against strongest attackers and at the same time not just clearing the ball away, but pass it to the wingers or strikers. Yes, I understand, not getting along very well, but...Benteke is also missing from the squad and this move I understand. Lukaku is also a towering monster and much better quality wise. Only 3 goals in 31 games for Crystal Palace isn't something promising also. Origi made room for Batshuayi, also reasonable.

In goal, they can count on one of the best on his position. Thibaut Courtois has been the main goalkeeper for Chelsea for several seasons by now. 1.99 tall, but still very good on line and great reflexes. The second option in goal is Simon Mignolet. Playing in Liverpool for several seasons as the main goalkeeper, but lost the starting spot to..Loris Karius this season. The third option is Koen Casteels from Wolfsburg. Main team goalkeeper in Germany Bundesliga and definitely strong option also.
3 starting defenders in the middle will be Jan Verthongen from Tottenham, Dedryck Boyata from Celtic and Toby Alderweireld from Tottenham also.
Vertonghen is tall, strong main team player in English Premier League, but 31 years old already. Boyata is also, tall, strong and main team player in Scotland. Alderweireld is also tall and strong but got only 14 games last season due to injury. The common thing here is that they all..you guessed it, tall and strong. It will be tough for them to defend against silky and skilful strikers when countering them without wing support. I wouldn't count a lot on wing support a lot.
Kompany and Vermaelen are both over 32 years old and rather rotation players in their last 3 seasons, playing for Manchester City and Barcelona. Top teams and leagues, but only a few games and these legs aren't moving quicker when the competition goes on.
Thomas Meunier indeed plays as a fullback in PSG, 24 games and 4 goals. But he likes to support attack a lot and is often more high on the field than his midfielders.

Witsel will be the only midfielder counted as CM or CDM in starting lineup. Nothing against his talent and play were in 2012 in Benfica as one of the most wanted on his position. Decided to go to Russia, Zenit. Played there for 5 seasons and then did another strange move. Went to Tianjin. Spent his best years in Russia and China when he could have played for top teams and leagues in Europe.
Fellaini is another option when they need some defensive support on midfield. Problem is, that he is getting older and got only 16 games for Manchester United in last season. Were years as one of the most feared midfielders in Premier League.
Moussa Dembele is in form and can also break the opponent's attacks in midfield. Last 6 seasons in Tottenham as a main team player and should start in midfield, but not under Martinez.
Leander Dendoncker is listed as a midfielder but plays in central defence for most of his games for Anderlecht. Maybe though as a cover-up in midfield, but hope that Dembele and Fellaini are way ahead in this list.
Nacer Chadli was a good player, a few seasons ago. Midfielder on the right side and were decent in Tottenham for 3 seasons. Last season was ruined by injuries and got only 7 games for West Bromwich.
Yannick Carrasco is another mystery man for me. Were a monster for Monaco and especially in Athletico Madrid. 2 superb seasons in Spain and decided to go to China also, plays in Dalian. Could play in any top leagues in Europe.
Two interesting and promising younger players in midfield are Youri Tielemans from Monaco and Adnan Januzaj from Real Sociedad. Both are important main team players in top leagues. Januzai as winger, 28 games and 3 goals. Tielemans in a central midfielder. Scored 13 goals in Belgium league, but 0 in France in 27 games. Throgan Hazard is also a decent player in German Bundesliga, plays for Borussia Monchengladbach. Despite being only 25 years old, has played there as the main team player for last4 seasons. 34 games and 10 goals in his last season and can be some surprise factor from the bench.
Kevin De Bruyne starts in centre midfield with Witsel. Had his best season for Manchester City with 37 games and 8 goals. Has been the main team player for them in the last 3 seasons. Can dribble, assist, pass, score..but very good when they are without a ball and need to defend.

I mentioned that Belgium has the strongest 4 players core when they are attacking. De Bruyne is there with Romelu Lukaku from Manchester United, Eden Hazard from Chelsea and Dries Mertens from Napoli. Lukaku is only 25 years old, 1.90 tall and is the super target man for them. 16 goals in Premier League and got 25 in 2016 season for Everton. Big, strong and tall like defenders, but can score and a lot. Great target man and can take the balls down against any defence and with high success rate. Supported with the great wings like Hazard and Mertens and we have always dangerous attack all set.
Eden Hazard made his name in Lille, France.3 strong seasons were followed by 20 goals in 38 games and transfer to Chelsea. 6 seasons as one of the most dangerous wingers in the English Premier League. 12 goals in 34 games in his last season. Fast, skilled and can make a goal or assist basically from anywhere.
On the opposite of Hazard, they have Dries Mertens from Napoli. In 2016/2017 season Mertens scored 28 goals...28! In Italy Serie A. This is not some mickey mouse league but a top league in the world. In his last season, he was modest and scored 'only' 18 goals in 35 games.
Michy Batshuayi had a superb season in France, Olympique Marseilles before joining Chelsea. This wasn't the smart move from him. To put it short, he scored more in France in his last season than in the next 2 seasons for Chelsea and Borussia Dortmund. He is still only 24 years old, so hopefully can find his form and touch in Germany. Got 10 games and 7 goals after the winter break, so it's promising. Not so sure it happens during the FIFA World Cup 2018 though.

@danesmith127 getting hype over here. LET THE MAN TALK! #GoldenBoyhttps://t.co/StrpNzSqZx

— Frankie Fridays (@Hank_Panther) June 13, 2018


Preliminary squad overview for FIFA World cup 2018
There's a reason Belgium is one of the top favourites in the FIFA World Cup 2018, no doubt about it. World-class goalkeeper and one of the best attacks, if not the best. They can put up a strong midfield also when using Witsel and Dembele together to support the defence. I just afraid that's not the case, at least not in the group stage. There are strong defenders, but they lack fullbacks playing at the highest level. Against Panama and Tunisia they can go all out with attacking but against stronger teams I afraid they can be vulnerable. 3 central defenders, all basically 30 or over will mean slow legs against Brazil, France, Spain, Argentina etc.
Defence - Courtois is a world class, also strong defenders. Just the tactics, in my opinion, are not on spot. Will see how and if Martinez solves the puzzle during the FIFA World Cup 2018.

Midfield - De Bruyne and Dembele with their best seasons behind them in English Premier League. Hope that Dembele will get his chance in this plethora of attacking talent in the midfield. Witsel and Carrasco are good players, no doubt, but playing in China instead of top leagues can be costly in playoffs.

Attack - Hazard, Lukaku, Mertens. HLM can score against any defence in this competition. Supported by De Bruyne and for example other Hazard and Batshuayi from the bench. Speed, skill, technically gifted and tall target man waiting to punish the defences in FIFA World Cup 2018.


Panama

Panama is the debutant in FIFA World Cup 2018. Good position for them, can't have good expectations and they are in the same group with Belgium and England..and Tunisia. 3rd position in the group would be already a success basically, as they are minnows in world football arena. Good possibility to test themselves against top teams and players. Closest to European level football is playing a defender in Slovakia and 2 midfielders in Gent reserves. Their best result in international level was in 2013 CONCACAF Gold Cup, where they played in final against the USA. Panam took out Mexico in semifinals and actually beat them also in the group phase.
In FIFA World Cup 2018 qualifications they were 2nd the 4th round group phase. Costa Rica won the group and Panam edged Haiti and Jamaica. In the 5th round, they finished the group on 3rd place, behind Mexico and Costa Rica, but in front of Honduras and USA. A small surprise actually, but the USA failed to qualify thanks to last round loss against Trinidad.
Not very promising results in friendlies against European teams. Rather expect a lot of running, cards, emotions and cheering fans, but no playoffs.
1-1 against Wales, but Wales played with heavy rotation in this game. 1-0 loss against Denmark who played with their FIFA World Cup 2018 squad. They lost 6-0 against Switzerland and this is where their quality should be against top teams.
Panama should get a real test already in their first game against Belgium on June 18. Second reality test, for Panam or for England, is on June 24. Last game is against Tunisia on June 28 for the third place probably.



Tactics and manager


Hernan Dario Gomez, Colombian, who is coaching his 3rd team in World Cup final tournaments. Gomez was the coach in Colombia in 1998 World Cup and also the coach for Ecuador during the 2002 World Cup. So if there's 0 experience between the players in this level, coach Gomez has it a lot!
Hernan Gomez is quite a realistic coach it seems 'I would say to the people: enjoy it, it's high tide, we have a lot to learn, have a good time and be happy'.
Panama will most likely play with a 5-4-1 or 4-5-1 formation. They qualified to FIFA World Cup 2018 with strong unity and team football. Hard to mention any more strengths besides teamwork and strong defensive tactics mixed with some pace on the wings and in attacks. And of course low expectations for the tournament. As coach said, just enjoy it!
Most players are playing in MLS, USA or in some smaller leagues in South America, like Panama, Honduras and Costa Rica.
They will definitely play very defensive and be depending on counter attacks. 10 behind the ball and just try to hold on and frustrate the opponents as much as possible. As long as it's 0-0, everything is possible. When they concede, they have to open the game more and there's higher chance to concede more than score themselves.


Squad information

Actually, 4 players playing in Europe. Goalkeeper in Romania, 2 young players in Gent reserves and one defender in Slovakia. Most of the defenders are playing in MLS. Other players in South American leagues, but not in the strongest ones. Despite this, Panama is ranked in FIFA rankings higher than Russia and Saudi Arabia for example.
No experience in World Cup nor decent leagues in Europe is a big weakness sign for them.

The main goalkeeper will be 36 years old Jaime Penedo from Steaua, Romania. 8 in Romanian league and he should be one of the most experienced players. 132 games for Panama national team! Other 2 goalkeepers are playing in Panama local league.

Roman Torres and Fidel Escobar will be starting central defenders. Torres was the main defender in MLS for Seattle in last season. Escobar plays for New York team, but isn't even a main team player there and gets his chances rather in USL league.
Erick Davis from Slovakia Streda will be a fullback with Michael Murillo, who is main team defender in MLS for New York. Murillo is also the main team player, but all players are playing in rather weak leagues and standing against Belgium and England will be their toughest games they have played in their career.
Team captain, Felipe Baloy, is 37 years old defender and plays in Guatemala league. Luis Ovalle plays in Honduras and Harold Cummings with Adolfo Machado are playing also in MLS. On paper, this is one of the most inexperienced defences with Saudi Arabia's.

Ricardo Avila and Jose Luis Rodriquez are playing in Gent youth team. Both are very young, 21 and 19. So there is hope that they can have some players in Belgium league for the next World Cup, but I afraid they are not making any big statements in FIFA World Cup 2018.
Anibal Godoy is a starter on the midfield, plays in San Jose, MLS. He will be supported by Armando Cooper from Chile league and Gabriel Gomez from Colombia league.
Edgar Barcenas, a right winger, plays in Mexico.

2 interesting strikers in Panama squad. Blas Perez and Luis Tejada have both scored 43 goals for the international team. A lot of goals, but most of them against weak international teams. Both strikers are also kinda old. Perez is 37 and Tejeda is 36. have to be the oldest 2 strikers in FIFA World Cup 2018. Perez plays in Guatemala league and Tejeda plays in Peru league.
There's actually a hope of striker in the European league, as 21 years old Ismael Diaz plays for Deportivo La Coruna second team. 12 games and 2 goals for Panama and has to be a promising striker for his national team at least. Diaz was playing for Porto's second team before going to Spain and in 2015 managed to score 15 goals in a season.
Gabriel Torres had a good start in Chile league. 9 goals in 15 games and has played in Switzerland, Lausanne. 8 goals in 30 games in 2016 season, but for some reason didn't manage to stay in Europe. Abdiel Arroyo plays in Costa Rica league.




Preliminary squad overview for FIFA World cup 2018

Not much to hide here for Panama. Total outsiders in the group and in every game. Have to play against one of the favourites to lift the FIFA World Cup 2018 trophy and always hopeful England. One of the weakest team on paper, but biggest in heart! The best they can do is to try and keep the scoreline as close as possible and no to get demolished. Play for the fans and for themselves, as it's a big thing already for the players and fans to reach to the World Cup.


Defence - Be it 4 or 5 defenders in the starting lineup, they will struggle against big teams a lot. MLS league defenders with one from Slovakia small club, supported by 36 years old goalkeeper from Romanian mid-table team. Older players will have a chance to play at the highest level of international football is like a reward, early Christmas. Some younger players can maybe get a chance to play in some smaller European leagues and this would already be a win-win for the Panama national team.

Midfield - If I would be a coach, I would play both young Gent players in every game for 90 minutes. This is their best chance to start building their careers and gain some much-needed experience for the future.

Attack - Perez and Tejada will get a perfect chance to put a mark on their international career. Definitely heroes in Panama and much-loved strikers for their 43 goals for Panama. A cherry on the cake would be a goal in FIFA World Cup 2018.


England


England has been a regular participant in World Cup final tournament with 15 appearances. The best result is still a 1966 triumph against West Germany with legends like Gordon Banks, Bobby Moore, Bobby Charlton, Geoff Hurts and many more. In recent tournaments, England has always been in the top teams before the tournaments, but with some bad luck and injustice, they haven't managed to go through the quarterfinals. The last tournament ended with the fiasco, as they finished only 4th in the group behind Costa Rica, Uruguay and Italy. In 2010 the lost round of 16 games against Germany, 4-1. In 2006 they had a very strong squad with Beckham, Lampard, Gerrard and Rooney, but failed with the penalty shootout against Portugal in quarterfinals. In 2002, again quarterfinals, but this time they stumbled on Brazil. 4 years earlier, once again penalty shootout and this time against Argentina in a round of 16 games. Going through the group phase shouldn't be an issue for them with a small exception and they are the 2nd favourite in their group also in FIFA World Cup 2018.
Qualification tournament went smoothly. 8 wins and 2 draws with a goal difference of 18-3 and won the group in front of Slovakia, Scotland, Slovenia, Lithuania and Malta. Also, preparation friendlies results have been encouraging. Wins against Costa Rica, Nigeria and Netherlands with a 1-1 draw against Italy.
Opening game for England is against Tunisia on June 18. The second game is against Panama on June 24 and last game is against Belgium on June 28.


Tactics and manager


England coach is former defender Gareth Southgate. He started in 2016 and moved there from being a coach for the U21 team. Initially, he was there as a temporary coach after Sam Allardyce resigned on 27th September. 2 months after, he started as the manager on a 4-year contract. His previously managed teams were Middlesbrough and England U21 team, so he was a brave move considering the experience as a coach. He has done very well so far as the coach and what a lot of fans like about him is the courage to add young promising players in the team. Southgate prefers the 3-5-2, or rather a 5-3-2 formation, as he uses 3 centred defenders and 2 fullbacks, who support the attack a lot. This allows them to have 5 man midfield with 2 players as more attacking and one acting as a playmaker. Also, the fullbacks/wings will support the midfield and attack, but when without a ball, come deep and support the defence. 3 defenders with supporting fullbacks make it very hard to break their defence, as there are speed, strength and hight. When going to attack, the fullbacks are often overlapping and raising higher than midfield duo, who have options to either pass the ball on the wings and create a room or search for strikers, who are fast and cutting the lines. Captain Harry Kane is one of the most lethal strikers when in form, tall and strong enough to take the balls down and can find empty spaces behind the lines with his speed.
A lot of praise towards Southgate has gone due to the ability to find the correct players to fit into his system. The team has a system and players who know very well what they have to do and how.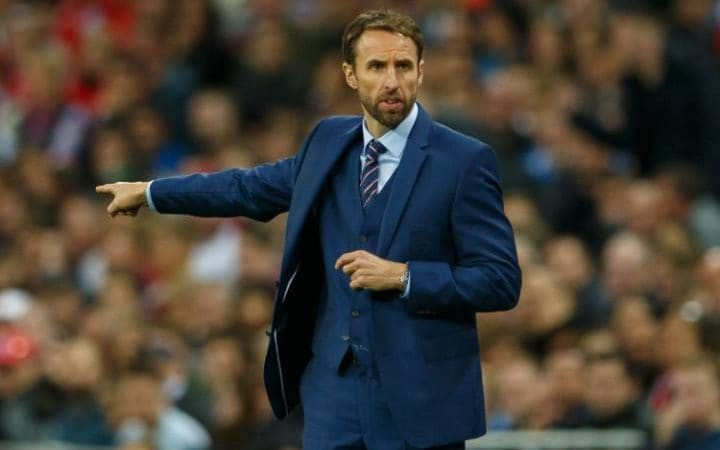 Squad information

The whole squad plays in English Premier League, arguably the strongest league in the world currently. It's a good start, but not all the players are carrying the team they are playing in. Good for the future, not so good during the FIFA World Cup 2018 is the fact that there's a lot of young players in the team. Only defender Gary Cahill has more than 60 games for the national team and all three goalkeepers have only 13 games in the England shirt. Most of the core have another 2-3 World Cups ahead of them and this is very encouraging for the fans. Southgate has a very clear vision for the future and looks like this team is in the rebuild mode.

24 years old Jordan Pickford from Everton is the number one goalkeeper. Only 2 seasons in Premier League, but were influential and reliable in last season. Jack Butland is 25 years old and plays for Stoke City. Also only 2 seasons in the top flight, but as they are still young for the goalkeepers, it's acceptable. Nick Pope finished his first season in Premier League for Burnley and was in Champions League just a season before that. All 3 had their best seasons, a breakthrough season and well deserved to be in the team.
The most experienced defender in the starting lineup will be Kyle Walker from Manchester City. Before joining City, he was one of the best in his position in the league for Tottenham. Better known as a right defender, but compliments well other 3 defenders forming a strong line. Adds some speed and can pass the ball in order to create some counter attacks. His partners will be John Stones from Manchester City and Harry Maguire from Leicester. 24 years old Stones finished his 5th season as a defender in Premier League but got only 18 games in his last season. 25 years old Maguire moved to Leicester from Hull City, where he had his breakout season and first one in the Premier League.
Most likely fullbacks/wingers will be Ashley Young from Manchester United and Kieran Trippier from Tottenham. Young's name is misleading, he is 32 and provides much-needed experience with Walker for the team. 7 seasons in Manu and has played against top teams and strikers for several years in the local league and of course in the Champions League. Energetic and still has legs to run for the full game. Trippier had his best season in Tottenham with 24 games. Trippier and Maguire are both new additions to the squad as they have only 14 games combined for the national team.
Gary Cahill is the Yoda of the defence with 60 games for England. 32 years old, but had 27 games for the Chelsea and has been there as the main central defender for the last 7 seasons. Left defender Danny Rose had a short season in Tottenham with only 10 games and 17 before that. Phil Jones as CB has had also short seasons in Manchester United recently, mainly due to injuries and tough competition in the team. 19 years old right defender Trent Alexander-Arnold had a strong season for Liverpool, where he took the main defender role after the winter break and guided the team to the Champions League final against Real Madrid.

3 main midfielders will probably be Alli from Tottenham, Jesse Lingard from Manchester United and Jordan Henderson from Liverpool. All of them had their best seasons and had a chance to play against strongest teams in Europe in Champions League. Alli, despite being only 22 years old, has been a very important player in Tottenham 3rd season in a row. 9 goals in last season, but 18 goals in the Premier League, while he was only 21, is something I haven't seen before. A rock solid player for England for many years to come.
Lingard had his most successful season in front of goal with 8 goals. Considering the competition in the team, he is in great form. Both are good goal threats from midfield and with different qualities. Jordan Henderson has been in Premier League for 9 seasons now and standing strong and feeding the balls behind one of the most lethal attacking three in the world right now.
Eric Dier from Tottenham keeps Henderson on toes, as he should be the second option on his spot. Neither of them is a big goal threat, but rather the support for defence and anchoring the midfield. Dier is 24 years old and has been the main team player for Tottenham for 4 seasons.
Fabian Delph wears a Manchester City shirt and his main strengths are also breaking up the opponents game and are the oldest player in midfield, 28 years old. Ruben Loftus-Cheek is another promising young player for England. Got his first full season in Premier League for Crystal Palace.

All eyes in attack will be on Harry Kane. Another prodigy from Tottenham. 24 years old and 4th season in Tottenham terrorizing the defences in the strongest league in the world against world-class players. 30 goals in last season and you would have expected it after he scored 21 goals in the league being only 20 years old! Strong, fast, lethal, scores from everywhere and with both legs.
Kane's partner in crime will be lighting fast Raheem Sterling from Manchester City. 18 goals in 33 games being only 23 years old means that he and Kane will be there for a long time. Scoring for fun in Premier League and for England. The future looks very bright for the England fans. If not in FIFA World Cup 2018, then probably in 2022, when the young core if the team will be in their peakI've not finished
ed yet actually. Marcus Rashford, a 20 years old striker, scored 7 goals in 35 games for Manchester United. Not a lot compared with other 2 main strikers, but let's see these numbers when he is also 'already' 23-24 years old!
The old one is Jamie Vardy. 31 years old late bloomer from Leicester City. 20 goals in 37 games and although not keeping the tempo of Kane and Sterling, is a good potential joker on the bench.



• Dele Alli • Midfield Master • Passion • Yids • Tottenham Hotspur • Longshots • Assists • Skills n Flicks • Interactions Appreciated • pic.twitter.com/ztDYUWlqbt

— ⚽️FV⚽️ (@FootyVidzz) June 2, 2018


Preliminary squad overview for FIFA World cup 2018


A young and inexperienced squad for England in this FIFA World Cup 2018. Probably the youngest starting lineup and definitely the youngest core in the competition. Only 1 player has at least 60 games on the international level and 5 players have more than 30 games on the international level. Should be quite a worrying stats for most of the teams, but not for England and Southgate. All players are totally worth the spot in the roster and as I have mentioned like 6 times already, playing in the strongest league overall in the world. Also, a lot of players are in 4-5 top teams in the league, playing and training every day with best players. Manchester City, Tottenham, Manchester United, Liverpool and Arsenal are top teams, 4-5 players from mid-table teams. With a bit of luck, they can this time finally reach through the round of 16 at least. Higher hopes should be for the next World Cup.


Defence - 3 quite even goalkeepers who all had their breakout seasons in Premier League. Strong, tall and good with high balls like any proper goalkeeper should be in England. None of the goalkeepers is in the top 20 on their position and world class players, but decent enough and in playoffs, you need just 4 good games. Good mixture of speed and youth, hight and experience (on club level) in the defensive line. Some younger players should carry well and there shouldn't be a worry about making stupid decisions on playoff games,

Midfield - High hopes on Dele Alli. Great all around player who can support the defence, score, act as a catalysator for fast attacks and can find good passes. Henderson should be the mentor for him and Lingard, who is a more attacking player and creates space with his runs and fast legs. Loftus-Cheek played in Crystal Palace last season but were loaned from Chelsea to gain some game time. He had a great season and there will be a big dilemma for the coach next season. To keep him, or allow to have another full season in Premier League for some other club. Also, Eric Dier can orchestrate on the midfield when they plan to play more defensively instead of Lingard.

Attack - Kane and Sterling can be a headache against any defence in the FIFA World Cup 2018. Add more experienced Danny Welbeck with Jamie Vardy in the punch and there's plenty of different options for tactics. Be it a fast play through the wings, someone to take down long balls or just short passing game in order to create room and find the holes in the defence. Of course, there's also Marcus Rashford with his speed and agility to terror the defences who had to run for 60-70 minutes already.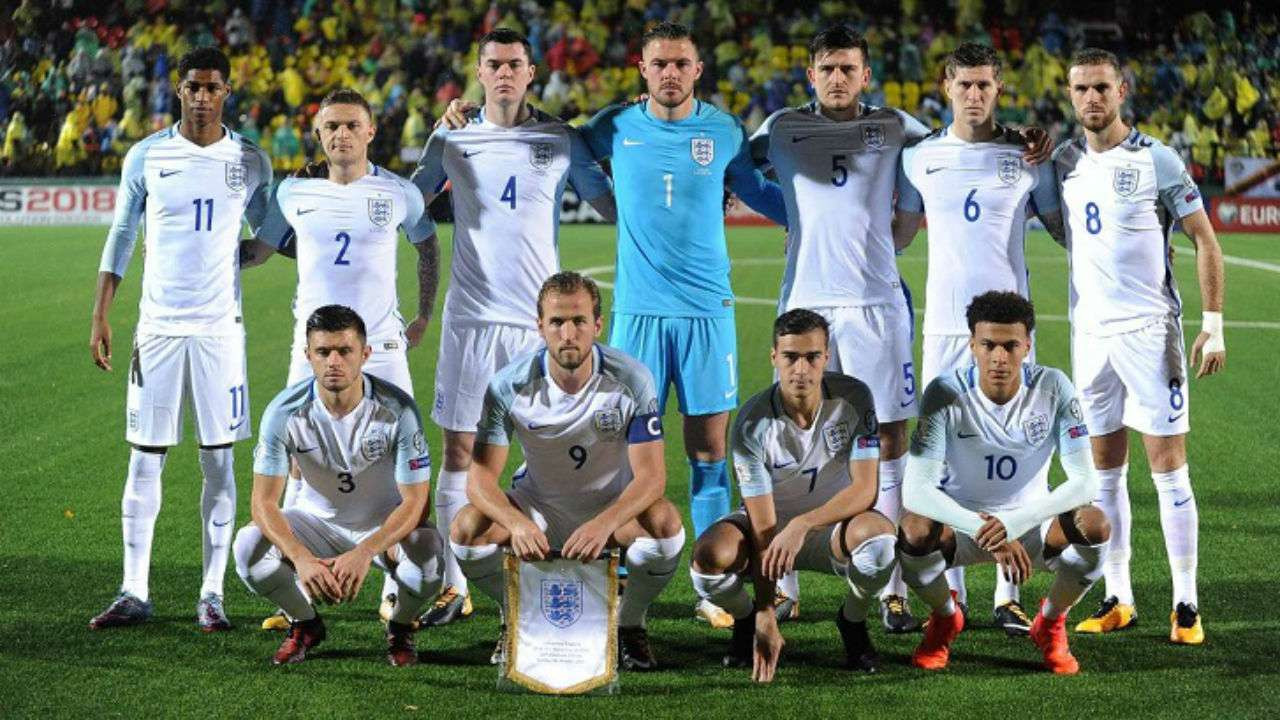 ---
Vous aimerez aussi
Catégories
Posts populaires
Auteur