Which football clubs are the best in investing money into players market?
Football as a business and oriented into investing money
As we all know by now, football is a business and a big business. Clubs are being sold and bought up for investing money purpose. Players prices have been rising rapidly, especially in the last 4 - 5 years. When Zinedine Zidane moved from Juventus to Real Madrid in 2001 for 77.5m, a lot of eyebrows were raised. This was the record fee for several and beat Luis Figo fee from 2000, 37m. Both of these were enormous transfer fees at that time and it was questionable if Real Madrid were investing money in the right way. Fast forwarding to 2018, neither of these fees are in top 10 at the moment. PSG holds top 2 places in the list of highest paid fees at the moment. Neymar was bought for 222m and Mbappe for 153m. Surprise surprise, but 2nd and 3rd place goes to Barcelona, not to Real Madrid, who is touted as Galacticos still and for some reason touted as a club who won't create their own players, but is rather a buying team. Barcelona has been investing money in recent years and they have bought Coutinho for 120m and Ousmane Dembele for 105m.
As a long time football follower, I knew the top 4-5 clubs easily, who has been investing money wisely in recent years and have taken the top fees and profits from players market. Can you name them? If not, let's check the numbers and names together!



AS Monaco, the best example of investing money
The time period im going to follow is from 2014 to 2015 season until this summer transfer window. French club has been in top 4 in 3 years during this time period when checking the profits made during the transfer window.
In 2014 to 2015 season, Monaco made a profit 66m. I'm not going to list the arrivals there, because they were sold with profit later and it's proved that they know how the investing money should be done!
They sold James Rodriguez after the blazing World Cup for the Colombian, to Real Madrid for 67m. James was bought only 1 year earlier, from Porto, with 20m. Portugal powerhouse bought him for 2.2m from Banfield in 2010.
Monaco instantly made some smart investments with this money and bought actually 2 players who they sold both with 4 to 5 times higher fee during the next 2 years!

2015- 2016 season and Monaco were profiting already 84m. Second in the list during the transfer windows period. 5 big departures and once again, investing money wisely and bought a lot of players who they sold in next
years with big profits. Biggest fee during this transfer window was for Anthony Martial, 54m and was sold to Manchester United. Martial was bought from the Lyon youth system with a fee of 4.5m. From 4.5m to 54m in 2 seasons
is a hell of a good investment!
The second highest fee was for Geoffrey Kondogbia. Kondogbia came from Sevilla for 18m and went to Inter for 32m after 2 seasons in French League. Doubled the money with 2 seasons once again and player market value
haven't been over 27m, so shouldn't be complaining at all.
Layvin Kurzawa was sold to PSG for 22.5m. Versatile left-back was their own youth player, so no money invested initially if not to include the costs of being in their system. Either way, a good example of investing money.
A lot probably don't remember, that Athletico Madrid winger Yannick Carrasco was also playing for Monaco and he were bought for 22m in 2015. Belgium international player was also their own youth system product
and a great example of what a good youth system can provide.
Aymen Abdennour was sold to Valencia for 19.8m after one year in Monaco. He came in for 11.7m only 1 season before.

2016-2017 was a tanking year and time for investing money without any profits made. Striker Ivan Cavaleiro was the highest paid fee they got. Bought from Benfica for 13m and sold to Wolves for 7.2m. A small loss
considering the success of previous years and they bought in players for 42m. Let's just say that they pulled out one major ace from this transfer window and made a huge profit with only 1 player already in the next season.

2017-2018 season and Monaco were 3rd in the list of transfer windows profits after Borussia Dortmund ( sold Dembele for 103m to Barcelona and Aubameyang for 58m to Arsenal ).
Exceptional year for the French club and were in profits with 121m! The biggest fee was for a player who they bought just one season ago with 11.7m and sold to Manchester City for 52m. Not sure I need to name him but ok, Benjamin Mendy!
From 11.7m to 52m in one season!
Bernardo Silva was also sold to England with Mendy, for 45m. Silva came to France from Benfica for 14m just 2 seasons ago. Need a good example of investing money? There it is!
Monaco has shown a great ability to not only buying the young players with lower price and then selling them after 1-2 seasons with huge profit, but also producing them. A great example is Kylian Mbappe.
French phenomenon was brought to Monaco's main team in 2016 with the market value of 225k and it was already raised to 31m with one season. Mbappe were loaned to PSG with a fee of 40m and then sold to PSG during the next transfer window with additional 121m.
One of the longest periods with investing money was with Tiemoue Bakayoko. He was bought from Rennais in 2014 with 7.2m and were sold to Chelsea in 2017 with 36m. If anyone would offer me around 5 times profit for investment in 3 years, I would take it without blinking an eye!
With striker Guido Carrillo they raked in `only` 11m and winger Allan Saint-Maximin gave 'only' 5.5m profits during this transfer period.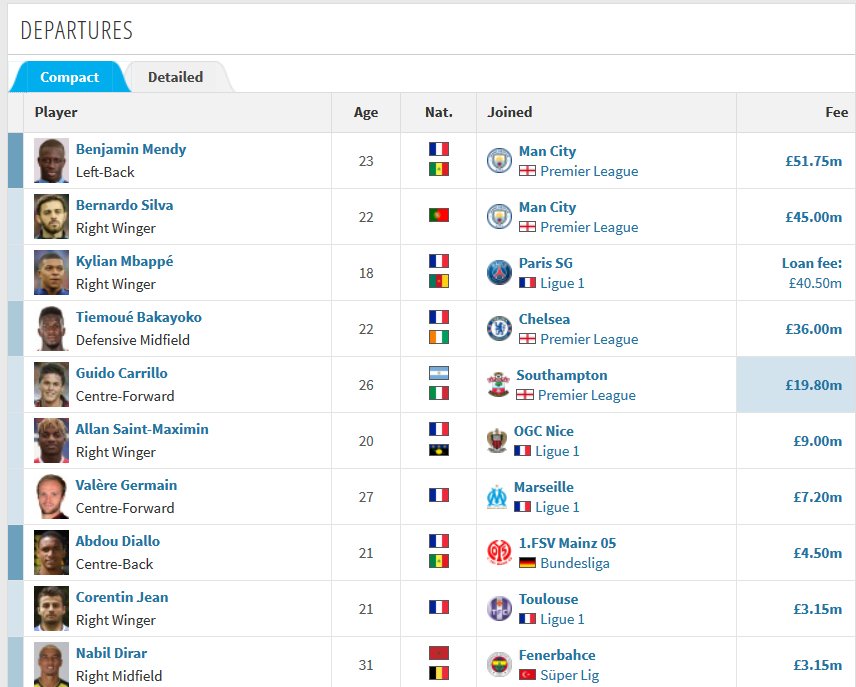 Biggest payday came in 2018-2019 season, as Mbappe loan deal was sealed as transfer and 121m.
Thomas Lemar went to Athletico Madrid for 63m. Another masterpiece from the scouts and management, as he was bought only with 3.6m in 2015 from Caen. That's basically 180m of profits from these 2 players, as Mbappe were their own product and Lemar was bought for pennies basically.
Fabinho was sold with 40m to Liverpool, bought in 2015 with 5.4m from Rio Ave. So it was around 215m in profits from 3 players in 3 years investment period. Absolutely brutal if you ask me. One of the best scouting and youth academy in the world without a doubt.
SL Benfica
Portuguese club has been in top 3 during the last 4 years and has only failed to produce some proper profits during this summer. There are some top players in their rankings bought up actually from Monaco, so some would say
they should have held them a little longer. Despite this fact, they have been doing a great job and as Monaco, has not only bought up but also produced their own talent.

2014-2015 season and Benfica topped the list with 66m in profits. Enzo Perez was sold to Valencia for 22.5m. He came to Portugal from Estudiantes for only 2m 4 years before and were sold at his peak.
Serbian winger Lazar Markovic was definitely a great of example on investing money. Bought from Partizan with 9m and sold only 1 year later to Liverpool for 22.5m. Not so great profits when comparing some deals Monaco has done,
but Markovic has never settled and proved his worth, playing as a loanee in several different clubs after the transfer.
One of the best goalkeepers currently, Jan Oblak, were bought from Olimpija for 1.5m and were sold to Athletico Madrid for 14.4m. Easy to say now, but at the moment he would cost you easily around 80m.
Bernardo Silva was their own youth system product and sold to Monaco for 14m who sold the winger 2 years later for 45m.

2015-2016 season and Benfica were 3rd in the list with 75m. Monaco was 2nd in this year and first was the club im going to cover next!
Majority of the profits in this year were paid off by Valencia, as they paid for 3 top players.
Striker Rodrigo was sold with 27m and bought only for 5.4m from Real Madrid youth team 5 years ago.
Midfielder Andre Gomes were basically their own youth product and Valencia had to pay 18m for his services. Valencia sold him to Barcelona one year later with 33m tough, so they took the taller straw from there.
Defender Joan Cancelo was also their own youth player and were sold for 13.5m.
Ivan Cavaleiro were also their own player and were sold for 13.5m to Monaco, who eventually sold him with cheaper price.

2016-2017 and Benfica were 3rd in the list. 2nd was Valencia mainly thanks to players they bought from Benfica only 1 season ago. The top team were Zenit thanks to Hulk and Witsel who both joined Chinese leagues for a big money move.
Benfica raked in 78m in profits tough and can't complain I assume. The biggest fee was paid for Renato Sanches, who shined in Euros for Portugal national team and raised the trophy in this tournament. 32m and he was also Benfica's youth product, so all profits for them.
Winger Goncalo Guedes went to PSG for 27m and once again, all profits for them! Another winger, Nico Gaitan joined Athletico Madrid for 23m and were bought with 7.5m from Boca Juniors 6 seasons ago.
Midfielder Helder Costa was sold to Wolves for 13.5m and he was also their own youth product.

Biggest payday and best examples of investing money properly for Benfica were in 2017-2018 season. Ranked 2nd in the list after Borussia and ahead of Monaco with 121m in profits!
The best piece of a business decision I saw during writing this article, except selling your own youth products of course. Goalkeeper Ederson! Brazilian shot-stopper was bought with only 450k from Rio Ave
in 2015 season and were sold to Manchester City for 36m 2 seasons later. Please teach me how to do it Football Manager!
Defender Victor Lindelöf were sold to another Manchester club for 31.5m. His price 5 years ago, when he came from Västeras? 2.75m and another masterpiece from Portuguese club scouts.
Nelson Semedo was sold to Barcelona for 27m and he was a free transfer as a youth player from Sintrense 5 seasons ago.
Kostas Mitroglou was sold for 13.5m and the price they paid a year before for his services was 6.3m.





In the 2018-2019 season, Benfica didn't make any profit and has spent around 21m so far. We should expect, just based on the history, that there are some gems coming out rather sooner than later.
From the players they bought this summer, I would pick out goalkeeper Vlachodimos, defender Semedo or midfielder Gabriel to handle them the profits during the next years. There's also some of their own products
showing glimpses of world-class quality. Striker Joao Felix for example with midfielder Gedson and Zivkovic and of course defenders Grimaldo and Ruben Dias.

FC Porto
Very close call here with Lille, Ajax, Lyon, Zagreb and Roma. Porto edged them for me due to being in top 10 during last 5 years once more than other mentioned teams. Also, the average position was better, so I have to go
with another Portuguese team here.

2014-2015 season and Porto were 5th in the rankings with 36m. Ahead of them were already mentioned Benfica and Monaco including Cruzeiro (sold Goulart and Ribeiro to China and Lucas Silva to Real Madrid) and Red Bull (sold Mane to Southampton and Kampl to Borussia).
The biggest fee was for Eliaquim Mangala, who went to Manchester City for 28m. Mangala joined Porto from Standard Liege for only 6m and played there for 3 seasons. Versatile winger Juan Iturbe went to Hellas Verona after successful loan campaign for 13.5m and joined Porto from Quilmes for 3.8m.
Porto also sold Fernando to Manchester City for 13.5m. The defensive midfielder came to Portugal from Vila Nova for only 650k. They also cashed in on Otamendi, who joined Valencia for 10m and were sold to Manchester City once again the year later for 40m. So a little bit of patience would have meant another 30m in next year, but it's easy to say now. Otamendi cost Porto 3.6m, so a good deal and smart way for investing money.
Some additional small fees for Defour, Castro and Josue, but they invested also a lot during this year and once again, well played.

2015-2016 was one of the most successful for Porto. They ranked as the first club ahead of Monaco and Benfica with almost 98m. There were 4 high calibre deals for them and to be honest, I don't remember one of them at all playing on the big stage. The mentioned player was Giannelli Imbula, a defensive midfielder, who came from Marseilles in 2015 July for 18m and were sold to Stoke in the February of 2016 already.
The more coveted player was Jackson Martinez. Martinez joined Porto for 8m from Jaguares and was transferred to Athletico Madrid for 34m 3 years later. For some reason, Athletico has been on the other side of the deals today a lot, not as much as Manchester City and probably PSG tough.
Brazilian right-back Danilo joined Real Madrid for 28m. He managed to play in Porto for 4 seasons and came from Santos for 12m. Danilo moved to Manchester City 2 years later, in case we already haven't mentioned them enough times.
Another Brazilian, this time left-back, joined Juventus for 23m. Alex Sandro joined Porto for 8m from Maldonado. He got 4 seasons in Portugal giants before leaving them.

2016-2017 was a quiet season for them and the only bigger fee they got was from Sao Paulo when Maicon joined Brazilian club for 10m. They invested a lot in different players tough and bought Willy Boly, Alex Telles, Depoitre, Layun and Soares for example.

2017-2018 and Porto were ranked as 9th. Borussia topped the rankings with Benfica and Monaco. Real Madrid was surprisingly 4th (sold Morata to Chelsea and Danilo to Manchester City) and Roma 5th (Salah to Liverpool and Rudiger to Chelsea).
Porto cashed in some previous season investments, as they sold Andre Silva to AC Milan for 34m and Ruben Neves to Wolves for 16m. Both players are red hot right now and were young when they made those transfers. So waiting a little bit would have been a smart choice.
Bruno Martins Indi went to Stoke for 7m and this was basically the same price they bought him from Feyenoord.

2018-2019 season and Porto were ranked as14th place.
Defender Ricardo Pereira went to Leicester for 20m after joining them for 1.4m from Guimaraes. He actually didn't get many chances for the Portugal team and were loaned out to French club Nice, where he made his name.
Young right-back Diogo Dalot joined Manchester United for 20m and was Porto's youth academy product. Basically raised his market value from 540k to 20m with one season and hope he can justify his price tag.
Willy Boly joined also Wolves for 10m after a successful loan year in England and was bought to Porto for 6m from Braga.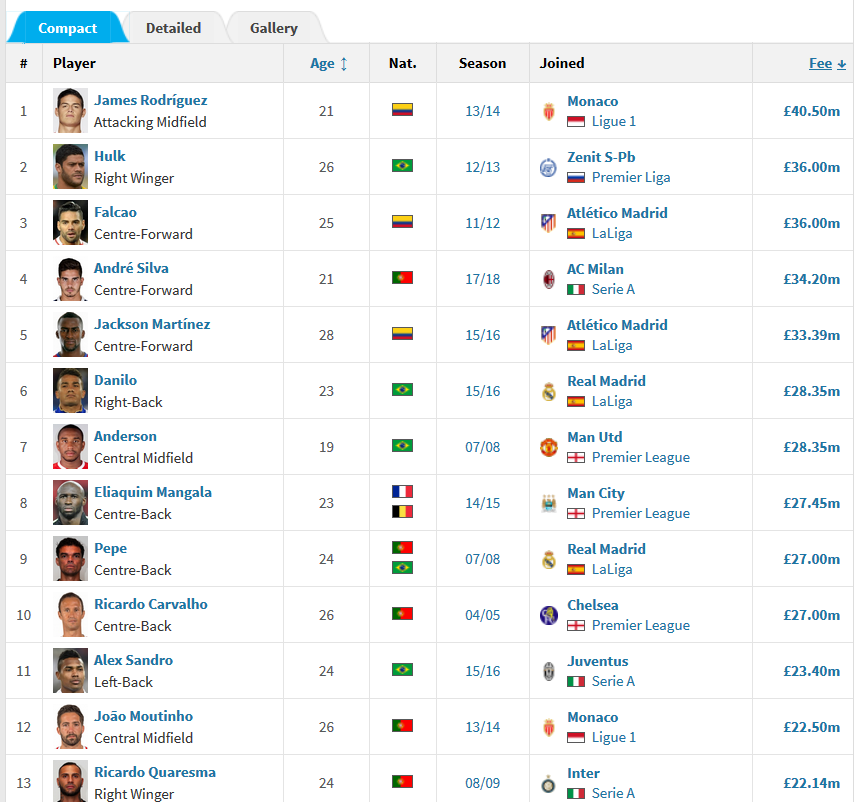 Honourable mentions
Dinamo Zagreb youth academy has produced some very talented players in recent years and in 2017 they sold young defenders Filip Benkovic for 13m to Leicester and Borna Sosa for 6m to Stuttgart. Also, highly rated midfielder Ante Coric to Roma, with only 5.4m tough which is a bargain and I'm quite sure we hear a lot about this player in coming years.
In 2016 they sold midfielder Marko Rog to Napoli for 12m and all of these mentioned players have been between 18 to 21 years old. Marko Piaca was sold to Juventus for 20m and Josip Brekalo to Wolfsburg for 9m. Marcelo Brozovic were sold only for 4.5m to Inter and were another absolute steal.
In 2013 they sold, for example, Sime Vrsaljko to Genoa for 4m and Andrej Kramaric for 1m to Rijeka. Neither of these players probably shouldn't need any introduction and are a vital part of their national team at the moment.

Lyon sold, for example, Mariano Diaz back to Real Madrid for 20m only one year after buying him from Real for 7m. In the 2017-2018 season, they got 47m for Lacazette from Arsenal and 37m from Bayern for Tolisso. Both players were their own youth academy products! In the 2016-2017 season, they sold Samuel Umtiti to Barcelona with 22m. You guessed it, their own academy player.

Ajax and Dutch youth systems have been printing quality players since forever. Ajax sold defender Davinson Sanchez to Spurs for 36m and Davy Klaassen to Everton for 24m this summer. Davinson were bought only for a 4.5m year earlier from Nacional and Klaassen is their own academy player. In 2017 they sold Milik to Napoli for 29m and Jasper Cillessen to Barcelona for 12m. Milik was bought only a year earlier from Leverkusen for 2.5m. Investing money properly I would say. Daley Blind, Toby Alrderweireld, Christian Eriksen, Jan Verthongen, Luis Suarez and Maarten Stekelenburg are all the recent additions from Ajax to the football world.








---
Vous aimerez aussi
Catégories
Posts populaires
Auteur