Live Football Stats – The Road to Perfection
Basically, there are two types of betting, pre-game and live. If you practice live betting, you need to observe and track live football stats in order to capitalize on your investments. So, you ask how? Well, there are numerous ways and we'll go over them but keep in mind that live football stats are always subject to change. Everything in football is and no matter how much one team may be better in football statistics, the other team might actually win the match by having either a lot of luck or some sort of defensive strategy. However, this shouldn't discourage you from observing live football stats, because these matches are only a statistical error and we can't predict them. For most of the matches, live football stats mean a lot and will provide you with the knowledge to know what and when to put the best possible bet.
Live Football Stats – Live coverage or football statistics?
Are you watching football or observing live football stats? That is the first question that you need to ask yourself prior to putting a bet on a live match. Why? Well, simply put, watching live coverage will give you more insights than merely observing live football stats since you'll see how both teams are playing and you'll witness the field chemistry. Honestly, football statistics are of crucial importance but they can't beat live coverage because watching it means feeling it.
If you were watching stats, and one team has 70% of possession, maybe you would think that they ought to win the game and score soon so you place a bet. And you would probably be right. Especially if the team with the possession also has more shots, corners, etc. But maybe, the team with the possession is just passing the ball around lifelessly and without idea. Maybe the opposing team is waiting for a chance to counterattack and is giving the first team possession intentionally.
Leicester City FC – Low Possession to Perfection
Do you remember Leicester City FC and Premier League Season 2015/16? Do you know that The Foxes won the Premier League title with merely 44.8 % of possession? During that season, only two teams had less possession than the League winner – West Bromwich Albion and Sunderland who finished 14th and 17th respectively.
Not only did they win the title, but Leicester City FC won the title with 10 points more than Arsenal, the runner-up team. This was the year when Liverpool was 8th and Chelsea finished 10th. Not only did Leicester win the Premier League with low possession but the team did it leaving Arsenal quite a bit behind. Only four teams won the Premier League Title by a greater margin of points: Manchester United in Season 1999/2000 where they left Arsenal 18 points in behind; Chelsea in Season 2004/05 leaving Arsenal by 12 points; Arsenal in Season 2003/04 with Chelsea 11 points behind them; and Manchester United in Season 2012/13 with 11 points more from their city rival Manchester City. Plus, The Foxes had the lowest pass success rate and were third when it came to long balls. They were playing a classical 4-4-2 formation with the full-backs staying back, two defensive midfielders who were shielding the back four and the second striker who was dropping into midfield. They played the same tactic home or away, no matter who the opposing team was. So, this is why live coverage beats merely observing live scores and stats. That was a great season. Do you know that Wes Morgan, the defender and captain of Leicester City, played every minute of a title-winning season? Only two players accomplished this prior to Wes – Gary Pallister in Season 1992/93 and John Terry in Season 2014/15.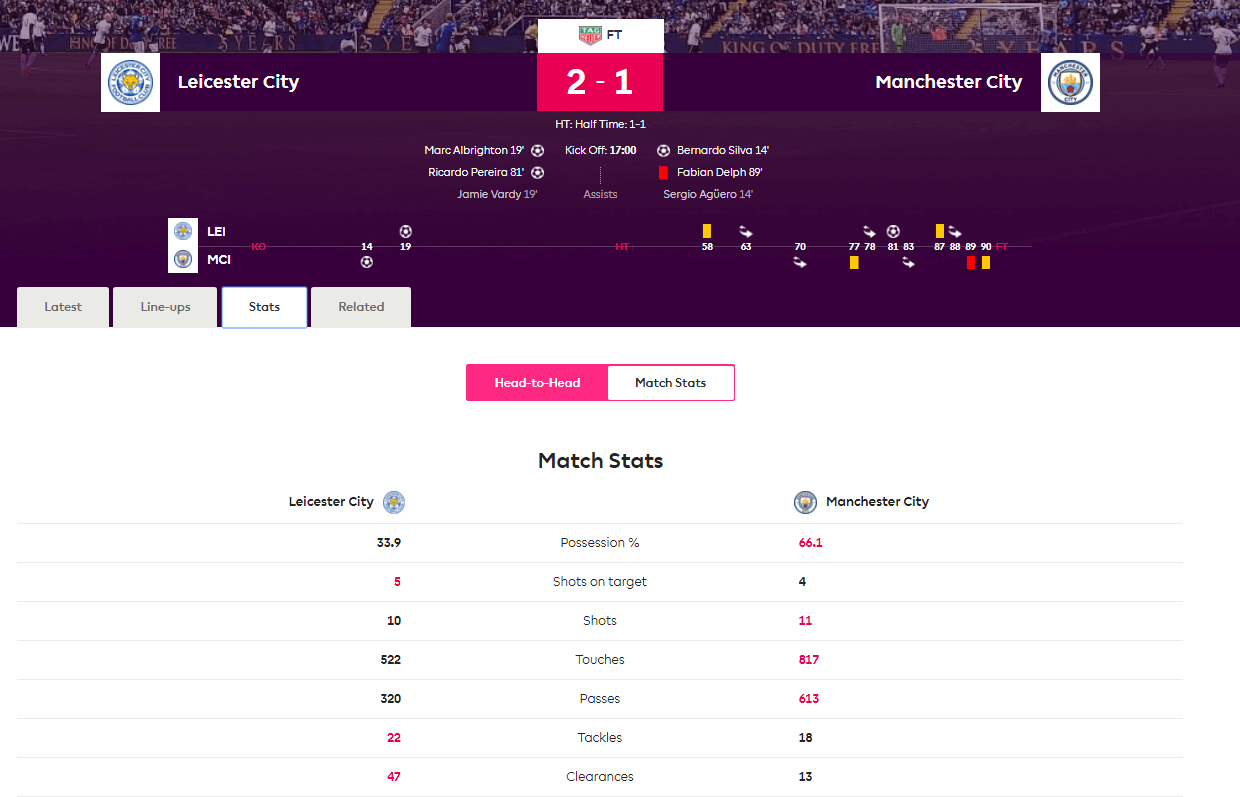 Live Football Stats in Leagues and Competitions
For in-game bettors, observing live football stats don't represent the whole concept of live betting. Punters also need to observe the league table and have a deep understanding of the leagues and competitions that they opt to bet on. As a punter, you need to strengthen your grounds within a particular set of league and competitions because you can't possibly track all leagues and competitions. Why? Well, simply put, if an average league has 18 teams that is already a lot of info to know if you desire to be a good bettor. Because, if you want to bet with accuracy, you need to know what the heck is going on with the teams, who manages them, is it a new manager, are there some injuries or maybe feuds within the team and so on. The list of things that impact a football match outcome is endless.
So, where do we draw the line?
You know, there was a TV commentator that was quite dramatic. So dramatic that it felt cheesy and embarrassing. But, that on the side, he was full of knowledge. Still, during one game between Chelsea and not sure which team Chelsea was playing against, this commentator said that Didier Drogba's grandma buys socks at a particular market. I mean, c' mon? So, if you are not sure where to draw the line. That is where you DRAW THE LINE!
So, it doesn't take much to differentiate between proper stats and nonsense. On the other hand, maybe those were lucky socks for Drogba who scored only when he wore them. Just kidding! I hope.
Drogba's Lucky Socks
It wasn't Drogba's Lucky Socks that led Chelsea to their first Champions League title on May 19th, 2012, but God, according to Drogba:
"I had some conversations with God on the pitch and that night I challenged Him and said 'OK, if you really exist, now show me',"
If you were to look at stats of the game and live coverage too, everything was pointing out that Bayern is going to hold the cup in their hands. Still, a decisive header in the 88th minute by a brilliant striker led Chelsea to extra-time and eventually, penalty shootouts that they managed to win. Guess who scored the winning penalty? Yup. Drogba.
Bayern had 20 corner kicks and Chelsea had only 1 corner kick. And the equalizer was scored by Drogba, from a corner! Yes. The only corner that Chelsea had and they scored a goal. And Bayern had 20 corner kicks. In the first half, Bayern had 13 total shots against Chelsea's 2 with 60% possession and 8 corner kicks, they were clearly dominating the game. The second half continued at the same pace, Bayern Munich had 14 total shots against Chelsea's 5. Eventually, Müller scored a goal in the 83rd minute and everyone believed that this was the end for Chelsea. But, their first corner kick and a masterful header brought the game to extra-time.
During extra-time, Bayern continued their domination with 59% of possession, 8 total shots against 2 Chelsea's, and 3 corner kicks against 0 from Chelsea. Still, they simply lacked the luck. It was penalty shootout time and even though Chelsea missed the first one (Juan Mata who also assisted Drogba), they went on to score the next 4 and win by 4:3 with Olic and Schweinsteiger missing the last two penalties.
How Stats drove my friend loco
It was some 15 to 16 years ago, in the galaxy far away. Barcelona was playing attractive football with Ronaldinho and Eto. It wasn't the best football played by a team, but it is among the most beautiful, it felt swaying, breezy and connected. My friend to this day remains a big Barcelona and La Liga fan. And he knows his game too. He is an encyclopaedia of football. During this particular season, Barcelona played a lot of turnovers. They would usually start by conceiving a first goal and end up winning the match. It did happen a lot during that season. They were simply putting all of their focus on attack. So, my friend placed a bet. It was a Champions League match. Barcelona was playing home.
He said that Barcelona is going to lose the first half and win the match. And it was almost so. The final result was 2:1 for Barcelona, just as he said, and Barcelona did conceive the first goal. Unfortunately for my friend, they scored the goal in the 46th minute. It was 0:0 on the halftime. What a bummer that was. I remember that he was both proud and aggravated by this outcome. I think that pride won that match since he could tell everybody, including me, how he almost caught an amazing winner. And I was there with him when he was placing the bet, he did say that the score is going to be 2:1 so nobody was going to call him a liar. Still, it is a shame he didn't win that match. What a party we would have. We were so young back in those days.
Live Football Stats – What to Observe?
Okay, so we went through a couple of stories where I just wanted to point out that sometimes things just happen and a lucky winner arises. This is a common belief in football. If you missed too much, you're going to lose. It doesn't happen that often actually. We just perceive that it happens every time. However, to get back on tracks, what to observe in live football stats? Well, start by observing the possession, the number of total shots and shots on goal, corner kicks, attacks and dangerous attacks, and of course, current score. Also, take a look at cards.
But let's stop for a second and see the attacks and dangerous attacks rubrics. This is a highly useful stat because it fully portrays the dominance and pace of the match. If there are multiple attacks and dangerous attacks on both sides, this means that the game is levelled. Maybe you could opt for chasing the number of goals scored on that match? Since there are a lot of opportunities for both teams, maybe there will be a lot of goals. That is, at least, some logic to follow. However, it doesn't have to mean. Maybe one team will score and defend well until the end. You can check the team's stats for that, how are they positioned on the league table, how many goals per game do they score and conceive, what is their head-to-head, etc.
Live Coverage – The best insights
It is highly recommended that whenever you do have the opportunity, to watch live coverage. This will strengthen your bets and also help you understand live football stats more closely. You see, by observing the live football stats whilst watching the match, you'll gain a deeper understanding of what the stats represent. This will help you visualize the match in future when you only have access to live football stats. You should always think about improving your knowledge and your skills and there is no better way than practice. Practice leads to perfection. Nobody was born good or best at something, all of us, we have to learn and constantly work on our skills in order not to forget. Such is life. And that is a good thing.
So, turn on live coverage of a match and observe live football stats at the same time. Feel free to take notes. Turn off the game for 10 minutes and try to visualise the direction of the match, is the dominant team still dominant? Have there been some changes? Maybe a new player went into the match and the situation has drastically changed? Such things commonly occur. A good manager that changes tactics within the match or a good player that can switch the play of his team means a lot. This is why you need to follow live football stats. A football match can go either way anytime. We have all witnessed those unbelievable matches where one side had several goals of advantage and the other managed to catch-up rather quickly and even win.
Liverpool and Milan – One of the Greatest Turnovers in Football
Do you remember Champions League Final match in 2005? What an amazing match that was. It was 3:0 for Milan at halftime. Everybody thought that the match was over and Milan was the new Champions League winner. Avast, in the 54th minute, Steven Gerrard scores. Two minutes later, Vladimir Smicev for 3:2 and 4 minutes later, Xabi Alonso for the tie. In only eight minutes, Liverpool went from 0:3 to 3:3 and went on to win the match in a penalty shootout. What an amazing match that was.
This is why I love football because these kinds of turnovers make the game so bittersweet. Yes, sometimes we cheer and sometimes we're in sorrow but the Reds paint a nice picture: "You'll never walk alone." And that goes for all football fans and teams out there. And that is where the true beauty of football can be found. It connects people. Even more, than Nokia used to do. Football is special. After all, the whole world tracks the football and the World Cup, it is a worldwide hysteria. So, whenever you do have a chance, watch a match. You can do it with your friend and/or your family. It can be a great way of relieving stress and anxiety. And plus, if you like to bet, you can earn some bucks alongside.
Live In-Play Statistics Interface
At StatisticSports, we cover over 95% of in-play games offered by the bookmakers. Our tool will provide you with a lot of value since you'll be able to easily check the score, cards, shots on and off target, corners, and attacks and dangerous attacks among others. Not only that, but we have a special tool called "Momentum Change". Momentum change allows you to easily understand who the dominating team is. You get to compare in-play stats for last 10, 15, 25, and so on minutes and compare that with full game stats. Also, feel free to quickly check and compare the first half and second half in-play stats. Our stats are easily followable, allowing you to put your focus on what matters, your bets.
At the moment, we process 7 different categories of in-play statistics with 4 different betting markets with odds. You can set your tool up to show only the stats that you are interested in to assist you in your decision-making process with the shortest time delay to spot the value bets quicker. With one click of a button, you can see:
• League Position
• Form
• Goal difference
• Average goals
• Corners stats
Not only this, but we have a range of tools available for our users to help you analyze the game and increase your odds. With over 5 years of historical data, 95% of live games covered daily, and 400+ tipsters using our services, StatisticSports provides the best football prediction tool to find valuable bets in time. You can get all of this and more for free for 7 days. Try our free trial and rejoice once again. Your search is over. The Tool is here!
---
Vous aimerez aussi
Catégories
Posts populaires
Auteur