England Championship form table


Fresh Table
Championship form table. The angles I'm going to discuss here are actually adjustable for every football competition, not only for England Championship. Although there are some common patterns in England championship form table!
Following teams form, how they perform at home and at away ground are all vital for successful betting. This particular league is also well covered in terms of team news, weather reports and some force majeure.
League Table
After a sufficient amount of games, already the league table can show you some trends and obvious strength of the teams. When the season has like over 10 games played already for all the teams, the form and trend can vary a lot.
Let's make the first example of the Championship form table, form and table, table!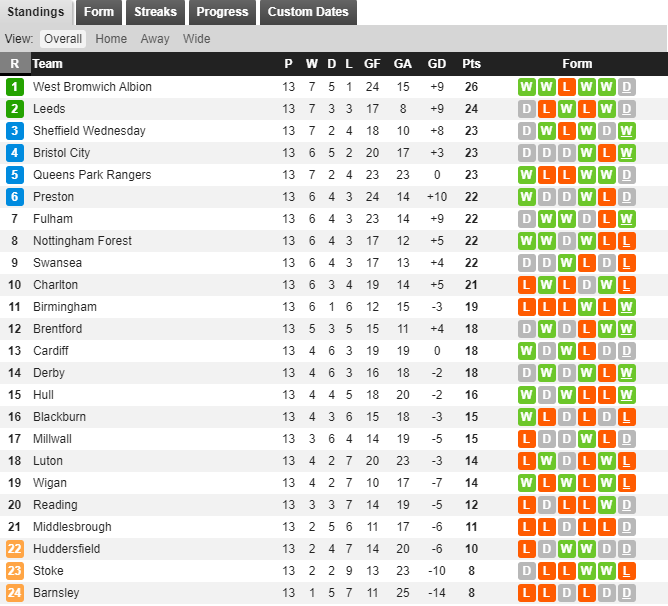 Top 10 is in 5 points, West Brom and Preston are the teams with most scored goals and Barnsley is the team with most conceded goals. Plain and simple stats with wins, draws, losses, goals scored and goals conceded with total points.
Let's change the table to show us only the games at home ground! This is one very important factor in football for several different reasons. One, of course, is the home crowd, the obvious one. Then field factor as it can be a little bit wider, a little bit shorter, the crowd stands very close to field etc. In some countries, there are also artificial pitches and this is already a very very big advantage.
Then travelling. Yes, in big leagues teams are going with team bus, planes and everything is sorted out. The smaller the league, the more energy-consuming the travelling can be. I can bet my left nut that teams in England National League don't travel by planes. Not to mention the travels in much bigger countries. In some countries in Asia, the teams have to travel with ferries, small busses or with ride long distances with their own cars. Think about it!
Championship home form
Only 1 team in overall top 6 teams is also in top 6 when we change the Championship form table to home games! There are 3 teams who haven't lost a game at home yet in this season. It is also important to check the goals scored and conceded.
Preston is scoring over 2 goals per game at home and has lost points only against top 4 teams at home.
Let's check the big picture. There are 11 teams who have lost more than 1 home team in their last 5 games at home. Also, only 5 teams who haven't won at least 2 games while playing at home in their last 5 games. There are also some easy reads on total goals scored for some certain teams while they are playing at home. Team's like Brentford, Millwall, Bristol, Leeds and some more look very tempting on unders when they play at home.
Championship form table
When we change the overall league table into Championship form table, there are some quickly noticeable differences. Huddersfield, on 20th position in overall league table, tops the form table! 3 wins and 3 draws with GD of plus 5. The only team without a loss in last 6 matches is 20th team in the league table! What's the reason for this? Some important injured players are back? Change of the coach already? Or just started playing according to their expected level? Maybe all the games at home or against easier opponents?
When we find the answers to these questions, we should start following the teams progress. The reason is, that there can be some value odds in the next games.
We can also notice, that teams like QPR, Preston, Barnsley and Blackburn have produced a nice amount of goals. I can say without checking that in these games you can stake on over 2.5 pre-game goal line. Mentioned teams have had around 3.2 - 3.5 average goals per game in their last 6 games.
Meanwhile, teams like Leeds and Sheffield are playing very low scoring tight games. By the way, they played against each other this weekend and game finished 0-0. Opening odds on under 2.5 goal line were around 1.8 - 1.9.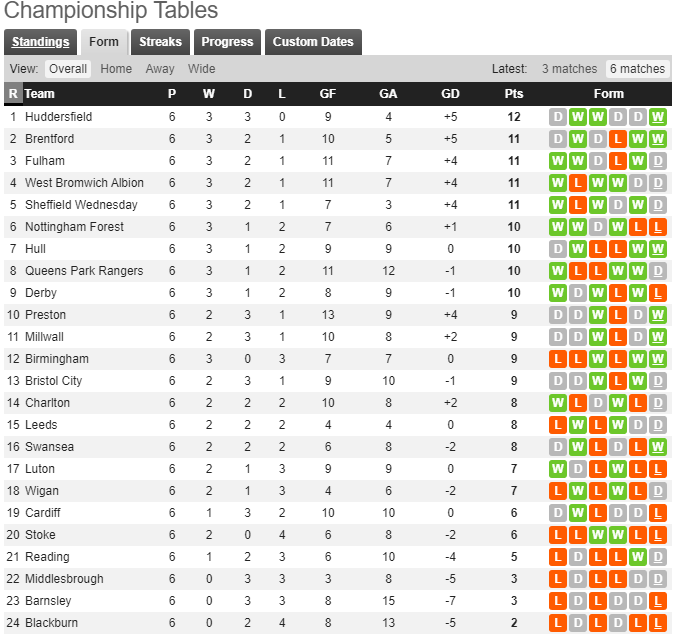 I dislike combo bets in general
But! Let's sort the Championship form table into home games and away games. There are 4 teams at the moment running well at home, without a loss. Also 9 teams with only 1 loss at home. Considering the average odds, you would get odds around 1.7 - 2 for a combo for home teams DC at least. If you go for a DNB for the home team, the combo odds for 2 teams would be over 2 for most of them. I'll say again, the combo bets are not my favourite ones, but the teams performing well at home tend to hold their form.
A similar trend is for away form. In the last 10 teams in the overall league table, none has won over 1 game while playing at away ground against top 10 teams. The odds in this league, for example, are generally good for this kind of combos. Just going with good home teams at home playing against bad away teams every weekend can give us 2-3 good combo bets. If we can hold the average odds on over 1.85 mark and sometimes hit odds of over 2 we are good.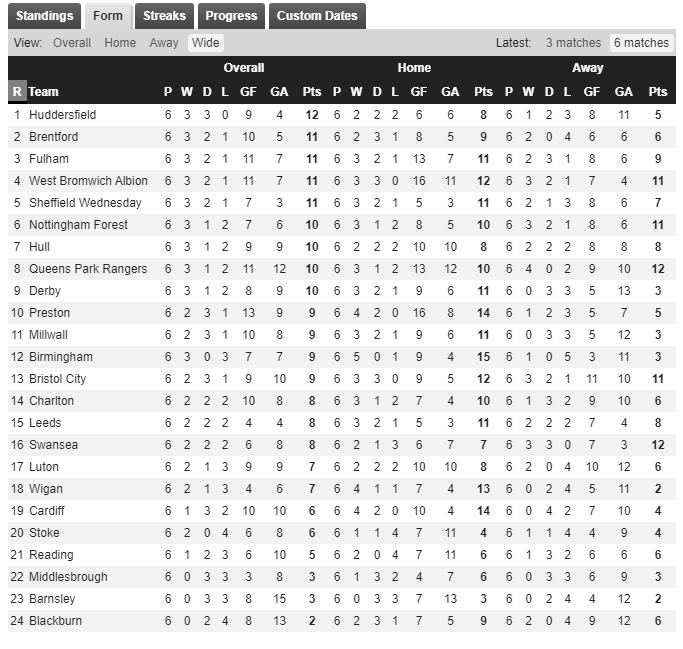 In conclusion
Searching for this kind of patterns can be a good start for your betting. I used the Championship form table as an example, but this simple preparation can be used on any leagues with good overall odds. I would void all the top leagues because there's always top teams with low odds and lines. Also, top teams are playing in Champions League and Europa League in midweek. These things have to be taken into consideration also and im sure that if you look into trends, it's easy to spot that teams playing midweek game are performing worse during the weekend.
---
Ti potrebbe piacere anche
Categorie
Post popolari
Autore