German Bundesliga is back!
The fight for the German Bundesliga title is back! As usual, 4 top teams are fighting for the Champions League spot and two teams will head to the Europa League. Five points separate the top 3, so the title challenge is wide open! Champions League and Europa League spots are also not decided yet. I'll take the 'risk' and say that Paderborn will be relegated and Bayern Munich will get the Champions League spot, Borussia will get the 2nd Champions League place. I am not going to say who will win the league tough! 3 German Bundesliga squads are in top 10 rankings of scoring the most goals in the league. Can we see some high scoring games during the weekend? I bet we can!
German Bundesliga standings
2011/2012 - the last season when Bayern Munich didn't win a German Bundesliga. Can someone break this record this season? I believe that Borussia Dortmund and RB Leipzig will hold on until the last game of the season this year. There's 4 and 5 points differences, and I would consider the Munich fixtures as the hardest when comparing the three teams upcoming games.
It is so wide open still it's unbelievable. Why? Because Bayern has taken the league win with at least 3-4 games spare during the last season, except previous season where Dortmund pushed them until the final match. This time there are more teams in the mix, and I wouldn't count out also Monchengladbach, seriously good games this season and their young stars can surprise every team in the league. I hope that we can see them in the Champions League next season. Leverkusen, Schalke, Wolfsburg and Hoffenheim will probably fight for the European League spots. Assume that Freiburg will fold their chance this time.
As mentioned in the email, Paderborn, in my opinion, will drop down this season. Ten points difference is undoubtedly too much at this stage of the season. Werder Bremen is a big disappointment. Dusseldorf, Mainz and Augsburg were certainties at the start of the season to fight for survival in the top division this year.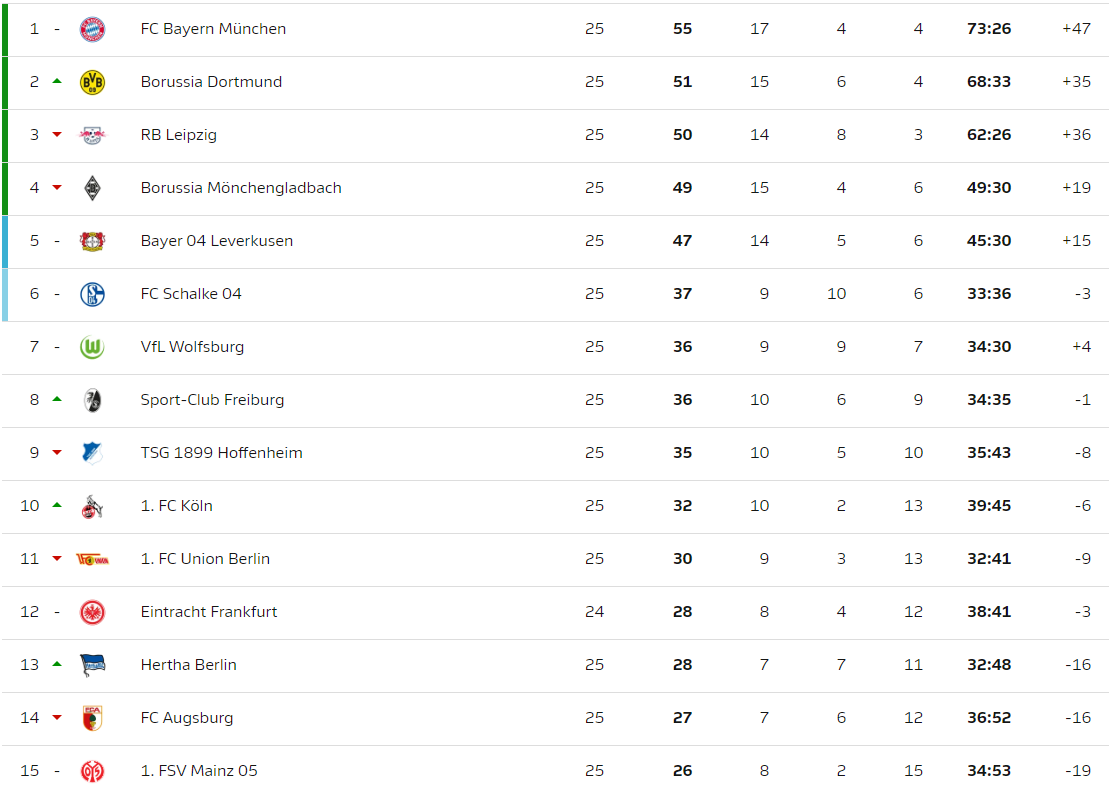 Key fixture in the German Bundesliga round 26
Dortmund v Schalke. Dortmund is playing at home and priced as 1.55 favourite. Fair odds also, in my opinion. Schalke had a terrible run of results before the break and didn't collect any wins during five games span. Dortmund has collected 30 points out of 12 home games this season. Schalke have collected 16 points at away ground with 12 games with negative goal difference, and I believe that they need at least two goals to have any chance to collect points in this game. Central defender Zagadou ruled out and a big miss for Dortmund. Reus and Hakimi are ruled out and also influential players in the team.
Sancho is reported as doubtful and not fully fit for this game. Akanij and Witsel said being game-time decisions. Reus also missed CL game against PSG where Zagadou and Sancho were in starting 11.
Schalke have their issues related to missings. Prominent defender Kabak and captain Omar Mascarell are likely to sit out this game. Stambouli is on game-time decision list.
---
Você também pode gostar
Categorias
posts populares
Autor