Biggest surprises and busts of the FIFA World Cup 2018.
FIFA World Cup 2018 is finished with France lifting the trophy. Many will argue, but they were deserved winners and not many teams showed the important team spirit and agility France showed us throughout the competition. Their confidence raised with every game and Croatia despite losing the final was one of the worthy finalists. Our families and girlfriends can get us back from the TV finally and its time to make my final conclusions from the FIFA World Cup 2018.

It has been one hell of a ride so far and as I mentioned in my FIFA World Cup 2018 overview, there will be some big upsets and surprises. I'm very happy and proud of my top goalscorer predictions, as I picked Kane, Lukaku and Isco all with great odds. I did get some young players to impress on a spot during the tournament and also some upsets and potential dark horses. I also failed miserably with over ranking Egypt, Morocco and Germany!
Hats off in front of Russia team also whos young star Golovin, valued at around 25 mil, is a big target for clubs like Juventus and Chelsea.
Kane, Hazard, Modric, Lukaku, Mbappe, Griezmann and so on had a great tournament, but there are some not so well known names who could be looking for some upgrade and transfer during the summer. Golovin is certain to move from CSKA, Yerry Mina is Barcelona player already, but 3 goals in 3 matches and 4.7 aerial duels won per match means that he had a great tournament and definitely have some top teams with offers. Tunisian Khazri from Rennes had 2 goals with 2 assist and pass completion rate of 80% in 3 games.
Mitrovic showed that he is a reliable target man and able to win a lot of aerial duels and passing the ball to the teammates in the danger area. Colombian Juan Quintero should get a move to some European top club and Mexicos Lozano played himself under the radar of some Premier League clubs.
Also, Kutepov and Azmoun with Trezeguet and Etebo were showing glimpses of high quality and from young Uruguay team, I would pick Laxalt and Torreia as the breakthrough players in the FIFA World Cup 2018.

3 winners in FIFA World Cup 2018

Russia, Japan and Sweden for me. Russia and Sweden played in quarterfinals and Japan came through from one of the toughest and most balanced groups, lost against Belgium being 2-0 ahead in Round of 16.

Russia was indeed the 2nd favourite to go through the group, but they did it in style! A 5-0 win against Saudis in the opening game, great goals for every taste followed by a 3-1 win against Egypt. They lost the last group game against Uruguay 3-0 but got also an early red card. Young midfield engine Golovin orchestrating the midfield and Cheryshev 3 with 3 goals and dazzling runs were enjoyable to watch. Dzyuba got 2 goals and were a top player in the head balls rankings. Quite an achievement and linked well with Cheryshev, assisting 2 goals for him. 39 year old Sergei Ignashevich started in all of the games!

Ok, so..they were playing nice attacking football with a lot of goals and everyone was impressed so far.
They faced Spain in the Round of 16 and of course, were big underdogs..against SPAIN! No chance for Russian league players against Spain with several world class players, all playing in the strongest leagues and top teams?
Spain got their goal already on the 12th minute..an ugly own goal to be honest, but no one was expecting what happened next!
A penalty for Russia on 41st minute and Dzyuba converted it, 1-1 and game on! Spain holding the ball, tiki-taka back and forth, 26 shots, 10 blocked shots and ball possession 75%. Full time finished 1-1 and also extra time. Spain had 91% pass accuracy with 1137 passes against Russias 284!
Russia didn't have any shots during the extra time, but they managed to hold on until penalties and it was already a great achievement. As Koke and Aspas failed to convert, Russia had to score first 4 penalties and they were through, unbelievable!

Croatia was waiting in the quarters and by the odds, Russias chances to win them were much higher than against Spain. Once again, 1-1 full time and extra time. Croatia scored 1-2 in the 101st minute, Domagoj Vida the scorer, but Russia hasn't had their last word yet. Mario Fernandes...yes, Russian, scored 2-2.
A 115th minute and 5 to go until penalties. This time Smolov failed to convert it with extra time hero Fernandes. Kovacic failed from Croatia's side, but Rakitic scored as the 5th penalty taker and Croatia went to semis.

Sweden was priced as the 3rd favourite in the group close to South Korea. Germany and Mexico were favourites to go through the group. In the first game, against South Korea, Sweden won 1-0. Granqvist the scorer from the spot. Sweden played as expected and Korea had their chances but failed to convert them. Against Germany, they were big outsiders and despite Germany dominating the first half, Sweden basically punished them with their only chance in the first half. Ola Toivonen scored and 0-1 on the 32nd minute. Germany continued to push hard and Sweden was sitting back, waiting for counterattack chance or dead ball situations. Reus managed to score on the 48th minute and 1-1 Germany dominated.
Jerome Boateng got his 2nd yellow on the 82nd minute and it looked like Sweden can get a point there, Kroos had other ideas. On 95th minute Germany got a free kick and Kroos curled in an absolute masterpiece to make it 2-1.

Last game against Mexico was a survival game for both, Sweden and Mexico. Both had chances to go through, but Germany played against South Korea...and lost 0-2, so Sweden won the group with a 3-0 win against Mexico, who also went through the group as 2nd placed team.
In the round of 16, they went against Switzerland as small underdogs and won 1-0, scorer Emil Forsberg.
Switzerland, who managed to score against Brazil and Serbia for example, couldn't break the wall of Sweden and Shaqiri had a chance to fly to Liverpool quickly to sign the new contract.
In quarterfinals...yes..Sweden in WC quarterfinals without Ibrahimovic, they finally lost against England 0-2. They were quite big underdogs once again and England was showing a great football so far. Nothing to be ashamed of and no one was expecting to reach to quarters.


I think Kroos had the best WC goal imo pic.twitter.com/jsT4pt1ivm

— ? (@MUFCredz) July 15, 2018

Brave Japanese upset the odds twice in the group phase by winning against Colombia 1-2 and drawing 2-2 with Senegal. The opening game against Colombia started with a BANG! A 3rd minute and red card for Colombia midfielder Sanchez, Kagawa converted the penalty. Quintero managed to score 1-1 with a sneaky little free kick. Osako had the last word tough and scored a winner on the 73rd minute. A 2-2 draw against Senegal was one of the most entertaining games in the group phase. Senegal was leading twice in this game and Japanese drawn twice. Keisuke Honda, an absolute legend in Japan, came in on the 75th minute when Japan was trailing 1-2 and he scored a goal already on the 78th minute.
This was the exact moment when Japan sealed the pass to playoffs, as Senegal got also 2 late yellow cards and these were also decisive.
Japan lost last game against Poland, who was already out from the race and as Senegal also lost against Colombia, there was a tie after 3 games. Senegal and Japan, both were on 4 points and 4:4 goal difference. Then they look at the received yellow cards and guess what, Japan had less yellow cards in the FIFA World Cup 2018 group phase.

Belgium was waiting in the Round of 16 as big favourites. If someone would have told me that Japan will score 2 first goals, I would have thought the guy has smoked something strong. Japan scored 0-2 on the 52nd minute! Haraguchi and Inui put Japan ahead in the 2nd half and Belgium had a mountain to climb. On 65th minute the Belgium coach did a masterpiece sub. He put Fellaini in, who is tall and strong in the box with Lukaku against Japanese defenders. A 69th-minute goal from Vertonghen and a 74th-minute goal from Fellaini. 2-2 and 92nd minute, corner for Japan. Basically, a last kick of the game, so coach and Japan decided to go for it, for the winning goal. They sent almost all player to the box or the edge of the box and tried some corner movements practised before. This was a mistake. Courtois caught the ball and delivered it quickly to De Bruyne, who brought the ball to the Japanese side of the field with few seconds and there were like 5 Belgians against 4 Japanese players very very quickly. Meunier got the ball on the right side and was quite alone to put a slow ground ball to the box. Lukaku was the receiver, but saw totally free Chadli behind him and let the ball through. Chadli got a tap-in in front of the goal and biggest comeback of FIFA World Cup 2018 was signed and delivered.
Japanese team went back home as heroes, no doubt.

A hero's welcome for the Japanese football team in Tokyo. pic.twitter.com/4ky3Ab2q62

— ian bremmer (@ianbremmer) July 6, 2018
Honourable mentions: Of course Nigeria and Croatia..and England. Nigeria was so so close to pushing Argentina out already from the group stage. Rojos 86th minute goal saved them from blushes, or did it? Croatia was playing in final, a population of 4 million only and can produce so many great football talents. Amazing if you ask me. The final was one-sided by the scoreline, but not when watching the game. They were much more tired of course at the end of the game. The reason, Croatia played 3 extra times and during the playoffs, basically, a 1 more game compared with France.
One big winner was, of course, Felipe Baloy! 37 years old striker who scored first Panamas FIFA World Cup 2018 goal, against England.
3 busts in FIFA World Cup 2018
Germany, Germany and Germany? Or Germany, Germany and Spain? These 2 big football countries definitely failed to meet the expectations in the FIFA World Cup 2018 tournament. The third one for me is Argentina. Although Spain and Argentina at least played in playoffs compared with Germany, there's nothing to be proud of in general. Yes, Argentina played against France, the winners after all and lost 4-3. 1-1 against Iceland, 0-3 against Croatia and 1-2 against Nigeria to save their asses on the 86th minute with the players they have? Big no no. Last chance for some big names to finally deliver in the FIFA World Cup 2018, on the big stage and once again a disappointment. Maybe Diego Maradona should have saved some for the players also!
Diego Maradona is not on drugs. I repeat, NOT on drugs. #ARGNIG #WorldCup pic.twitter.com/h9fI1ZN6Dd
— Off The Post Soccer (@OTPSoccer) June 26, 2018

Germany was one of the big favourites to lift the trophy, but they couldn't even lift themselves our from the group against Sweden, Mexico and South Korea. 2 losses and one 95th minute winner. Löw hoped too much on his old players despite having a lot of younger players available and in a good form. Their game was often slow and boring to watch, easy to cut down any threat and some internal problems. Apparently, the players were up late and playing a lot of video games. Löw was even forced to cut the internet connection in the camp so players would go to sleep earlier instead of playing games. And he didn't take a lot of younger players in the team? No sex and internet probably during the next Euros.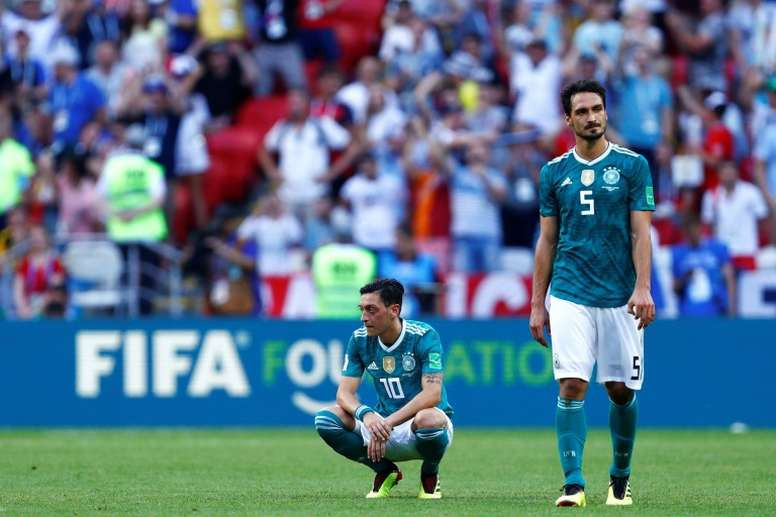 Spains struggles were a little bit more expected after the coaching saga. The initial coach was sacked just a few days before the group games because he announced joining the Real Madrid. Bad timing, yes, but a reason to sack coach before the FIFA World Cup 2018 groups games? Probably no! First game against Portugal finished 3-3. Enjoyable show and a great game. A narrow 0-1 win against Iran and a 2-2 draw against Morocco were already warnings for me. Draw against Morocco also came only with a 91st-minute goal from Aspas. A terribly one-sided game against Russia in Round of 16, but just couldn't score and find the holes and the last touch was often a let down in the box. Spain has to shake the squad a little and try to change their style of play a little. What worked in the last 8 years isn't currently working. Players have changed, opponents have used with it and have had time to think how to play against their style already.

In general, it was a great show and tournament with a lot of goals, upsets, fairytales and comebacks. Kane as top scorer, Modric as the best player and a lot of exciting young players showed what they are capable of on the biggest stage of world football. Now we can finally enjoy the summer outside from the living room and prepare for the Euros in 2 years!
---
Sie können auch mögen
Kategorien
Beliebte beiträge
Autor