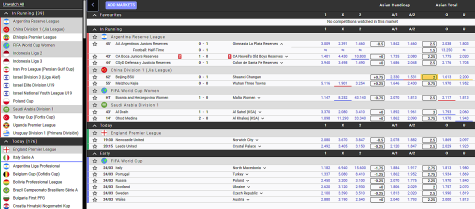 Bookmaker versus Betting broker
Bookmaker versus Betting broker; Due to my daily job, I talk with a lot of you; our new customers, long time users and potential customers. More and more often, the discussion moves to accounts, bookies, limitations, where to stake and so on.
It's a well-known fact by now that once you are a profitable gambler, the bookmakers will limit you much faster nowadays compared with a few years ago.

Bookmakers, in general, are investing a lot of money in new ways and systems to identify and spot the 'non-profitable' users as soon as possible to limit their stakes to a few euros. I remember the times when I could earn 5 figure sums in bet365 while using the famous tipsters. Now, it's awesome if you can get on 3-4 tips before getting limited. This leads to making new accounts and will end with further limitations. At some point, you end up without any bookmaker account where you can have decent stakes on and then you either give up getting new accounts through your friends and family members or move over to alternatives.
Does it have to be like this? No! There are alternatives for the bookmakers and they are betting brokers, betting agents, asian brokers.

Bookmaker pros and cons
To be honest, there are no pros for me, at least. Also no pros for most successful punters and tipsters. Why? Because we don't have accounts anyway. I mean, I can get some local bookmakers accounts for sure, but they would be limited quite quickly, even while using VPN service and deleting the cookies from my laptop. What are the general pros? Depends on the bookmaker.
In general, bookmakers are offering many more different leagues and games. I mean very low-level games, which are more probably tipped by paid services. Also, more different betting lines and markets. For example, who scores a goal, who receives a card, different corners markets, team goals from x to y amount, etc.
Bookmakers are now offering a cashout more and more often. Which I don't recommend, but a lot like them. Bookmakers are also offering more different sports. But...more different low leagues and more different sports also mean lower limits naturally.
The cons of using the bookmakers are easy. They don't like winning players. The limits can be very low.
What does this mean? You can be limited to just 2 euros stakes on highest leagues like Premier League and Bundesliga. Low limits? Yes, you can bet on Belarus second league Volleyball game, but the limits could be easily a maximum of 10 or 20 euros. It's good for a start, and I suggest starting from betting on the bookmakers until you run out of your accounts. Eventually, you will get limited and run out of accounts; then, you should move to the brokers.

For example, I have one local bookmaker where with a brand new unlimited account, I can stake a maximum of 100 euros on Premier League and Bundesliga. I'm not limited, and already the maximum stakes on such big leagues are so low.
Betting broker
In short, the betting broker acts as a middle man. You will have one account and log in instead of 5 to 10 and can access several different bookmakers simultaneously from one platform. You will have much higher stake limits without a real threat of being limited to 1 euros stakes. Some asian bookmakers are available only through the Agents. Exchanges like Betdaq and Betfair are not available in every country. The same goes for Matchbook and Pinnacle. Using the Broker Agent as a middle man can give you a tremendous edge, especially when you are limited in your local bookies or due to local legislation, you can't use soft bookmakers like Bet365, William Hill etc.
There's a total of 14 different bookmakers/exchanges available with the Broker I use. I can use all of them with 1 log in, on one account simultaneously. If this is not a luxury, I don't know what is!



Disadvantages of betting brokers
I would bring out two bigger issues related to betting brokers compared with your soft bookmakers. The first one is fewer games covered with fewer different markets.
They are still not covering a big part of lower leagues games due to having much higher liquidity. I understand this. You can't offer like 1k stakes on 5th division games and get away with it.
There are a lot of improvements, though. Lower and lower leagues and different sports are getting covered, but of course, with not so high limits as middle and high-level games. Still, it is a step into the direction we like to see, and even with 50 to 100 euros stakes on low-end games, it is better than nothing or the same liquidity in soft bookies.
The second more significant issue is somehow hidden fees while using betting brokers. Different brokers are using different fees; On deposits and withdrawals, commission or lowered odds. The commission is the fee exchanges are charging. The commission differs from exchange to exchange, but it's somewhere around 5%. Matchbook, Betdaq, Smarkets are using the 'hidden' fees for the users. Using the Broker Service will give you lower fees in this section.
There are some Broker Services with much lower fees, praise them! The 5% fee is a lot, a number 5% may sound a small number to some, but it adds up with every bet you win or lose. Some Broker Agents are also placing the fees for your deposits and withdrawals.

At the same time, some Broker Agents are handling your deposits and withdrawals themselves and doesn't use the fees there. You Withdraw 5k euros; you will get the 5k euros on your account.

It's also much easier to deal with Broker Agent than moving your funds between several different bookmakers manually by yourself which is not free also.

Choose your Broker wisely! There is a broker without hidden fees and commission-free, but they don't offer free 1 free withdrawal per month as some do.

If you have contacts with someone who runs his own betting broker service, there's always a chance you can get a good deal on fees and commissions!
Advantages of betting brokers
There are a lot of advantages. I will start with the most important ones for me personally. YOU WILL NOT GET LIMITED TO FIVE EUROS STAKES.
That's right! In betting brokers, they don't punish successful punters by limiting their maximum stakes. That's the reason pro's are using them.
Also, you will get much bigger liquidity/maximum stakes on the given games.

In general, it's widespread thinking that betting brokers also have lower odds due to offering much higher betting limits.
A small time difference, but in general, this is not the case nowadays. Quite often, you can shop for higher odds from different providers, and this is a big advantage!


As we can see from here, I could get around 4k easily on the overs, while in Bet365 I had 400 max stake, and in my locals, the maximum bet was between 100 to 350 euros on this market, and this is a big-league game.
Additional updates and advantages
Betting brokers are bringing in more and more leagues. It's Tuesday lunch time at the moment and I could stake on Indonesia 3 league, Israel Division 3, Uganda Premier League and Argentina Reserves League.
Some of the smaller leagues are covered only by Betfair Exchange and thus lower liquidity, but still an improvement and could get on more than 100 euros for most of the games while 100 euros is a maximum stake in my local bookmaker also on England Premier League.

Another big advantage is the option to follow the odds history directly from the tool.
You can check the price changes for the pregame period as well as for the inplay period. This is a great feature to be able to check how for example, the goal line odds shaped up during the pregame period.
Was it dropping or raising? Did either of the team's odds drop around one hour before the game once the official lineups were confirmed?


One very underrated feature is the Order functionality. With some chosen betting brokers, you can set up orders. What does it mean?
Let's say that you have some good information for a team playing in your local league, but the odds are already too low, around 1.4.
You can set up automated order to stake an x amount for you when the odds reach 1.7 during the inplay. You can use the orders for pregame and inplay.
---
Sie können auch mögen
Kategorien
Beliebte beiträge
Autor