Championship Form Table – An Indication For Success
A championship form table is a type of a league table that shows the current form of teams. This can be highly beneficial during your betting considerations since it can provide further insights into the form of different teams, e.g. opponents in a league. By observing the championship form table, you can further understand how one or more of the teams are currently performing. Maybe a team W is located at 6th place at the league table but on a championship form table, the team is number 1 due to 7 wins in a row. Maybe, that team had a bad season start and is now catching up and in a match between that and the team L that is currently number 3 on the league table but number 8 in a form table, the team W has higher chances of success.
Tell me all about the Form
A form table can provide a lot to football bettors. Why? Well, when you observe a league table in a given moment, you might jump to conclusions to who the winner of a fixture or even a league is going to be. However, amazing comebacks happened numerous times. Several of them occurred in the Premier League. In season 1995/96, Newcastle was leading by 12 points ahead of the second team in a league table. It was January 1996. Everybody thought that Newcastle was going to get that title. However, at the end of the season, the league table showed otherwise. Ferguson's Red Devils overthrew Keegan's Newcastle and won the league title. It was a miraculous race and an amazing run by Manchester United. Their form was brilliant. Two years afterwards, in season 1997/98, Manchester United was a part of another unbelievable title race. However, this time, it was Arsenal that overthrew the Reds. With 9 matches left to play, which is 27 points in the game, Manchester United was 11 points ahead of Arsenal. This means that the Red's only needed to get 17 points out of 27 in order to get that league title. One of the crucial games was the one at Old Trafford. The Gunners won that game with Marc Overmars scoring in the 79th minute. The assist has been performed by none other than Nicolas Anelka. And so, in the end, Arsenal had 1 point more than Manchester United. During Season 2002/2003, Manchester United pulled off 18 wins in a row. They won the league title but throughout most of the season, they were trying to overthrow Arsenal. They managed!

Aguero and QPR – One of the most thrilling games ever
Premier League has seen a lot of amazing comebacks and is certainly considered as one of the strongest and most competitive leagues in the world. Still, one of the most dramatic comebacks in the history of football has happened at the end of the season 2011/12. Manchester City won the Premier League title in a dramatic win over QPR during the last game of the season. It was their first Premier League Title. And under what circumstances have they won it. Amazing. It was Aguero who scored a goal in the 4th minute of stoppage time. However, Edin Dzeko scored a goal just two minutes prior to Aguero's goal. This means that Manchester City was losing 2:1 just 3 minutes before the match ended. And in those three minutes, they scored two goals and took home the league title. Mancini said that he believed that the title will go to Manchester United as they had 8 points more on the league table with 9 games to go. But, in the Premier League, everything is possible. Observing a championship league table in Season 2013/14 could also mislead a bettor. Manchester City was at the fourth place at the league table with just 9 games till the end of the season. In the end, they were champions once again. Manchester City had an 11 game unbeaten run. Furthermore, the runner-up was Liverpool with only two points less than Manchester City. It was the game with Chelsea that concluded who the league winner is going to be. And a lot of us still remember how Gerrard slipped against Chelsea and so, Liverpool lost their title. That was an absolutely amazing and bizarre season.
The Championship Form Table – Welcome the Invincibles
The Invincibles is a term used to refer to the Preston North End team of the 1888/89 Season. The team has been managed by William Sudell. This nickname has later been given to the Arsene Wenger's Arsenal team of the Season 2003/04 and most people connect the term with Arsenal. However, it was first been credited to Preston North End. This term became a synonym for a season without a loss. Italian clubs Milan and Juventus are also bearers of the nickname. Milan received it for Season 1991/92 of the Serie A. Milan finished first with 22 wins and 12 draws. Their team featured players such as Marco van Basten who scored 25 goals in the season; Frank Rijkaard, Ruud Gullit, Carlo Ancelotti, Roberto Donadoni, Alessandro Costacurta, and Paolo Maldini. Yes, I know, what an unbelievable team. As for Juventus, they accomplished the same in season 2011/12. They finished with 23 wins and 15 draws with Milan as runners-up. And in Season 1991/92, Juventus was the runner-up. Just some funny coincidences. Juventus featured Buffon, Barzagli, Bonucci, Chiellini, and many more. If I had to pick one of these, I would definitely go with Milan's team. Although, Arsenal's team with Bergkamp and Henry is one not to mess with. You see, by observing the form table and the form of a team, a lot can be interpreted. Of course, the players and the manager's name can also provide a lot of insights into the team and its possibility of success.

Championship Form Table – Great for Accumulators
There is a lot of football betting tips and different football systems that we can tell you about but great football predictions could be made by observing the championship form table. You can find teams with the best form and also observe teams with the worst recent form. Now, if a team is in a really bad form, it doesn't have to mean that they are going to lose. Remember, every streak has its beginning and ending be it a good or a bad one. Saying this, a team with 4 consecutive losses that is located in the middle of the table or among the first 6 teams is still most likely going to win over the team that is in a good form but is located in the lower part of the league table. So, think about it this way. You need to observe other stats such as home and away and head-to-head. Maybe the team that is in a bad form happened to have a great home play but their two recent games have been played against amazing teams. Maybe the team that is in great form played "easy games". There are no easy games but you know what I am referring to. They played against weaker opponents. All of these are important things that you need to consider in your ideations.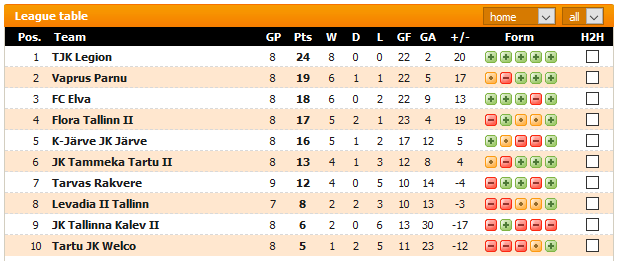 Think about the Competition
By observing the Worst and the Best teams in recent form, you can create great accumulators and earn some nice winnings. Also, some leagues are going to have less competition than in the Premier League and therefore, longer winning and even losing streaks. Among the five strongest European leagues, the French League, La Liga, and Bundesliga all have to dominate two teams in most of the seasons which is not the case in Premier League. Serie A also tends to have two strong teams in the last several years, although, competition has been stronger earlier. Therefore, as you can see, there are always different things that you need to think about but a championship form table can point out to a lot of things. Still, if you are playing a European Cup such as the Champions League or Europa League, observing a particular championship form table may mislead you. Let's say that you are observing a team that comes from a weaker league. The team has 12 wins in a row in his league. The team's opponent in one of the European Cups comes from one of the stronger European Leagues but is having a bad form. What will you do? Think about it carefully. Try to understand the strength of the team that comes from a weaker league. What is their European form? Does it differ a lot?
How to Pick a Winning Horse
Picking a winning horse is not that easy. First, you got to look at its teeth. Everybody knows that horses are known by their teeth. In this case, the teeth are their manager. Who is running the team? Is it a known or a new manager? In both cases, does the manager have authority and respect? Is there a spark of class or madness within him? A spark of madness such as in Arsene
Wenger and a spark of class such as in Zinedine Zidan. You see, it takes a great leader to make a great team. There have been such amazing teams, by names, that have failed to deliver. Yet, some teams have risen as teams and overthrew the more experienced, and even stronger teams. Think about Leicester. Think about Croatia at the World Cup. Both of the teams are for every respect and have amazing players but they weren't seen as the title pretenders. Although, Croatia finished second at the World Cup, but still, a great success for them. You see, it takes a manager and excellent team atmosphere to make a bunch of excellent players into a team. Milan from 1992 had a great atmosphere and not just an amazing team. The same goes for Arsenal, Manchester United, and Juventus. Stars don't make a team, they can only complete it and provide that something special.
My Favourite Invincibles, Milan
The story about Milan in the Season 1991/92 smelled more like a disaster than like success. Having failed to win a league title or any trophy in 1991, Arrigo Sacchi, their highly successful manager, left the team. Fabio Capello, a former Milan player, has been promoted as a successor. The team had several players with more than thirty years: Franco Baresi, Carlo Ancelotti, and Mauro Tassotti. Capello has been seen as a political appointment but proved to be of high worth. The team included a Dutch trio: Ruud Gullit, Frank Rijkaard, and Marco van Basten; Italian players such as Paolo Maldini, Alessandro Costacurta, Demetrio Albertini and Roberto Donadoni. They had a mix of experience, youth, steel and skill. Milan started with 3 draws in 5 games but Capello managed to round up the team and they won the following 12 out of 14 matches. The last game was also an amazing comeback. Milan was losing 2:1 at Foggia, and at the end, the result was 8:2 for Milan. There is an interesting fact about Perugia too. In Season 1978/79, Perugia was undefeated but they had too many draws. They finished second. Milan was the first. It should be noted that to go undefeated in Serie A at that time would be like going undefeated at Premier League nowadays. Serie A was the strongest European league at that moment. However, it should be noted that this as the season when Napoli played without Diego Maradona due to him failing a doping test early in 1991.
Henry, Ronaldinho and Bergkamp
Anyway, Capello's Milan continued their unbeatable record for another 23 games in the 1992/93 Season for a total of 58 matches in Serie A. What a championship form table that has been. This is why I choose Milan and not Arsenal although I have to admit that Arsenal's team was one of the most beautiful teams, same as Barcelona in the Ronaldinho phase, they played liquid and with beauty. Bergkamp's famous goal against Newcastle is still one of the most beautiful goals that I have ever seen. Henry was an athlete and it was great watching the two interact on the field.
And Ronaldinho? What can I tell you about him? Well, for me, he is an artist of football. A true craftsman who played with such ease and sheer happiness. There have been so many great teams and great players that one cannot even count them all. Whenever I start, I never stop. But luckily, history is always there. It is the future that brings new champions and I, for one, can't wait to watch them all. So, what will the new championship form table bring to us in the upcoming years? What new invincibles will we witness? Can PSG finally muster the strength to win the Champions League? What about Manchester City and Juventus? These three have been eyeing the title for a long time. Juventus brought Cristiano Ronaldo and PSG Neymar. Will they sell Mbape? What will happen with Barcelona when Messi leaves? How are we going to watch football with no Cristiano Ronaldo or Messi? It will be strange but it is going to occur soon. Just like with Rodger Federer, Rafael Nadal and Novak Djokovic in tennis. Everything changes, only we, the spectators, remain the same. Until we change too.
The Beauty of the game
Such as the beauty of the game. A championship form table can also point out to the beauty of the game because it can point to the team that is undergoing an amazing streak of wins. This might lead to some nice bets and winnings but also to becoming a part of history, of that moment when a team is simply invincible. And the best thing is that we, you and me, can both witness that moment. All that is required is a little bit of attention from our side and we can truly witness something great. And one day, we could be the ones who reminisce about the good old days when we watched them becoming invincible. Being a part of something is in our nature. We want to be a part of the herd. This is why we started creating villages. And after that, societies. Which led to democracy and the world that exists today. Of course, this is not a perfect world, there is a lot of injustice within it, but still, we are trying to perfect it with each breath that we take. One day, we'll succeed. We too shall become invincible.
Try our A.I. Tool for 7 days for Free
The championship form table can aid you in your betting efforts but it gets hard to grasp all those stats at once. This is why using our analytical tool is useful in giving you an all-in-one statistics tool with all football-related data analyzed by A.I. from one source. We cover 95% of live games daily with 2,100 football games processed weekly and over 400+ tipsters using our services. The best thing is that you can try it for free for 7 days. See the profits!
---
Sie können auch mögen
Kategorien
Beliebte beiträge
Autor