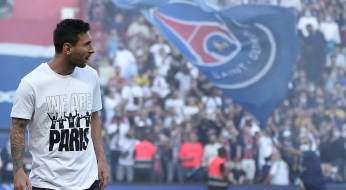 Big football leagues are back! - France Ligue 1
France Ligue 1 is back! What assumptions can we make from the first round in the Serie A? Who's summer signings started to deliver from the start?
Many big transfers during the summer despite tough times. A lot of top-class players changed the clubs for cut-price or for free.
England Premier Leagues clubs paid the three highest fees, and I'm sure that their dominance will continue. This should be a must for them.
Except for PSG, who pulled off the biggest business during the summer. I mean, this summer will go down in history as one of the biggest summers for one club.
Lionel Messi and Raphael Varane changed their long time clubs and left Spain. Manu and PSG stole the show until Lukakus move.
So let's check what happened and what to expect based on the first rounds of the big league's football top clubs.
France Ligue 1 defending champions - LOSC Lille
The defending champions are priced around 26 odds to win the French League 1 once again. Of course, the bad start of the season is already taken into the odds. Lille lost 4 main team players during the summer. Main goalkeeper Mike Maignan, midfielders Boubakary Soumare and Luis Araujo and defender Adama Soumaoro. 3 of them were absolute key players during the title-winning season. In came 2 goalkeepers. Leo Jardim returned from loan and conceded 7 goals in his first 2 games.
They loaned Ivo Grbic from Athletico Madrid, who was between the sticks in their last league game, and he let in 'only' 1 goal. Amadou Onana was bought from Hamburger for 6m.
Based on the market values, they lost around 70m and brought in around 15m. This doesn't sound like they are going to defend the title at all.
In their first 3 rounds, they drew 3-3 against Metz, then lost 0-4 against Nice and drew 1-1 against Etienne. Let's assume Grbic is going to prove to be a better goalkeeper than Jardim, the defensive issues need to be solved as soon as possible. Based on the first three rounds there's no hope for the top 3 finish.
PSG
What a summer PSG had! Heavy favourites to win the France Ligue 1 and also big co-favourites with Manchester City to win the Champions League. If they are not going to play at least in the finals this time, the coach and many players will be gone, I'm sure.
They could send out two different teams, and both of them should play at least in the quarter-finals.
They lost Mitchell Bakker and Moise Kean. Defender Bakker had 26 games, and striker Kean scored 13 goals in 26 games. Strong squad players both, but for Kean's success, they kept Icardi for cup games.

To cover the defence, they bought Achraf Hakimi from Inter for 54m. The guy was an absolute beast in Serie A, and no doubt he will also be a beast in France Ligue 1.
The other reinforcement to the defence was no one else than Sergio Ramos from Real Madrid, for free! This move showed already that PSG is going all in this season.
They also bought out Danilo Pereira after a successful loan period from Porto for 14m.

They didn't stop here. Gigi Donnarumma, the new Europan Champion with Italy were also lured in for free from AC Milan. They also added Georginio Wijnaldum from Liverpool for free.
That's almost 90m worth of players brought in for free. But why stop here if there are good options on the table?
The latest addition was Lionel Messi from Barcelona! And again, for free. His market value is standing around 72m at the moment. So it's four world-class players added to the team as free transfers.
Neymar and Messi are in the same team again, with Mbappe, Di Maria and Icardi in the attacking line. Supported by Draxler, Wijnaldum and Verratti.

The only worry at the moment is that there's a lot of talking about Mbappe leaving the team as he don't want to share the attention with so many superstars in the team instead of being a focal point.
3 wins in the first 3 games with 10 goals scored and 5 goals conceded. Ramos can cut the goals down for sure once he is fit to play. Messi, Ramos and Donnarumma haven't played yet for PSG, but we could see Messi this weekend. Even if they lose Mbappe, everything except the Champions League trophy will be a big disappointment.
Monaco
AS Monaco is building on their 3rd place from the previous season. The top 4 finished inside of 7 points difference: Lille, PSG, Monaco and Lyon.
Lille, in my opinion, did some serious damage to their title-winning squad with their transfers and change of coach. PSG is going all-in, and it's impossible to keep the tempo with them anyway.
So, Monaco did strengthen a little but kept the core of the last season's team.

Benjamin Henrichs was sold to Leipzig 13m, but he played there as a loanee player last season anyway. Fode Ballo-Toure was sold to AC Milan for 4m, and he was a rotation player. Henry Onyekuru - Olympiacos for 4m and also a rotation player.
They added a lot of potential firepower by buying Myron Boadu from Alkmaar for 15m. 14 and 15 goals in his last season in the Netherlands league and only 20 years old.
Midfielder Jean Lucas from Lyon joined the team for 10m, and left-winger Ismail Jakobs came from Köln for 6m.
All of these 3 players have been in the lineup in their first 3 league games, but no goals nor assists yet.

1 point in 3 games, 1 goal scored, and 4 conceded is defo a worrying start for them. Lens scored against them while playing with 10 men at Monacos home. They have been dominating in all of these games by the stats, but so far have had a lot of bad luck and failed to convert their chances. It's still early in the season, but the squad and actual gameplay has been promising. Once they start converting and clicking, I'm sure that they are going for a top 3 spot in France Ligue 1.
Lyon
Lyon took a big loss during the summer transfer window. France Ligue 1 one of the most feared strikers, Memphis Depay, moved to Barcelona as a free agent. Losing one of your star players for free is always hard to take and recover. Joachim Andersen went to Crystal Palace for 15m and Jean Lucas to AS Monaco for 10m. Neither of these players was a regular for Monaco, so no big loss there.

The biggest addition by any means was Moussa Dembele, who came back from Athletico Madrid and needed to step into Depay shoes really fast. Luckily for them, he has managed to do so and scored 2 goals in 3 games already.
Italy left-back Emerson was loaned from Chelsea and featured in one game so far. Henrique joined from Vasco for free and has one game so far for Lyon. Jeff Reine-Adelaide came back as a loanee player from Nice and is a guaranteed starter in the midfield.

2 points only from their first 3 games, including a 3-0 loss against the Angers. Not a good start by any means, and against Clermont, they gave up a 3-1 lead. As Monaco, they need to pick it up and fast as the likes of Rennes and Nice can fight for the top spots for sure and they don't want to give them a too big lead to start chasing them during the whole season. Angers and Clermont will start dropping points rather sooner than later in France Ligue 1.
---
You may also like
Categories
Popular posts
Author