System

System updates

05.12.2018

Notification update: We added some new features!
There was an update to add only some certain leagues and countries to notifications a not long time ago and now you are also able to exclude some certain countries and leagues!
Also, we updated the notifications part and changed some namings in order to be easier to understand. Some extra options were hidden, depending on what you choose in the previous box. YOU DON'T NEED TO CHANGE YOUR CURRENT NOTIFICATIONS.
The update was done mainly for creating new notifications and limiting the options which you don't actually need, again depending on your selections in previous boxes.



With updates, you can see now alert after some of your rules - Outdated option. This alert doesn't need any action from you. When you modify your notification, you need to add another option, otherwise, it will work as before.
NOTIFICATION WILL WORK AS BEFORE. When creating a new notification, you don't have some options as noted above.

New options in "my account" -> "edit account information": Timezone selection is added in order to disable the notification alerts according to your timezone. Timezone selection doesn't currently update webpage dates/times and works only for notification date/time range selection. All times and dates shown on our website are still in GMT / UTC but will be soon updated to work with the selected time zone.
You can select some certain days or time periods when you don't want to get the alerts to your mobile phone, desktop or both.






21.11.2018

Notification update. We improved our notification tool:
users can now add and remove certain countries and leagues from notifications,
added market selection for notifications,
you can choose quick stats which are shown with the notifications,
user friendly layout,
more detailed view.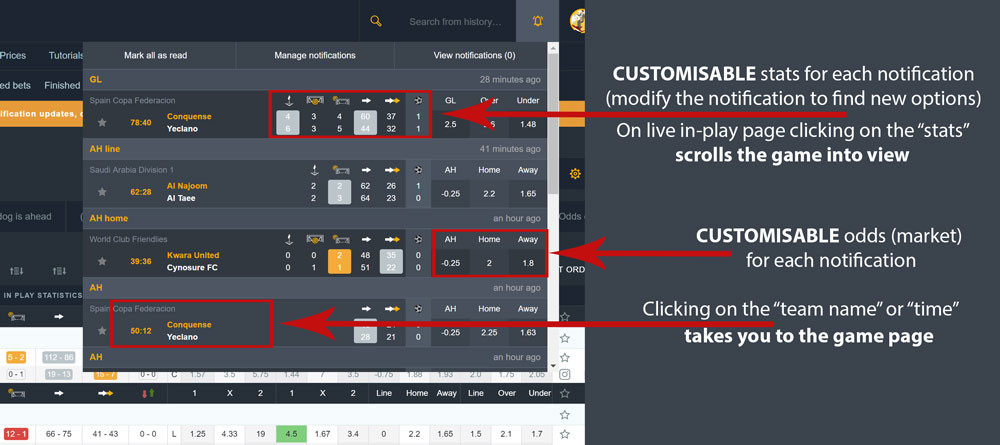 05.11.2018

Recently we've been focusing on small fixes and because of that there hasn't been much to let you know about, but now we have added something helpful to you.
We've been testing a new feature that tracks the statistics accuracy. Our system automatically adds a warning sign next to the stats or time if it may not be accurate.



In this Spanish Youth game for example you can clearly see that the "time" (which in this case was correct) or the "attacks" (0-0) and "dangerous attacks" (13-15) have a warning sign next to it.
What we could determine was that either the scout covering the match wasn't doing his job correctly or there were some other issues but this low attacks count doesn't look right at all for any game.
In some cases the stats might not be wrong but just have a small coverage gap. 99.9% of the time this isn't our fault and we're doing our best to provide the accurate data.
Please double check the games with the warning signs just to be safe.

19.09.2018

Our new forum is a live. Please share your tips and other good strategies there. Let's improve our success together!

30.07.2018

New Platinum package is out! Platinum package contains some extra new features:
Create unlimited notifications

10 Active Notifications
Priority Notifications
Mobile APP - Game Page
Full functionality - Access for all the future features
16.07.2018

New mobile app update available!
Game play page is now visible in mobile app.

Notifications are now displayed when the app is open.
Yellow and red cards added to games list.
Game options menu - you can add games to special list and remove them
And many more...

28.05.2018


New update available! A major one!!! The mobile app is finally here!

The beta release of StatisticSports.com app is UP AND AVAILABLE for downloading for both, iOS and Android!

The app is still in developing mode and thus only the most basic features are available at the moment and more updates to come soon!
With our app, you can:
Receive notifications directly to your mobile phone. Use our preset or create your own notifications!
Use the most complete live football games list with in-play stats. We cover all important stats from shots and corners to dangerous attacks.
View upcoming football games from our schedule.
Check the final score of the games from our finished games panel.

Soon you are able to use Game Page, where you can see in-play stats for finished games and compare teams recent games.
Odds will be added to the games and momentum to the in-play games.

Download links are on our Statistic Sports homepage and also available here:
For Android: https://play.google.com/store/apps/details?id=com.statisticsports
For iOS: https://itunes.apple.com/us/app/statisticsports/id1396185121?mt=8&ign-mpt=uo%3D4


Keep in mind that for full use, you need to have a registered account on our Statistic Sports webpage: https://statisticsports.com/live-games
Download, rate, leave reviews and feel free to contact us with any question or idea you might have to improve the app!






28.05.2018

New updates available! New Dashboard and Website Facelift!

It has been a while! We have some create news - StatisticSports has been updated.
With our new website look, we also launched several new updates to improve the user experience.


Browser notifications – gives notifications with sound if certain values are accomplished. There are four ready-made notifications by default. Users can change and create up to five notifications.
In-play line, stats and odds notifications – easier and quicker way to create specific notifications based on certain games.
$ money on list – you can mark games where you have made a bet, it makes easier them to follow
Dashboard settings – want to create your own personal dashboard? Yes, that option is now available. Make your dashboard based on your needs.
Remove games - now you can remove games which you do not like, just click on the icon.
Blog - now all the experts and industry related leaders can guest write articles on our blog. And of course, our own team will cover also industry related topics.
Features pages with explanations – what is what and why it is necessary, it is all explained there
Attacks performance in game page - how many attacks have gone to dangerous attacks, a good thing to consider next time



29.03.2018
Live games sorting system has been updated to fix some minor issues.
Some minor design changes
22.03.2018
NEW!

BIG UPDATE! We have added customization for live games page.
24.01.2018
NEW!

League name update. League name is now visible when holding mouse cursor on the flag.
11.01.2018
Skrill payment method is now available for everyone.
08.01.2018
Schedule beta version is live.
14.11.2017
Sorting is updated. More sorting options are available with momentum and without momentum.

30.10.2017
We have now night mode available - you can choose between day and night mode.

26.10.2017
We added note icon to Live games page. It will be visible when you have created notes which are connected with the teams and/or league.

19.10.2017
Live in-play page has been updated! We added moving elements and colors to odds section.
11.10.2017
Live in-play page has been updated! We replaced open details icon with plus and minus icon and also added icon information menu.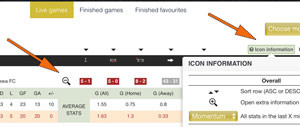 19.08.2017
Momentum function on "Live in-play" page - check last 5, 10, 15, 20, 25, 30 or 35 minutes stats!


Underdog is ahead! If underdog is ahead then score will be bordered with red colour.

14.06.2017
Notifications! This part is still under development, but you can set-up your own notification rules. Ensure that you will receive notifications as soon as development will be completed - add your own notification rules already today.
12.06.2017
Live in-play page has been updated! There are two new extra sections - "Finished games" and "Finished favourites".
03.06.2017
Timeline (vertical / text-based - game page)

See exact time when shot on target and shot off target had made. Just open the game and look vertical timeline for that information.

Attacks graph (game page)

League selection filter added for attacks graph
Average attacks, attacks to score and average goals per game projections added

15.05.2017
Today we have more functionality than RBallDB.com ever had, also there are tons of new features coming all the time.
Be prepared for new ULTIMATE punter tool!
As you can see website visual is a bit robust, but don't worry, front-end visual is in development and will be ready in a week or two!

14.05.2017
BETA Launched for all users

12.05.2017
BETA Launched for RBallDB users

10.05.2017
Affiliate system launched.
Want to earn up to 15% on every recommendation you make?
Not as a one-time payment, but for a lifetime?
Sounds good, then register account, set up your affiliate account, share the link and start to generate your passive income.
No limits for earnings, no limits for schedules.