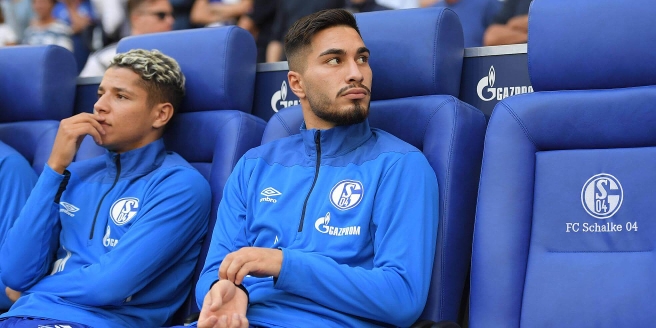 Bundesliga potential future star players.
I totally love watching Bundesliga for several different reasons. A lot of goals, attacking game style, free-flowing football for most of the teams. The league is also a great jumping board for young potential wonderkids if to use the Football Manager language.
Let's make some examples! Jadon Sancho scored 12 goals and had 17 assists last season v 1 and 4 in the seasons before that. Kingsley Coman has raised his level during last seasons and will get his chances this season after the old guns left the Bayern club. Marko Grujic from Hertha Berlin had a stellar season in the midfield after leaving Liverpool. In 20 games he had 3 MotM, 5 goals, 1 assist, 82% pass success, 2 tackles and 2,3 clearances per game. Leverkusen duo Julian Brandt and Kai Havertz had 24 goals and 14 assists combined. Striker Joelinton had a first proper season in the Bundesliga and managed to score 7 goals with 5 assists in 25 games, rewarded with a move to Premier League.
Although Luka Jovic showed the sign of a genius already in earlier seasons when he scored 8 goals in 9 games. He earned a move to Real Madrid during last seasons performances. 17 goals and 5 assists in 25 games.
Marcus Thuram, Bundesliga sensation in his first season
Borussia M.Gladbach French striker has started the season with a bang, actually with 5 bangs and 4 dimes! 1.92 cm tall nightmare for any defence joined the club Guingamp, French League 1. Probably not a coincidence that he is a football player, considering that his father was also a football player. Yes, his father is Lilian Thuram. Sadly for Guingamp, they dropped out from the top flight. Luckily for Borussia tough, as this was the big reason Thuram joined the club. Not so fun fact is that Thuram was the man who missed the all-important penalty in the decisive league game for the Guingamp. The German outfit is well known in finding good talented players and recently there's a lot of French-speaking talent (Embolo, Plea, Zakaria).
Thuram is very versatile and plays on both wings as well as a central attacker if needed. Despite his height, he is quick enough to run on the flanks and gets a tackle per game. Due to his hight, he gets 2.4 aerial battle wins per game sauced with 1.8 dribbles and 1.2 key passes per game. Amazing numbers for me for such a young player playing his first season in the league. Good enough reasons for me to watch some of his games. Rating him as the best young prodigy in the Bundesliga at the moment.
Suat Serdar, the midfield maestro in Bundesliga
You probably know already that I'm a stats freak. In football, it's especially important to look at the overall picture when looking for key players and performers. Yes, the main target is to score goals and score more than the opponent. Then you will win the game, easy as that! This season's high flyer so far in Bundesliga is Schalke. Yes, they are also behind Thurams team and Leipzig, but I still consider Schalke's current position more flattering! Much smaller budget in top teams and also like the look of the youngsters they have carried the team. One of them is Suat Serdar!
Gelsenkirchen golden boy is often compared with Leon Goretzka. He had to fill his boots after Leon went to Bayern and they both have a similar skill set. Suat is very comfy on the ball, has immense passing rate and finds both, easy and hard solutions. 22 years old midfielder has also already 5 goals on his name with just 10 games, playing in midfield keep in mind! He is more known for his midfield controlling, strong and physical plays and robust tackles. The more surprising are the 5 goals scored in Bundesliga this season already. 3 man of the match performances so far. Debut in German national team for a young midfield tank/maestro shows the potential here.
Let's move to stats. 3.1 tackles with only 1.2 fouls per game. 2.1 shots and 2.2 dribbles per game show the attacking powers. 25.6 passer per game with 77.3% success rate.
21 shots in Bundesliga, 7 on target and 5 goals shows a good % 33.3 shots from the total amount will hit the target and when its on target, it's money!
Quite sure in the next season we will see the wizard in Champions League!

Amine Harit, the partner in crime in Schalke 04
I was between Embolo and Harit here. Either way one of the previous picks would have got his partner in crime on 3rd spot. Milos Rashica were also in the list, but Embolo and Harit edge it in front of him mainly due to league position of their clubs. Werder is 13th in the Bundesliga table and not in a big game.
Amine Harit is a top scorer in Schalke with 6 goals and were named Bundesliga player of the month in September. In a league where we have Bayern Munchen and Borussia Dortmund the usual suspects for winning the league. Players like Lewandowski, Werner, Reus, Müller, Gnabry, Götze, Brandt etc. These goals mean that Harit has already more goals than his previous season and well worth the spot in this article.
Although a central midfielder or CAM, he plays often on the wings also and with his pace and passing success % is a nightmare to defend. 6 goals and 3 assist in Bundesliga with 83% pass success rate. 3 man of the match titles and 1.5 shots per game with this amount of goals shows how lethal the little Moroccan kid can be.
He missed a lot from last season due to injury and incident in Morocco but is back to his best this season. 22 key passes this season and 11 shots on target are all in top 20 in Bundesliga. G-xG rating is 3.3, Lewa and Werner have 3.8 and Harit and Serdar are 4th and 5th in this category.
---
También te puede interesar
Categorías
Entradas populares
Autor