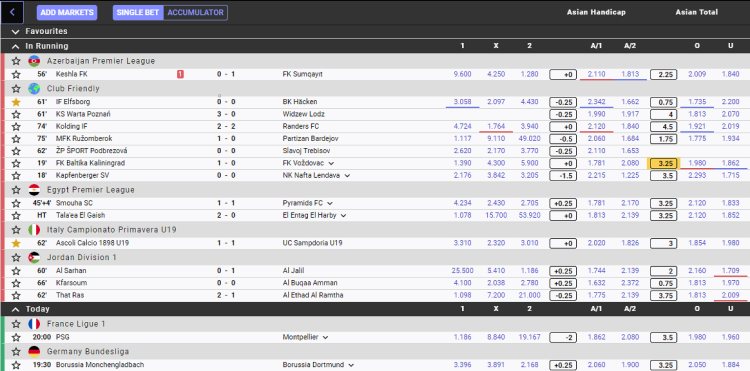 Why should you consider a Broker Service instead of a regular bookmaker?
I count my journey as a punter and opening my first account in a bookmaker growing up as a kid. You born, start to crawl and eat only liquid foods. At some point, you can stand up, walk, run and learn to talk step by step. It's natural, and it takes time until you reach the next phases like going to school and pay your first taxes, take your first mortgage, learn to drive a car and somewhere between all this experience your first hangover. The highlights' order is not the same for everyone; some will learn to deal with the hangover before driving a car. The point is that we all have these milestones in our life, and the same goes for sports betting.
It all starts with your first bookmaker account, your first deposit and bet. You get your first losses and maybe some wins here and there. If you are developing and learning enough, there will be more wins than losses. You will get your first bookmaker account limited to 2 euros stakes. This leads to making new accounts and will end with further limitations. At some point, you end up without any bookmaker account where you can have decent stakes on and then you either give up getting new accounts through your friends and family members or move over to alternatives. In this world, the alternative to bookmaker is a Broker Service.
What is Broker Service?
There are many different names for basically the same thing. Broker service, betting broker, asian agent, asian broker, bet broker etc. Some small differences behind the meanings, depending on who you will talk with. But, to avoid any further confusion, I'm going to use the name Broker Service.

Broker Service acts as a middle man between you and the bookmakers. You will have one account and log in instead of 5 to 10 and access to several different bookmakers at the same time, from one platform. You will have much higher stake limits without a real threat of being limited to 1 euros stakes.
Wait, what? How? You told me that the bookmakers would limit me, and now the opposite? Im going to explain a little bit more deeply and take it into pieces.
Differences between bookmaker and 'bookmaker'
There are huge differences between your local bookmakers, Bet365, William Hill, Unibet, Bwin, Paddy Power, Bettson, Parimatch, Boylesports V 3et, Pinnacle, Penta and so on. Like most of us, I am also limited in most of the major bookmakers and on my local ones. There's also a lot of country restrictions, and at the current moment, I'm able to bet only on my local bookmakers without any issues or difficulties. In recent month, two new bookmakers opened in my country, which gives me a perfect sample option to show you the differences between bookmaker and 'bookmaker'. Keep in mind, that im also limited to few euros stakes on Bet365, William Hill and in all other bookmakers I mentioned. I can literally stake few euros per account on todays Liverpool v Burnley English Premier League game! New local bookmakers for the same game? 100 euros on brand new account, 250 on other bookmaker on over 3 goal line.

On my Broker account? I have five different offers with limits of 4 figure sum stakes with one click of a mouse, much lower commissions compared to exchanges commissions and no fees on deposits and withdrawals!


Lower level league sample
There is one Greek Cup game today between PAS Giannina and Atromitos. I want to take a pregame bet on away team 0 asian/DNB.
One local is offering 56 euros and another one a staggering 126 euros!


And that's not all! I have offers for 1500 and 500 euros and WITH BETTER ODDS in my broker! And, much lower commissions compared to exchanges commissions and no fees on deposits and withdrawals!
The limits, the odds and the ease of use! Not to mention, that I'm not getting limited to 2 euros stakes with my Broker!
Broker Service gives access to Asian bookmakers and exchanges not available in your country
As you have probably already understood from the pictures, I posted in the article, Broker Agent gives you access to some game-changing bookmakers. As you have probably already understood from the pictures, I posted in the article, Broker Agent gives you access to some game-changing bookmakers. Some asian bookmakers are available only through the Agents. Exchanges like Betdaq and Betfair are not available in every country. Same goes Matchbook and Pinnacle. Using the Broker Agent as a middle man can give you a tremendous edge, especially when you are limited in your local bookies or due to local legislation, you can't use soft bookmakers like Bet365, William Hill etc.

There's a total of 14 different bookmakers/exchanges available with the Broker I use. I can use all of them with 1 log in, on one account simultaneously. If this is not a luxury, I don't know what is!
Exchange commission and efficiency moving the funds
The commission is the fee exchanges are charging. The commission differs from exchange to exchange, but it's somewhere around 5%.
Matchbook, Betdaq, Smarkets are using the 'hidden' fees for the users.
Using the Broker Service will give you lower fees in this section.

There are some Broker Services with much lower fees, praise them! The 5% fee is a lot, a number 5% may sound a small number to some, but it adds up with every bet you win or lose. Some Broker Agents are also placing the fees for your deposits and withdrawals. At the same time, a Broker Agent handles your deposits and withdrawals themselves and doesn't use the fees there. You Withdraw 5k euros; you will get the 5k euros on your account.
It's also much easier to deal with Broker Agent, compared with moving your funds between several different bookmakers manually by yourself.

There are 14 different bookmakers in the Broker I use as I mentioned before. I deposit once, I have access to all of them. In order to have access to 14 different bookmakers, I need to deposit money to all of them. Not to mention the ease of use. With Broker Agent, I have all the odds in front of me on one screen.
I will add some commission fees samples and transaction costs here:
Betting Exchange Covered (commission): Betfair (3% on winning), Betdaq (1.5% on winning), Matchbook (1.25 on both winning & losing), Turf7 (1.25% on winning) & Citibet.
Minimum Transaction & Cost: Depositing is free of charge except for credit card (3%). The minimum deposit is €100 or the equivalent in other currencies. The minimum withdraw is €100 as well. For all payment methods, except Bitcoin, Litecoin and Ripple, one free of charge withdrawal every 30 days. All other withdrawals within the 30-days period will cost 2% of the withdrawn amount. The 2% fee applies to all withdrawals with Bitcoin, Litecoin and Ripple.

Betting Exchange Covered (commission): * 1 Betfair (2.3%) / Matchbook (1.8%) / Betdaq (1.2%).
Transaction Cost: Deposit & Withdrawal Bankwire and MuchBetter Free, but 1% for Neteller/Skrill/EcoPayz/BTC while Credit/Debit Card deposits are free of charge and withdrawals are 1% in fee.
Easy to use
One very underrated feature regarding using the Broker Agents. The ease of use! The whole dashboard is similar to the one we have on Statistic Sports. You can have all the in-play games in front of you with the scores, markets and odds. It's easy to find the match you are searching for. Very compact with all the odds shown at the same time. You don't need to click on each game one by one to see the odds and lines. It's well balanced and offers a lot of information on one screen. Just like in Statistic Sports Dashboard!




These kind of services are working hard to add also alternative markets in. I mean markets like home team goals, clean sheet, both teams to score, and more and more different sports. One of the most advanced is eSports. As the world's current situation has brought eSports to the frontline, Broker Agents are stepping their game up. More and more eSports leagues and competitions are available for betting with decent limits.
In conclusion
Once you run out from soft bookmakers accounts, it's not the end! Where's a problem, there's also a solution!
The Broker Service are getting more and more popular, and there are a plethora of punters and traders who can't imagine their lives without this kind of services anymore. Following the recent year's trends from soft bookmakers with faster account limitations, country restrictions, and fewer deposits options, the Broker Service is the betting's future I'm sure.

Let's take it all together once more:
Access to bookmakers without a licence in your country (Pinnacle, Betfair etc).
Use a single account and log in for more than 10 different bookmakers/exchanges accounts.
Lower commission fees.
Much higher stake limits.
No need to be afraid of becoming limited to 2 euros stakes.
---
Você também pode gostar
Categorias
posts populares
Autor