FIFA World Cup 2018 Group D.

Argentina
Argentina...last chance to one of the best player ever played this beautiful game to win World Cup trophy. It's, of course, Javier Mascherano who I meant! Jokes aside, Leo Messi is 30 now and has carried this team for many many years through a lot of competitions. On a club level, he has won everything he could. For Argentina, there's only Olympic gold medal from 2008. Actually, Tim Cahill is in the squad at 38, so there can be 2 chances more.



Argentina has been always in top 4-6 favourites in these competitions and hopes are high in Argentina. Their best shot was in 2014, reaching into final and losing in the final in extra time against Germany. After this, they lost 2 Copa America finals with penalties. Messi even quit playing in the national team at some point. Hopes are high also for FIFA World Cup 2018 tournament, but there are more question marks in my opinion than in Brazil.
They sealed the qualification only in their last group game against Ecuador. Only one team scored fewer goals than Argentina, it was Bolivia. 19 goals scored in 18 games and 16 conceded is a big worry for this roster, considering the attacking talent.




Preparation friendlies had some bombs also, against Spain they lost 6-1 (played without Messi) and a 2-4 loss against Nigeria. They managed to win against Italy tough, 2-0.
They start their journey in FIFA World Cup 2018 against Iceland on June 16. The second game is against Croatia on June 21 and last game is against Nigeria on June 26.
Tactics and manager
Jorge Sampaoli took the team over in 2017. A little time only to implement his tactics and get the team play according to his plans. He did a fairly good job when managing Chile and Sevilla, so expectations are high once again. Sampaoli likes to play similar tactics to Bielsa. High tempo and pressing, using their 3 attacking players to create space and counter whenever possible.
There's one big flaw playing like this tough, Argentina doesn't have good enough defenders and midfielders for this system.
Sampaoli can pick terrific attack and wingers, had the luxury to leave Icardi out from the squad. Problem is rather out of shape, slow and often not confident defence. The new coach has experimented with a lot of different lineups and formations from 4-4-2 to 5-2-2-1 and tried even to play with 3 central defenders, 5 in midfield and 2 strikers.
On paper, it often looks like there are 5 defenders and 5 strikers and mainly it's due to a lot of quality strikers.


Squad information


Why is it hard to find the balance in the team? I'll write down the strikers/attacking players who were left out of the final squad:
Lucas Alario - Transfer value around 20m. 10 goals for Leverkusen in Bundesliga.
Joaquin Correa - Transfer value around 12m. 7 goals for Sevilla.
Lautaro Martinez - Transfer value around 20m. 17 goals for Racing Club and picked up by Inter Milan.
Mauro Icardi - Transfer value around 85m. Serie A top scorer for Inter. Second season with over 24 goals.
Diego Perotti - Transfer value around 20m. Main team player in AS Roma for last 3 seasons.
Angel Correa - Transfer value around 20m. Main team player for Athletico Madrid for last 3 seasons.

In the squad, there's Lionel Messi, Gonzalo Higuain, Sergio Aguero and Paulo Dybala. Higuain and Dybala are playing together in Juventus. Both are flirting 20 goals per season in last 3 years. Messi is scoring over 30 goals for ease in the league plus some in cups and Champions League..some. Aguero still going strong in Premier League for Manchester City.

Good attacking options in midfield are Angel Di Maria from PSG and young sensation Cristian Pavon from Boca Juniors. Pavon will be playing in Europe for next season, I'm very very sure.
Sampaoli has added some new faces to the squad. Lo Celso from PSG plays as a rotation player and has only 5 games for Argentina. Manuel Lanzini plays for West Ham. Good last 3 seasons in Premier League, but only 4 games for Argentina.
Maxi Meza plays for Independiente in Argentina and for the national team he has only 2 appearances. Eduardo Salvio from Benfica is a talented attacking minded player.
Old familiar faces are well known Lucas Biglia (AC Milan), Ever Banega (Sevilla) and Javier Mascherano ( Hebei).
A lot of firepower, orchestrating as wingers and strikers, attack-minded players. Mascherano and Biglia are the ones who should hold opponents away from the goal. Both over 32 years old and Javier plays now in China! Biglia plays in Serie A where they pull the tempo down whenever they can. Both getting slow and there's no quality and strong, fast wall to stand against pace. We saw it against Spain and Nigeria and they will some hard time against Nigeria once again, also against Croatia in the group phase. Javier Pastore from PSG not in the squad.

In defence, they depend on Rojo, who had only 9 games for Manchester United, mainly due to injuries and fatigue. Tagliafico got 15 games for Ajax and Ansaldi plays in Torino, Italy Serie A.
Federico Fazio is the one in who I believe in this defence. Main team player in AS Roma and Otamendi, going strong for Manchester City in Premier League. Mercado plays in Sevilla shirt and also the main team player with 2 good seasons there behind him. Marcos Acuna plays for Sporting and luckily is also the main team player and should be ready for the FIFA World Cup 2018. From the perspective of holding the goal clean and breaking up opponents game with high pressing which needs a lot of running and energy, this defence doesn't look like a semifinal material.

Willy Caballero last season where he played all games was in 2014. In Manchester City, he got 23 games during 3 seasons and now in Chelsea, 3 games during 1 season. Guzman plays in Mexico and Armani in Argentina. Sorry, but this isn't for me even top 10 defences in these FIFA World cup 2018 competition.

https://t.co/2bcthh6jnq and that is no his best season...

— Matias Calvo (@mdqmatias) June 4, 2018
Preliminary squad overview for FIFA World cup 2018
Cristian Pavon will be the new star in this team rather sooner than later. Not sure if he can have some bigger impact behind Messi, Higuain, Dybala, Di Maria and Aguero tough. 3rd oldest squad behind Costa Rica and Mexico and in my opinion with huge question marks in goal and defence. They managed to get the defence to work in last World Cup edition, but scored only twice during a playoff run. If they want to reach to the final in FIFA World Cup 2018, they need to score more, because this defence doesn't hold back Spain, France, Germany, Brazil etc.

Defence - 2 goalkeepers playing in weaker leagues and Caballero rarely plays for his clubs in recent seasons. Rojo and Otamendi most experienced with around 55 games for the national team. Marcos also can't be in shape due to injuries. Fazio, Ansaldi and Tagliafico have 18 games only for Argentina altogether. Mercado is 31 and 20 games for the national team.
Midfield - I afraid there will be too much pressure on Biglia and Mascherano, who can play also as CB due to his ageing legs. Lack of defensive quality and too much of attacking quality. Balance can be the issue and key to winning is to score 2 or more goals in every game.
Attack - 4 world level striker, no doubt. Aguero fighting with the injury and match fitness, but should be fine for the opening game of FIFA World Cup 2018. Really hard to add the players I mentioned above, as there's simply no room for great level strikers anymore.


Iceland
Iceland plays their first World Cup final tournament. This small nation put themselves on the football map in 2016 UEFA Euro final tournament. They were drawn in the group with Hungary, Portugal and Austria. Advancing to the playoffs from there, according to odds, were not likely to happen. In the opening game, they managed to get 1 point from Portugal. A point against Hungary and it was all open until last group game. They managed to beat Austria 2-1 thanks to the 94th-minute goal from Traustason! 2nd in a group in front of Portugal, who won the tournament. They weren't finished with shocking the football world there tough. In the first playoff round, they played against England. Once again, big outsiders. They managed to win the game 1-2 and reached to quarterfinals. France finally managed to take the Vikings down with 5-2 final score. Doesn't matter, as they brought a lot of great moments and, the Viking clap!
In the FIFA World Cup 2018 qualifying tournament, they managed to finish the group on top. Behind them were Croatia, Ukraine, Turkey, Finland and Kosovo. 16 goals in 10 games, 1 more scored than Croatia!
In their recent friendlies, the results aren't so good tough. 3 losses against Mexico, Peru, Norway and 1 draw against Ghana.
Vikings will start their FIFA World Cup 2018 campaign against Argentina on June 16. On June 22 they will play against Nigeria and last game is against Croatia on June 26.
Iceland becomes the smallest country to qualify for the World Cup ??

The Viking Clap. Goosebumps everytime ?? pic.twitter.com/T6a8BjDdwR

— FlFA World Cup (@WorIdCupFC) October 9, 2017

Tactics and manager

Current coach Heimir Hallgrimsson was with the team during the Euros alongside Lars Lagerbäck. No Lagerbäck anymore, so the most famous dentist in Iceland has to carry the burden. Taking into account their qualifying campaign to FIFA World Cup 2018, he has done pretty well! No other international team coaching experience, only local clubs.
The Dentist has changed the team's tactics a little. Mainly making the midfield more crowded and prefers to play with a 4-4-2 formation. This gives captain Aron Gunnarsson more support on midfield when defending and team's main goal-scoring threat Gylfi Sigurdsson freedom. Sigurdsson has scored 19 goals for Iceland and plays for Everton. Bjarnason and Gudmundsson should play on the flanks. Both can provide a goal threat, but at the time support team when they are without a ball.
Iceland plays of course mainly from defence and is rather a counter-attacking team, dangerous from dead ball situations. Gunnarsson long throw-ins are a nightmare to defend. They play nice team football and have to do a lot of running without a ball.
Squad information

The weakest link in the squad, when checking the clubs, should be goalkeeper Hannes Halldorsson from Randers, Denmark. The same goalkeeper was between the sticks during the Euros tough and I remember very clearly how good he was against England and Portugal for example. So I'm rather surprised, that he still plays in Denmark.

Kari Arnason from Vikingur and Ragnar Sigurdsson from Rostov are the likely pair in front of the goalkeeper. Sverrir Ingason is a strong candidate for starting spot also, as the first two are both now 31 or older and can be rather slow against strong attacks. Birkir Saevarsson and Hördur Magnusson from Valur and Bristol are the likely starters on the full backs positions. There's also experienced Ari Skulason from Lokeren and Sverrir Ingason from Rostov. There are no big clubs on this list, but with a great understanding between them and huge team effort, they managed to make some surprises in Euros.

Midfield is arguably the strongest point in Iceland team. Aron Gunnarsson is a Cardiff City hero by now. One season in English Premier League and countless seasons in Championship. Gylfi Sigurdsson has been last 6 seasons main team player in English Premier League for 3 different clubs.
Birkir Bjarnason played last season in Aston Villa, but have played in Basel, Sampdoria, Pescara etc.
Possible surprise package can be Johann Gudmundsson from Burnley. 2 seasons in English Premier League and 2 great ones.
33 years old Emil Hallfredson has played last 3 seasons in Italy Serie A for Udinese. Strong team player there and calm with the ball.

Jon Bödvarsson plays in Reading, English Championship. 33 games and 7 goals, but he is after Finnbogasson in the pecking order. Alfred Finnbogason plays in Bundesliga, Augsburg. 12 goals last season in 22 games and good header for these long throw-ins! Björn Sigurdarson plays in Rostov. Only 6 games and 1 goal, but went there from Molde. 27 games and 16 goals in Norwegian highest league. Albert Gudmundsson is a new generation future star I hope. Growing steadily in PSV youth system.


??2-1?? Gylfi Þór Sigurðsson að koma Íslandi yfir á 69. mínútu. Búinn að vera inn á í aðeins 6 mínútur. #hmruv pic.twitter.com/A0Rh5mgieV

— RÚV Íþróttir (@ruvithrottir) June 2, 2018

Preliminary squad overview for FIFA World cup 2018


Defence - all 3 goalkeepers are playing in Denmark league. Not a high-quality league compared with top leagues, but Halldorsson has already proved us, that this doesn't matter. Same goes for defence. 2 players from Iceland and Russia, one from Norway, Belarus, Belgia and England Championship. 4 experienced defenders and the core is still there who ruled in Euros. The danger is that they are taken more seriously this time and extra 2 years mean that 4 core defenders are all now over 30.
Midfield - Sigurdsson recovers from the injury and all the best wishes for a speedy recovery. There are players above others in quality and losing Sigurdsson here means that there's a lot of quality missing. Gudmundsson hopefully brings another gear which is much needed here.
Attack - Finnbogason as the main striker and threat there, playing in a strong league and 13 goals for Iceland. Sugurdarson and Bödvarsson are both also good with head and playing in decent leagues. Hope to see young Gudmundsson, who is a good technical player and what a story it would be to score a goal against Argentina or Croatia!



Croatia
Croatia starts their 5th World Cup final tournament in June. It's only 5th because the players played under Yugoslavia up until 1990, not because of the lack of talent! Their best tournament was in France, 1998, where they lost against hosts in semifinals and won the Netherlands in third place game.
This tournament hasn't been good since then for Croatia. They literally have failed to reach to playoffs since then, despite having a plethora of good players in every tournament. In 2002 they finished 3rd after Italy and Mexico, in 2006 they finished also 3rd, before Brazil and Australia.
They missed the tournament in 2010 and were once again 3rd in the group after Mexico and Brazil.
Croatia finished on 2nd place in qualification tournament, after Iceland and in front of Ukraine and Turkey. 15-4 goal difference, but not convincing as they had to play initial playoff games. After a 4-1 at home against Greece, away leg finished scoreless draw and luckily we can see Croatia in FIFA World Cup 2018 group stages.
Results in friendlies haven't been very encouraging also. A 2-1 win against Senegal, 2-0 loss against Brazil and a 1-0 win against Mexico. Luckily enough, these results in friendlies don't count a lot, otherwise, we could exclude Germany and France from top 10 teams already.
The Blazers start their FIFA World Cup 2018 journey on June 16 against Nigeria, followed by a game against Argentina on June 21. Last game in the group stage is against Iceland on June 26. On paper, they should qualify, but it's one of the hardest group out there and Croatia have failed there more often than expected.
Tactics and manager

New manager, Zlatko Dalic, took the team over only from 2017. Very little time to make some miracles happen and to be honest, he doesn't have awfully lot experiences with high-quality teams. Before starting in Croatia, he coached teams like Varteks, Rijeka, Slaven Belupo, Al-Hilal and Al-Ain. At least there's highly honoured former player, Ivica Olic also as an assistant manager.
Dalic took over one of the oldest squads in this tournament, but a team with some absolute best in their position.
Croatia plays most likely with a 4-2-3-1 formation, Real Madrid star Luka Modric on a number 10 position. This change was done by the new manager, as he has to fit Modric, Rakitic, Brozovic and wingers in the lineup. Modric plays in a deeper position in his home club, but he was a 10 in Tottenham also, where he became influential and one of the best in this position. He can orchestrate the attack much better than Rakitic, Brozovic, Kovacic or anyone else in the team. This means also, that he doesn't need to help out defenders so much.
What this coach has done tough during his short spell, he has raised the confidence in players once again. In last tournaments, there hasn't been lack of talent nor influential players capable of winning. Plenty of world-class level players, but results are not there. Dalic understood quickly, that issue is in players heads when wearing one of the most beautiful football shirt ever!
He is so called player's coach. Zlatko asked every player on the team for a conversation and explained what he expects from them. Raised their confidence and so far have got the team once again to play like a team. This may be exactly what they needed after several different coaches in a short time period and hope they can prove their value during the FIFA World Cup 2018.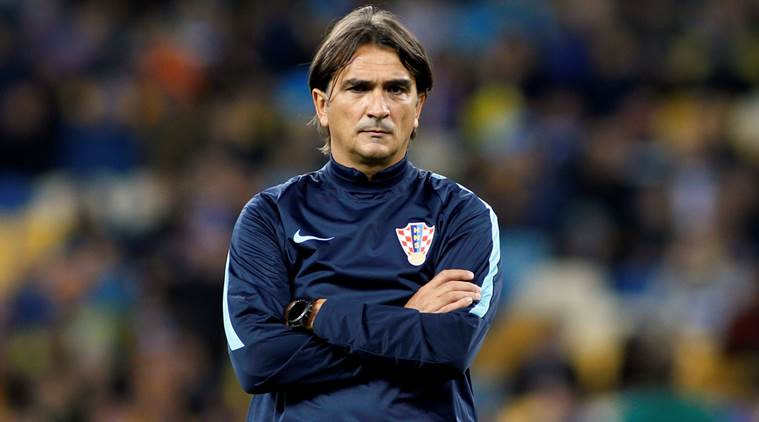 Squad information

Although not every player in this team is the main player in team's like Barcelona, Real Madrid, Juventus, Inter or Athletico Madrid, they can put up starting lineup from players playing all in top leagues.
The main goalkeeper is definitely Danijel Subasic from Monaco. Seems like he has been there for a decade and one of the top goalkeepers in the league. 2nd option is Lovre Kailinic from Gent and 3rd option is Dominik Livakovic from Dinamo Zagreb.

In defence, there are very experienced pair, Vedran Corluka from Lokomotiv and Dejan Lovren from Liverpool. Domagoj Vida is also an option, from Besiktas. Vida has played most of his career in Ukraine tough, with Josip Privaric. Ivan Strinic plays in Italy Serie A. Last seasons for Napoli and Sampdoria, next season for AC Milan. Fullback Sime Vrsaljko plays for Athletico Madrid. Although not certain starting full back there, he is a player with high work rate and very highly rated. 22 years old Tim Jedvaj plays for Leverkusen and 21 years old Duje Caleta-Car for Salzburg in Austria. Good composure of older players in higher leagues and some young energy. Not in my top 5 defences in FIFA World Cup 2018, but should be a tough nut to crack.

Rakitic and Modric, nothing to add here really. Only one bad thing is the transfer and money saga around Luka Modric related to Zdravko Mamic. This has divided the supporters and isn't helping Modric for sure.
Mateo Kovacic plays also in Real Madrid, but due to Modric, Kroos and Casemiro isn't the main team player there. Marcelo Brozovic is another high-end player in the midfield. 4th season in Inter as the main team player and only 25 years old. Helps to defend the goal with Rakitic and Milan Badelj. Badelj plays also in Italy, for Fiorentina and also already 4th season. Has played also in Bundesliga and no doubt that a player with high level.

Forwards list is also very strong and 4 players from Serie A mixed with 2 players from Bundesliga. Mario Mandzukic from Juventus has 30 goals for Croatia in 83 games. 3 seasons as the main team player for Juventus, before this played in Spain and Germany. Despite of his old age can still run on the flanks and create some serious problems. Ivan Perisic has 3 great seasons behind him in Inter and is a cert in starting lineup as a winger.
Niko Kalinic, from AC Milan, have had also 3 great seasons in Serie A with 33 goals during last 3 seasons.
Andrej Kramaric and Marko Pjaca are the ones playing in Bundesliga. Kramaric will have more chances in this team definitely, 28 goals in last 2 seasons for Hoffenheim.
I left Ante Rebic as last here with a reason, because I think this guy can make his name during the FIFA World Cup 2018. Acts as a winger, but due to higher calibre names in his team, he can be the dark horse there.


They also have Luka Modric who is the definition of Erotic City https://t.co/pobIQi9O0x

— Josh Eichenbaum (@The_eichenBOMB) June 10, 2018
Preliminary squad overview for FIFA World cup 2018
Nigeria
Nigeria and Tunisia were the only teams to qualify without losing a game during the campaign from Africa. Nigeria has 5 appearances in the FIFA World Cup final tournaments and 3 times they have qualified to the round of 16. No quarterfinal games for them tough. It's 3rd time for Nigeria to play in the group alongside Argentina. Good luck team for them, as historically it means qualifying from the group stage.
I went through their last tournaments squads and there have always been some well-known players in the Eagles shirts. Mixed with some less known players from weaker leagues and only a few players from local leagues. Also for FIFA World Cup 2018 edition, Nigeria is in a similar situation. They have had players like Enyeama, Kanu, Okocha, Odemwingie, West, Yobo, Rufai, Martins. In every World Cup so far at least 3-4 players balling in highest leagues and top teams like Arsenal, Borussia Dortmund, Barcelona, Chelsea etc.
They have their stars also for FIFA World Cup 2018. Moses, Ndidi, Mikel, Iheanacho, Iwobi and Ighalo doesn't need some additional introduction for football fans from all over the world.
Recent friendlies are not very encouraging though, as a 0-1 loss against depleted Czech and a 1-1 draw against Congo should be alarming enough if they dream about qualifying from the FIFA World Cup 2018 group consisting teams like Argentina, Croatia and Iceland.


Tactics and manager

Gernot Rohr started shaping the team from 2016. Not so known coach in Europe, but star in Africa. He started the coaching career in France for Bordeaux, Creteil and Nice. From 2010 he has been the coach for 4 different African nations starting from Gabon, Niger and Burkina Faso.
Rohr impact for the team is clear. They play with great discipline which is not usually the strength of African teams. Eagles started to play like a team with great spirit. He has the luxury to use some strong attacking talent and thus Nigeria plays an attacking football with a lot of running on the wings and counter-attacks the opponents with great force.
The usual formation is 4-3-3 or 4-2-3-1. The last one helps to play wide and use the pacey wingers while stretching the field and making more room for the wingers to take defenders on 1 on 1. Mikel is dictating the game from the midfield, supported by 2 ball winners, Onazi and Ndidi, who made his presence felt in the Premier League last season. Moses and Iwobi are the likely wingers, with Musa with his pace always a threat.
Defence is built on Ekong and Balogun who complement each other well. One is better with a ball and starting the attacks from deep while Ekong is very physical.
Both main strikers, Ighalo and Iheanacho are well schooled in English Premier League.
Squad information
There are only 2 players in the whole squad playing in African local leagues. Unfortunately, both of them are goalkeepers. By a mile weakest position for this team. 29 years old Ezenwa and 31 years old Akpeyi are playing for Chippa United and Enyimba. This may be irrelevant, as I think 19 years old Francis Uzoho will start at least in the opening game. He plays for Deportivo La Coruna but is far away from being the nr 1 there.
Ekong from Bursaspor and Balogun from Mainz are the ones standing in front of him. Balogun has been playing in German Bundesliga for a few seasons now and Ekong was the main player in Turkey. Kenneth Omeruo belongs to Chelsea but has been on loan to Turkey clubs for last 3 seasons. At least he gets game time there and is fit.
Ebuehi plays in the Netherlands, Awaziem in France, Echiejile played last season in Turkey and Belgium. Shehu was playing in Cyprus and Turkey and Idowu has been the main defender for Amkar in the Russian league. Not the top leagues for most of them, but decent enough to stand strong against top teams when supported by midfield.

There's plenty of players with high level who can support the defence. Ndidi from Leicester is probably one of the best ball winners in Premier League. Mikel played like 10 seasons in Chelsea and was also the main man supporting the defence and tackling in the midfield. Jonh Obi has played 10 seasons in Italy for Inter and Torino mainly. Also strong midfielder and a bulldog running at opponent strikers to get the ball. Second string players like Onazi from Trabzonspor and Etebo from Las Palmas are also not creating midfielders, but rather the ones winning the ball. Moses has been as a more attacking player in last seasons for Chelsea, although used as a fullback, not as a creator in midfield which Nigeria lacks. Luckily enough they have some good wingers and of course great defensive midfielders, but they lack a midfielder in the centre of the park and rely a lot on wing play.

2 rising stars in their ranks as attacking players. Alex Iwobi from Arsenal and Kelechi Iheanacho from Leicester (2 seasons in Manchester City). Both under 23 years old and not starting lineup players, but playing consistently in one of the top leagues and definitely a threat to any team they play against. Add there Odion Ighalo from Yatai, China league, but played several seasons in Spain and England top leagues and there are a good pace and finishing ability. Another pair of damn fast legs under Ahmed Musa who played in Leicester but mainly known as a goal scorer in Russian Premier League. Last addition is Simeon Nwankwo from Crotone. Another Italy Serie A player getting a lot of games in a strong league.

KELECHI IHEANACHO | Manchester City | - The Nigerian SuperStar |Skills & Goals| 2016 https://t.co/7zdBanp5zq

— SupereaglesComps (@Supereaglescomp) May 17, 2016


Preliminary squad overview for FIFA World cup 2018
In overall there's plenty of skill, pace and goal threat in this team for FIFA World Cup 2018. What they lack is some attacking engine in the middle of the park and tend to rely too much on the wing play and pace. Also, the Nigerians are maybe too reliant on personal skill set rather than team play. The weakest point is the goalkeeper and against opponents like Argentina and Croatia particularly, this can be decisive. The team is very hard working tough and very young, which gives them a good starting point to build the team on next World Cup's.

Defence - Uzoho is too young to rely on him during the FIFA World Cup 2018. He is 1.96 tall and definitely gets a lot of balls in the box against Iceland, but against Argentina and Croatia, he will have tough days for sure. Good chemistry between CBs and most defenders playing in decent leagues. Saw 2 friendlies and although decent performances, there were moments when they looked lost a little and not able to play concentrated whole 90 minutes.
Midfield - Strong players when they need to break oppositions game, but lack creative talent. Strong and fast wingers who can ruin the day for most fullbacks in this competition. Also, the bench has a lot of pace and I don't envy the defenders who had to run 75 minutes against them and then Musa enters.
Attack - Wings, wings, wings. Ighalo and Iheanacho will play as the targets. Both have good and bad days, but they only 3 good days between them to repeat the history and qualify from the group consisting Argentina in FIFA World Cup 2018.


---
Sie können auch mögen
Kategorien
Beliebte beiträge
Autor