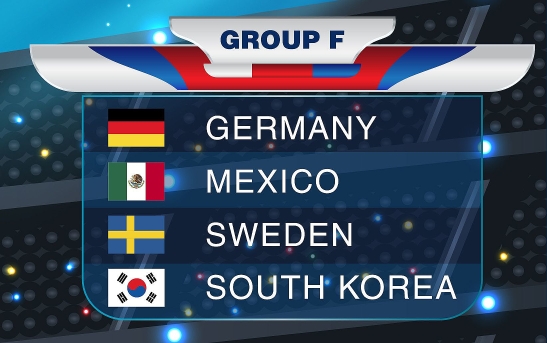 FIFA World Cup 2018 Group F.

Germany

Germany has been a dominant force in international football as long as I remember as probably all my readers remember. What was missing until last World Cup in 2014, were the big titles. Before the triumph in Brazil, Germans last World Cup win was in 1990 and last Euros win was in 1996. They have been always one of the main favourites and will be during FIFA World Cup 2018.
Qualification tournament was kinda walk in the park for them. Won all the 10 games with a goal difference of 43-4. Opponents in the group weren't, of course, some higher ranked teams. Behind Die Mannschaft was Northern Ireland, Czech, Norway, Azerbaijan and San Marino. What's good for Germans is that there weren't any big leader on scoring list and it shows how well mixed the team is and goal threat can come from several different players. Lewandowski and Ronaldo were the top scorers with 16 and 15 goals. Muller was the top scorer for Germany with 5 goals, followed by 4 players with 3 goals. Majority of the players are playing in Bundesliga and Joachim Löw has been a coach from 2006 already. So, there's good chemistry and great players with an experienced coach who has been working with them for 12 years already.
Germans are of course also favourites to win the group in front of Mexico, Sweden and South Korea. Games are played on June 17,23 and 27.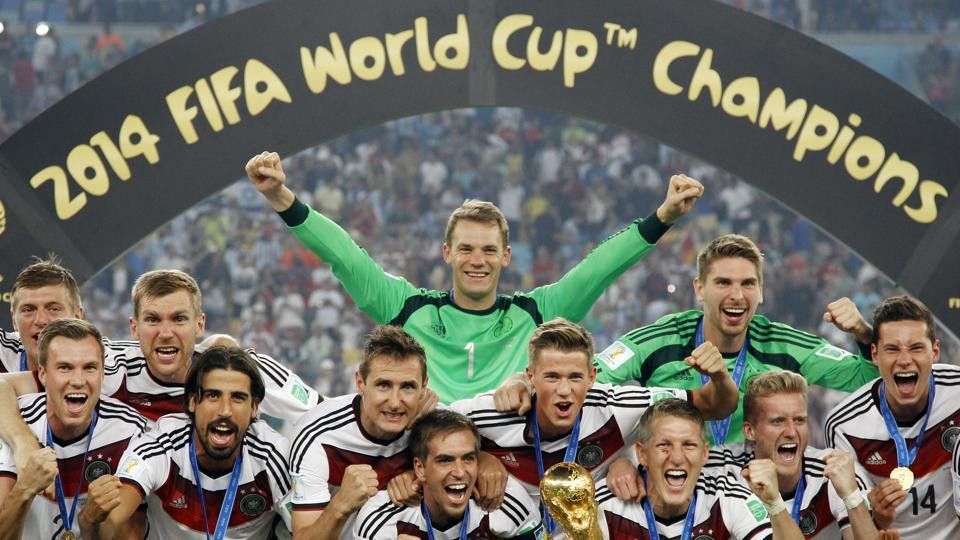 Tactics and manager


Joachim Low is definitely a very good coach, can't argue here. Also, what favours him, is experience and his record in big tournaments. Low guides the Germany team to his sixth major tournament. Talk about the nerves of steel there. It's his 3rd World Cup tournament and one as an assistant to add. The worst place he has got with Germany is third and considering the squad strength, anything below semifinals would be regarded as a failure in FIFA World Cup 2018. Low guided Germans to the final of 2008 and semifinals in 2012 and 2016 Euros. 2010 World Cup semifinals (finished as 3rd overall) and winners of 2014 World Cup. This guy knows how to play with this team in big tournaments that's for sure. Germans should be the favourite to win the FIFA World Cup 2018.
Die Mannschaft usual formation is popular 4-2-3-1. What I like about Low is that he don't afraid to bring young players into the team. This doesn't mean that he likes to experiment a lot though. If all players were fit, the lineup was well predictable. The only position where Joachim have changed players a lot is a striker. Miroslav Klose was forgotten quickly. Sandro Wagner, Lars Stinfl and Mario Götze were all used, but none of them is with the squad during the FIFA World Cup 2018. Only 22 years old, Bundesliga phenomenon this season, Timo Werner should be a starting striker and veteran Mario Gomez as a backup.
Germans strength lies on the squad depth and teamwork. If you watch their games, there's nothing spectacular nor groundbreaking at first sight. But how they work as a team is effective. They play a nice controlling football. Kroos and Khedira anchoring the midfield with Özil, Reus and Muller up front allow them to attack through the middle or use flanks and stretch the pitch in order to make room for cuts. Low likes to play a lot with a ball and not rush into the attack, but rather keep the position, pass a lot and find the holes in the defence. 2 strong centre backs can pass the ball as well and Kimmich makes a lot of runs to support the attack while Hector is more reserved.
The key opponent is, of course, Manuel Neuer. Germany comes very high with their defence in order to keep the ball in the opposition half and Neuer often acts like the last defender not in the goal only, but makes a lot of runs and passes outside from the box. This allows them to create overloads and move the ball quicker, as there should be available players for an easy pass.


Squad information

Another team with a luxury to leave home players who could be playing in most of the other teams in FIFA World Cup 2018. Mustafi, Sane, Can, Götze, Stindl, Leno, Höwedes, Schurrle etc. Neuer, Reus and Boateng all coming back from injuries. Neuer, for example, had only 3 games in last season, Boateng 19 and Reus 11. All 3 of them would be in the starting lineup with ease and running out of time already but should be able to play from the first game, as otherwise, I doubt that Low would have taken them to the FIFA World Cup 2018 plane. All of them played also in recent friendlies, either from the bench or in a starting lineup, but match fitness and sharpness can definitely be an issue.

Neuer from Bayern Munich, Trapp from PSG and ter Stegen from Barcelona. There's no stronger pool of 3 goalkeepers in the FIFA World Cup 2018. Trapp wasn't number one in PSG last season tough and Neuer had very short season due to injury, but overall, oh my god.
Central defenders should be Boateng and Hummels, both from Bayern Munich. 2 seasons in a row as teammates and there's definitely good understanding and communication. Also keep in mind, that Neuer is their teammate and also fullback Joshua Kimmich. Joshua is only 23, but basically his 3rd seasons in a row as the main team player in Bayern! I dear to say that Jonas Hector is also a starting fullback, from Köln and main team player in there in Bundesliga for the 4th season in a row. Bayern connections are not over yet in defence as also 22 years old Niklas Süle got 27 games in Bayern. He left Hoffenheim last season and were a starting defender for them in his last 4 seasons, so basically from the age of 18 already a main team player in Bundesliga.
Antonio Rüdiger played last season in Chelsea as the main team player. He went there from AS Roma, where he was also the main team player in Serie A.
Marvin Plattenhardt has had 3 seasons in a row with more than 27 games in Bundesliga for Hertha BSC.
Matthias Ginter from Borussia Monchengladbach had 34 games and 5 goals. 2 seasons in Borussia before joining them as a core player. Can support attack a lot with his speed, crosses and long shots.
Overall, very strong defence and in top 3 definitely in FIFA World Cup 2018. Also, the bench is strong in every position and very well balanced overall.

Kroos from Real Madrid and Khedira from Juventus are the likely starters in centre midfield positions. Kroos has been one of the best in the world in his positions for years and managed to play with Khedira 1 season in Real. Khedira, despite being 31 now, had a great season in Juventus shirt. He may be starting from the bench though, as Ilkay Gündogan had a superb season in Manchester City with 30 games and 4 goals. In order to make the Bayern Munich connection on the field even stronger, Sebastian Rudy can also come from the bench. 25 games for Bayern in last season and were influential for Hoffenheim in the midfield for years before joining the Bundesliga champions.
There is, of course, Mezut Özil as number 10. 4 seasons in Real Madrid and last 5 in Arsenal and Premier League. Not many goals on a club level, but always important link in attack for every team he plays for.
Julian Draxler has played last 2 seasons in PSG. Last season had one of his best, despite being only 24 years old. 30 games and 4 goals while playing alongside Neymar, Cavani and Di Maria for example.
Julian Brandt from Leverkusen and Leon Goretzka from Schalke can come in and change the game themselves. Leverkusen wonderkid is only 22 but has been a threat in Leverkusen for four seasons in a row. A staggering 9 goals and 34 games in last season followed by 26 games and 4 goals for 23 years old Goretzka.
Marco Reus, when healthy and fit, is a certain starter there. 6th season in Borussia Dortmund and despite playing only 11 games in last season, scored 7 goals! There are a very good mixture and well-balanced midfield from central midfielders to number 10 and wings. Any player coming from the bench can change the game in a blink of an eye and despite a rather young bench, these guys are playing in strong teams and are well-known threats in strong German Bundesliga.

Müller, striker or a winger, but rather a striker in Germany team during the FIFA World Cup 2018. A legend in Bayern and Germany has been one team player whole of his career. 9 seasons as the main team player in Bayern and last season scored 8 goals in 29 games. 38 goals for the national team in 91 games means that he holds both records in the team compared with current players. Absolute leader, joker and threat in the team.
Low is trusting 22 years old Timo Werner as a lone striker at the moment. The reason is his great 2 seasons and top form in Bundesliga during his 2 last seasons. 21 goals in last season, as a 21 years old striker. 13 goals in last season and 8 goals with only 14 games in Germany shirt mean's that he can overcome Müller, Klinsmann and Podolski with the scored goals for Die Mannschaft. I would be very surprised if the starting striker for Germany is playing still in Leipzig in next season.
32 years old Mario Gomez should be a great mentor for youngsters and is actually still lethal and of course with great experience. Only 16 games for Stuttgart in last season, but 8 goals, so delivers with high efficiency. Gomez is also 1.89 tall and is surely a good addition from the bench when trailing the game and in need of a goal.


@theKFA https://t.co/T2ezJzNMb3

— ☆S.Korean☆ (@progressiveman7) June 11, 2018



Preliminary squad overview for FIFA World cup 2018

Neuer, Boateng and Reus injuries and short seasons are big question marks here. Last friendlies gave a hint that they should be ready for the opening game. Match fitness is still definitely an issue, but the squad depth is so strong, that they can start without 1 or 2 of them and still not be losing a lot in quality.
The squad is full of talent, skill, world-class players and coached by Low who is great and with huge experience package for the FIFA World Cup 2018.
Really hard to pick any weakness in the side. If any, then Werner is very young and needs to prove himself on the big stage with a huge burden on his shoulders.
Defence - Very well balanced and 2 strong options on every position. Hard to pick stronger and technically better defence in FIFA World Cup 2018. Good mixture of experience and youth and great advantage due to links between Bayern Munich players.

Midfield - Same as defence basically. Kroos, Özil, Khedira with great experience playing in highest level for years for clubs and also on international level. Some talented younger players who despite of age are playing in strong leagues and clubs as main team players. They can change the game quickly with these players, as they are very mobile and can cover different positions.

Attack - Young Werner can be a dark horse for the Germans. Unknown quality on a stage like this, but with great efficiency so far for the national team. Of course, Müller and Reus can play in this position also and there are good options on wings to replace them. Gomez is not fit for starting position I afraid, but could be good option from the bench in FIFA World Cup 2018.



Mexico


Mexico has played in 15 different World Cup final tournaments, best achievements are quarterfinals in 1970 and 1986. In Copa America and Confederations Cup, they have played 17 times and the best result is from 2001 when they reached to finals. Best results in international tournaments are from CONCACAF Championship, where they lift the trophy in 2015, 2011 and 2009 in recent years. Where I'm heading with this is that Mexico plays almost in every World Cup final tournament, but they are rather a strong middle team compared with top 25 teams in the world. They are winning trophies in competitions where they play against teams like Haiti, Panama, USA, Jamaica, Costa Rica etc. Qualifying to World Cup tournament has been easy for them, as it was for FIFA World Cup 2018. In Concacaf region 4th round they were in a group with Honduras, Canada and El Salvador. 5 wins and 1 draw with goal difference 13-1. In 5th round there was a group with 6 teams and 3 of them will get automatic promotion. Mexico managed to finish as 1st with 6 wins, 3 draws and 1 loss. 21 points collected and last automatic place was on 13 points.
In World Cup, they are always around second or third favourite to go through the group phase and that's the case also in FIFA World Cup 2018. Germany is a big favourite and between Mexico and Sweden, it's hard to pick a favourite. The last team in Group F is South-Korea.



Tactics and manager


Juan Carlos Osorio, El Recreacionista, has been the coach for them since 2015. Colombian started his career as an assistant coach in Manchester City, followed by being a coach for Millonarios, Chicago Fire, NY Red Bulls, Puebla and Sao Paulo.
Mexico's strengths are quality and experience. All core players are playing in strong leagues and around 27 years old with more than 60 games for the national team. At the same time, the team is well balanced and there's hard to pick out any certain team leader of obvious weakness compared with other players in the probable lineup.
A probable formation is 4-3-3 and 4-5-1..and 3-4-3. Osorio likes to shuffle things up a lot with formation and lineup. He is well known for this and as Mexico has a lot of different quality attacking players with a varied skill set, he tries different options. In general, Mexico play's attacking football with speed on the front line. There are enough firepower and versatility in this squad with good depth. Osorio tactics and mixing things up brought them to the FIFA World Cup 2018, but there's a lot of pessimism in Mexico on these tactics. Things worked well against weaker opponents, but there was also a lot of testing in friendlies.
In all games, different formations, players and tactics were used and results were quite mixed. They won against Iceland and Scotland and lost against Croatia only 0-1. A scoreless draw against Wales and a 2-0 loss against Denmark were worrying tough. There can be some tactical changes in defence due to missing two very important defenders: Diego Reyes has played recent seasons in Porto, Real Sociedad and Espanyol. Nestor Araujo moved to Celta Vigo from Santos Laguna.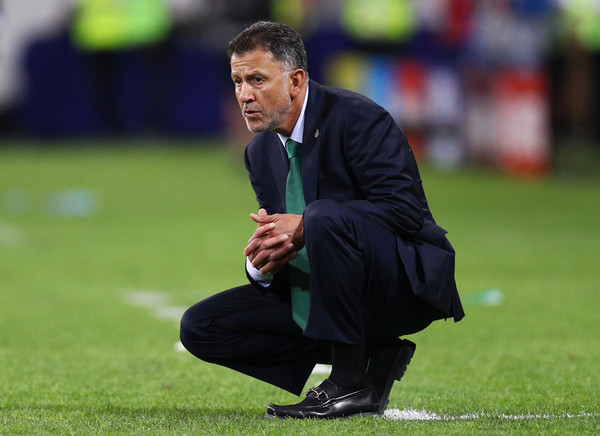 Squad information

As I mentioned already, 2 important defenders are out from the squad due to injuries. Reyes has 55 games and Araujo has 27 games for the Mexican national team. Reyes also plays in Portugal league and important player for them. Oswaldo Alanis has been an important player for local league club Guadalajara. 22 games for Mexico and were in the preliminary squad, but fighting with a small injury.
Despite these missings, the squad has a good depth and quality to once again fight for a playoff spot in FIFA World Cup 2018. They are definitely capable of it, but reaching further would be already jumping over their shadows and a big success for this team.
With goalkeepers like Jose Corona (37 years old), Alfredo Talavera (35 years old) and Guillermo Ochoa (32 years old) Mexico must have the oldest trio of goalkeepers. The main goalkeeper will be Guillermo Ochoa without a doubt. 94 games for them and were very good in last WC. Last season in Standard Liege, Belgium, but before this were several seasons the main goalkeeper for Ajaccio in France, Malaga and Granada in Spain. For me, one of the most underrated goalkeeper for some reason during last years.
A very very tough situation in defence. Carlos Salcedo from Eintracht, Bundesliga, is recovering from the injury he got against Croatia in a friendly. Hector Moreno has played seasons in Spain La Liga, last season in Real Sociedad didn't play also in last 2 friendlies due to nursing an injury. This is 2 players out of 3 in defence who are playing outside of Mexico local league. Miguel Layun from Sevilla and years in Porto is the 3rd more experienced player from the foreign league and certain starter. 39 years old Rafael Marquez has been brought to the squad due to these injuries and was used a sub in last 2 friendlies. Experienced and 145 for Mexico with 6 seasons in Barcelona, but, well, 39 years old.
Hugo Ayala has been starting due to the missings, plays in UANL in Mexico and 43 games for them. Other 2 options are young and inexperienced Alvarez and Gallardo, both playing in Mexico local league and with 13 and 23 games for the national team. If Salcedo and Moreno will start in group games, this defence is well suited for Sweden and South Korea and able to keep them away from goal. If local league guys have to step up, I afraid they will struggle.

There are important injury worries also in midfield. Captain Andres Guardado played last season in Real Betis and was an important player for several seasons in Valencia and Deportivo La Coruna. Unknown if he will be fit for the opening game. 154 games and 25 goals for Mexico and an important player for sure. Giovani dos Santos has been playing last seasons in MLS but were once a promising youngster playing for Tottenham and Villarreal. 105 games and 19 goals for Mexico and still going strong. Scored a winner against Scotland and skilled player with good speed. Marco Fabian has 39 games and 9 goals for Mexico, plays for Eintracht in Germany and once again, not sure how fit he will be due to injury. As in defence, 3 players playing in stronger leagues and 2 of them recovering. Luckily there are no issues with Hector Herrera from Porto. 5 full seasons as main team midfielder in Portugal league is a much-needed quality there with the..once again..important injuries.
Jonathan dos Santos were raised up by Barcelona academy but were never a regular for the main team. He played 3 seasons in Villarreal tough and that's a sign on quality and a good player. Last seasons playing in MLS tough. 2 players playing in local Mexico league, Javier Aquino in UANL and Erick Gutierrez in Pachuca. Aquino with 53 games and Gutierrez with 9 games for Mexico and neither of them should be considered to get a chance when other players are fit enough to play.

Attack is Mexicos strongest part of the field with speed, agility, skill and a lot of players in form and having their best season's in the club level. 6 strikers/wingers who all have plenty of games and goals for the team shows the great depth there.
Most coveted is, of course, Javier Hernandez. Better known while playing in Manchester United and Real Madrid. Last season back in Premier League, West Ham. 28 games and 8 goals. Fast and always dangerous, fits well with Mexico's 4-3-3 system with a lot of speed and running.
Carlos Vela was playing for Real Sociedad for several seasons, but last season he spent in MLS, Los Angeles. 13 games and 1 goal in Spain and 12 games with 7 goals in MLS. Very experienced duo with Chicarito for Mexico supported with Oribe Peralta from America, a local Mexico league. Despite playing whole his career in Mexico has been an important player for the national team with 67 games and 26 goals.
Raul Jimenez has been bench player in Benfica for last 3 seasons. 33 games, 6 starts and 6 goals in last season. A good mix in the team, because he is 1.88 tall and only proper target man in the team.
2 younger players added to the squad. Jesus Corona had a great season in Porto and he has been already 3 seasons there as the main team player. Scoring and creating goal chances for others with his silky runs on the wings. Will arrange a tough evening for any defence with another wing, Hirving Lozano. PSV player had a horrendous season in the Netherlands in a good way. 29 games and 17 goals in his first season in Europe, 22 years old! A lot is expected from Lozano and these guys should be extremely hard to defend against by Sweden and South Korea in the FIFA World Cup 2018.
Qué hypeado me tienen Milinkovic-Savic e Hirving Lozano https://t.co/H8KepLB7bWhttps://t.co/JBv8uhHkr1
Y eso que solo los veo en los típicos highlights. Al serbio lo he visto dos o tres partidos "sueltos".

— "Shark" Gutiérrez (@SharkGutierrez) June 11, 2018


Preliminary squad overview for FIFA World cup 2018

I would pick Mexico as a strong favourite to go through the group once again when all the important players would be fit. Local league players can be a difference against Sweden, but luckily for Mexico, their opening game is against Germany which they are expected to lose anyway. Their second game is against South Korea which relies a lot on 2 players and finally the most important game, against Sweden, is on 27th. Hopefully, there's enough time to captain and defenders shake off the injury and get in form for the last group game.

Defence - Ochoa is reliable as ever, his main weakness can come out against Sweden tough. He makes a lot of wrong decisions when playing against tall players and teams who like to put a lot of crosses in the box. On the line, he is class tough.
It will be tough for local league guys to play against Sweden and Son from Korea. A strong enough defence when all players ready for the game, to guide them through the group phase.

Midfield - Great experience on a club and international level. Captain as the strongest player and hopefully fit to start at least in the last 2 games in the FIFA World Cup 2018. Both, Jonathan and Giovani dos Santos were decent in friendlies and main weakness there is to help the defence out.

Attack - A lot of speed..and I mean it. When they start running and passing the ball short around the box and defenders, it may make your head dizzy. Goals for club level in strong leagues and goals for the national team. Good depth and everyone from the bench is able to make Sweden and South Korea regret that they woke up in the morning.


Sweden

Sweden is a surprise team in FIFA World Cup 2018 for me and for many others as well. They have beaten the odds three times easily to advance there, so it's rather deserved than undeserved despite of the odds.
Ibrahimovic quit playing for the national team, a lot do here with the long injury break and also age factor. 62 goals for Sweden national team and all-time top scorer for them.
Sweden finished on 2nd place in the qualification group phase behind France. They edged Netherlands and Bulgaria, Netherlands only with goal difference. This was the first small upset against the odds. The Netherlands isn't the same team as a few years ago yes, but still player by player should be superior. They went against Italy in playoffs and beat the odds second time. A 1-0 win at home and a 0-0 draw in Italy were the third time beating the odds.
Don't get me wrong though, they are not bad team neither they are the worst teams in FIFA World Cup 2018. I also rate their changes to go through the group phase, mainly because Mexico has some major problems with injuries.
11 World cup performances and believe it or not, but they have been playing in final, in 1958. Their best European Championship achievement is semi-final in 1992.
2 losses and 2 draws in last 4 friendlies aren't once again something to build their game on. Scoreless draws against Denmark and Peru, 1 goal losses against Romania and Chile.
Sweden first game in FIFA World Cup is on June 18 against Korea, followed by the game against Germany on June 23. Last game is against Mexico on June 27.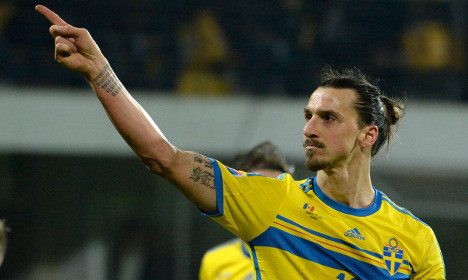 Tactics and manager


Janne Andersson has been the coach for Sweden from 2016. A surprise coach for me considering that previous coaches have been Lars Lagerbäck and Tommy Söderberg for example. Andersson coached only Swedish leagues clubs before and isn't considered as a high profile coach. Also, no advantage knowing the local league players, as there's none in the national team. Can't deny that Andersson had a very successful run during the qualifications tough. 26 goals scored and only 9 conceded in 10 games. They even outscored France team! If we add playoff with Italy, 1 scored and 0 conceded in 2 games, we have to admit that they are playing good under the Andersson.
Andersson is known for valuing the team play, chemistry and organization above all. Defence first is the keyword for Sweden and when possible, counter-attacking and a lot of long balls towards Berg and Toivonen. Both main strikers are
good with long balls and can take them down easily or release wingers with short passes. Granqvist and Lindelöf are keeping the air clean and are also good at tackling the ball in central defence. Sweden also uses wingers much more than with Zlatan in the lineup. Forsberg and Claesson are bringing the fullbacks often close to the goal or centre and this means that Sweden own fullbacks have the space for overlap and send the balls into the box.
The most used formation is 4-4-2.


Squad information

Sweden doesn't have, luckily for them, any big missings from the FIFA World Cup 2018. Carlos Strandberg, a young and tall striker who scored 13 goals in 18 games for the U19 national team and were transferred to Russian league, CSKA Moscow, is back in Sweden now and not in the squad. High hopes on him when he left for Russia, but haven't found the form required to be in the team.
Robin Olsen from Copenhagen is their main goalkeeper. 28 years old and only 18 games for the national team, but other 2 goalkeepers have even fewer games. Olsen is 1.98 tall, but despite this with very good reflexes and hard to beat.
Karl-Johan Johnsson plays for Guingamp in France and has been the main goalkeeper there for 2 seasons now. This makes it a little surprising that Olsen is number 1. Kristoffer Nordfeldt plays for Swansea, but have had only 3 games in Premier League during 3 seasons.

Central defence has 2 towers in Victor Lindelöf from Manchester United and Andreas Granqvist from Krasnodar. Lindelöf had 17 games in Premier League last season. He joined Manu from Benfica where he was also the main defender in his last season. Andreas has been in Krasnodar for last 5 seasons and enjoys a main team role. Another tough nut to crack is Mikael Lustig. Also very tall and good with and dangerous in the opponent box. He has been playing in Celtic for last 7 seasons.
Martin Olsson is a good fullback and playing in English Premier League, for Swansea. He represents Norwich and Blackburn in previous seasons. He will be probably starting fullback with Ludwig Augustinsson from Werder Bremen. 29 games in his first season in Germany, 24 years old, isn't too shabby.
Sweden is probably the tallest team in the FIFA World Cup 2018, as also Pontus Jansson from Leeds United is 1.94. Tried the Seria A level in Torino for 3 years, but wasn't good enough, because he should be tall enough at least. In Leeds, England Championship, he is the main team player at least.
Then there's Bologna connection, Filip Helander had 29 games in last season for the Italy Serie A club, also 1.92! Emil Krafth got 12 games last season for Bologna.

Midfield has a strong core of players playing in leagues like German Bundesliga, English Championship, Italy Serie A, French league and Russian league. As the main threat, I would pick out Emil Forsberg from RB Leipzig. 2nd season in German Bundesliga and scored 2 goals in 21 games last season. 30 games and 8 goals season before. The quick attacking midfielder was for example 1st in assist category in Germany last season.
Albin Ekdal from Hamburger and Seb Larsson from Hull City should be midfield pair. Ekdal's best seasons were in Italy for Cagliari. Currently playing his 3rd season in Hamburger and had 19 games last season. Larsson was an important part of Sunderland team in Premier League for several seasons. Last season played in Hull City, 40 games and 2 goals.
Victor Claesson should be on the right side. Played several seasons in Sweden before joining Krasnodar in Russia Premier League. 30 games and 10 goals in last season as a winger is decent enough to threaten South Korea and Mexico for example.
Jimmy Durmaz, the bearded one, has played 2 last seasons in Toulouse, France. 20 games and 3 goals in last season and good addition from the bench. On the right side, there's Marcus Rohden capable of bringing the ball forward and put some decent crosses in the box. 20 games and 2 goals in last season for Crotone in Italy Serie A. Oscar Hiljemark has been playing in Italy Serie A for Palermo and Genoa. Unfortunately not the regular starter and had 15 games last season. Gustav Svensson was a surprise addition for me. Plays in MLS for Seattle, 31 years old and only 13 games for Sweden.

The attacks are lead by Ola Toivonen from Toulouse and Marcus Berg from Al Ain. Toivonen has 13 goals in 59 games and Berg has 18 goals in 57 games for Sweden. Berg is 31 and played last season in Al Ain, 25 goals in 21 games. Not the strongest league indeed, but had great seasons also in Greece for Panathinaikos. 16 to 24 goals in every season and fits in well for Sweden tactics with his strength and good skills taking the ball down. Toivonen didn't score a single goal in last season but managed to get 7 before previous season. Has played in Premier League and in the Netherlands before. 1.92 tall and once again, good target player in the box.
Isaac Thelin had a great season in Belgium, Waasland Beveren. 16 goals in 25 games and has tried his luck also in France. 1.89 tall and like all Sweden strikers, good in the air.
26 years old John Guidetti had big hopes on his shoulders when he joined Manchester City but were never the main team player. He joined Celtic and scored 8 goals in 24 games in Scotland before joining Celta de Vigo in Spain. 3 seasons and 11 goals later he joined Deportivo Alaves. 17 games and 3 goals after the winter break.


Jag gillade en video på @YouTube https://t.co/XqXGuocfdB Emil Forsberg 2018 - The Swedish Genius - Crazy Skills, Assists & Goals HD

— Sammie Åström (@ZacheGamer) June 8, 2018


Preliminary squad overview for FIFA World cup 2018

Goalkeeper Robin Olsen, despite not playing in some strong leagues in Europe, has shown that team can trust him. Lindelöf and Granqvist make a good CB pair in front of him and with their tactics and strong defence, Sweden can be very hard to score against. Larsson is experienced and with Ekdal and Forsberg who have had good seasons in Germany, this midfield can break the attacks and also bring the ball into the box with Claesson also on the wings. In the box, there are two towers who will get their chances against any team I'm sure, it just depends if they can convert them. We saw how tough it was to break Iceland from Argentina already and I don't think it's any easier to break down Sweden either.
Defence - Strong enough defence on paper to make life hard for any team in this FIFA World Cup 2018. Manu, Celtic, Swansea, Krasnodar, 2 players from Bundesliga. Playing in strong or decent leagues and as main team players. Strong in the air and dangerous on dead ball situations in opponents box, where they are looking very dangerous. Just have to think how to make the strength and hight pay against short and fast opponents.

Midfield - No world beaters and world-class star in the midfield, but the team is playing very hard and as a strong unity. Larsson and Ekdal have got a lot of experience in England and Germany. Forsberg and Claesson are key players in attack and both have had great seasons in last 2 years. The team lacks a good playmaker, passer, in the midfield. Good depth tough and hard to pick who could advance from this very even group.

Attack - Berg and Toivonen will make any defence a hard day in the office, or on the grass. Both are tall and strong and there's more hight to come in from the bench. All dead ball situations will become a chance to score when there's around 5-6 players taller than 1.90 in the box. The team lacks speed and explosiveness, but the coach knows it well and they are trying to play on their strengths.


South Korea
If I would ask from most of the football fans who are three most influential players in Korea, Son from Tottenham would be named..maybe a guy who plays in Germany Bundesliga and meh. TO be honest, it would be at least my answer to this question. There are 5 players playing in Europe and most of them in the local league or in Japan league. This is the current situation and was also in 2002 World Cup. Why I picked out 2002 is that Korea finished on the 4th place then, yes, you heard it, 4th. They were in similar situation squad wise also then and now, in FIFA World Cup 2018. They had Cha Du-Ri playing in Leverkusen, Ahn Jung-Hwan for Perugia and Seol Ki-Hyeon in Anderlecht back then. Park Ju-Sung went to Europe as one of the most promising prospects after this tournament and played even for Manchester United. Point is, that after every World Cup there have been some players moving to Europe and probably this will be the case after the FIFA World Cup 2018 also. I'll pick Lee Jae-Sung out from there, from Jeonbuk.
Qualification first round for them was very easy. 24 points and all wins from 8 games with a goal difference of 27-0! Opponents were, of course, small teams in world football like Lebanon, Kuwait, Myanmar and Laos. In the second group phase, they finished second behind Iran. Only 2 points ahead of Syria and Uzbekistan were a close call.
In their friendlies, they lost 2-0 against Senegal and 1-3 against Bosnia. A 0-0 draw against heavily rotated Bolivia and a 2-0 win against weak Honduras.
Unfortunately, nothing special and rather worrying results considering their opponents in the FIFA World Cup 2018 group stage. In general, I find it very difficult to see the Korean's going through this group, but I was sceptical also in 2002!
Korea starts their FIFA World Cup 2018 journey against Sweden on June 18, followed by a game against Mexico on June 23. Last game is against Germany on June 27.


Tactics and manager
In 2002, Korea coach was Guus Hiddink. Their biggest weapon and reason why they went so far I'm sure. The current coach is Shin Tae-Yong. Shin has been the coach for Korea men's team since 2017 only. He was the coach for U20 and U23 teams previously. So a big gap between two coaches, as Shin don't have also any international experience and definitely not comparable with Guus.
It's very unclear about what tactics and formation Korea will play, mainly due to mind games from their coach. There's a lot of stories about changing the tactics and misleading opponents scouts with changing the shirts of the players for example.
Considering the players they have and where they have more quality, I would say the formation will be either 4-4-2 or 4-3-3. They do have attacking quality in Son Heung-Min and Hwang Hee-Chan. Son from Tottenham and Hwang from Red Bull Salzburg. Things once again were bad in the last round of their qualifying campaign. Korea managed to score only once in their 5 away games. Defence is a big question mark against stronger teams considering that they picked up 5 balls from their net against Qatar in 2 games. 0 goals against Bolivia who is strong only when playing at home in the high of mountains. Bolivia also used heavily depleted squad against them and goals were expected.
Fact is, that they will struggle defensively against physical Sweden, fast Mexico and skilful Germany. Infront of goal, they rely heavily on Son and Hwang. If you take them down, the ball play in the attacking phase is weak. Also, in midfield, they depend a lot on Swansea player Ki. He is a good passer and can share the ball, but is with very limited skillset. Korea definitely concentrates on keeping the goal clean at first. They can, if allowed, to bring the ball from defence to attack zone quickly enough to have chances. They aim to move the ball quickly behind the midfield and send the crosses into the box.
Shin also likes to stretch the field with his 3 attacking players in order to create room for Son mainly. He is one of the few in the team who can take defenders one on one and find a suitable pass when there's more than defenders on him already. They can run and prefer to play a fast game with fullbacks running up to support the attack during the FIFA World Cup 2018.


Squad information


Korea played well against weak opponents in their first qualification phase. The problems in defence and scoring goals were obvious against a little stronger opponents in the second round and in friendlies. In attack, they can create chances, but cant convert them into goals in a big enough conversion rate. Defence especially lacks the quality. All goalkeepers and defenders are playing in Japan and Korea local leagues with one exception, Kim Young-Gwon plays in China. China league is above them all in Asia and I consider China league much weaker than leagues in Europe. Midfield and attacking department have some more talent and 3 players in strong European leagues who are actually getting game time and have some influence. Korea hopes for FIFA World Cup 2018.

2 goalkeepers playing in Japan and 1 goalkeeper in Korean league. 26 years old Cho Hyun-Woo the starter and has played his whole career in Daegu, the last team in the league after 14 games with the goal difference of 8-26. Only 6 games for the national team and should be a very weak point for the team. 7 defenders from the Korean league, 2 from Japan and one from Chinese league. Playing in Guangzhou and only 5th defender in the team when checking appearances. On paper, one of the weakest defences in the FIFA World Cup 2018 tournament with Saudi Arabia. 31 years old Park Joo-Ho have played in German Bundesliga but were a factor in the team from 2013-2015.

Koo Ja-Cheol from Augsburg and Ki Sung-Yueng from Swansea City are the leaders in midfield. Koo plays in Augsburg at the moment and had 28 games with 2 goals in last season. Playing in Germany from 2010 season, but the main team player in last 3 seasons. In his best season had 8 goals and 27 games. Ki has been in Swansea since 2012 season. 25 games with 2 goals in his last season in English Premier League and very important player for Korea. 20 years old Lee Seung-Woo got 14 games for Hellas Verona in Italy. Moved there from Barcelona youth team, where he got 1 game and 13 minutes only. They are supported by players from Japan and Korea league once again.

The attack is definitely most talented part of the team. 2 players in European leagues and not just bench players getting occasional minutes at the end of the games. Son Heung-Min has been playing for Tottenham in English Premier League for last 3 seasons. 4 goals in 28 games in his first season and in last seasons 14 and 12 goals with over 30 games. Definitely important player there and well known for Premier League followers. Hwang Hee-Chan is Austrian league champion with Salzburg. 26 games and 12 goals in the previous season and in last season got 20 games and 5 goals.
Kim Shin-Wook plays for Jeonbuk in Korean league. Have had some seasons with 18-19 goals, but in last season finished with 10 goals.
NEW VIDEO - Heung-Min Son | Amazing Skill Show | Tottenham 2016-17 https://t.co/P6N77bW2tn

— Spurs Only (@SpursOnly) July 8, 2017

Preliminary squad overview for FIFA World cup 2018

A very tough group actually for Korea with Sweden, Mexico and Germany fighting for playoff spots. On paper, definitely the weakest team there and relies heavily on 2-3 players. There are very different opponents playing against them and they will struggle against tall and physical Sweden I'm sure. Korea can run and is rather fast-paced football fans, but Mexico is also above them in term of speed and quality. Germany need only win and nothing more and this makes their lives even harder. Guus Hiddink was a factor for Korea in 2002 and seems it's forgotten already. With the coach who has experience only in local league clubs, they are not expected to go through the group in my opinion.
Defence - It will be very hard and tough for these players to play against strikers and midfielders who are playing in a top or strong European leagues. The level of game speed, skill and ball moving is very different. Not a single player in European leagues is a big weakness you cant hide the whole 90 minutes. There are only a few teams against who they could handle the pressure and none of these teams is in their group in FIFA World Cup 2018.

Midfield - Koo and Ki from Augsburg and Swansea are heads and shoulders above the rest of the squad in the midfield. Lee can be next lonely star player for them as he is still only 20 years old and getting some matches already in Italy Serie A. If he would be 2-3 years older, smarter and better, I would rate Koreas changes more highly for sure. 3 midfielders in the squad with only 4 or less games for the national team.

Attack - Son and Hwang the ones to keep eyes on. Hwang is a good player in this team, but still, against the opponents they have to play against, Austrian league rotation striker is not something to build on. Son has 21 goals and Kim has 10 goals for Korean national team. Keep in mind that these 10 goals from Kim are probably against Jamaica, Moldova and Latvia in friendlies. Different kind of quality waiting for him in FIFA World Cup 2018.


---
Sie können auch mögen
Kategorien
Beliebte beiträge
Autor