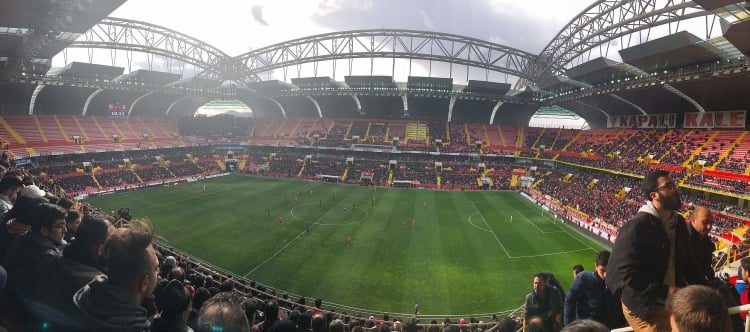 Football Score Predictor – The Ultimate Winner's Tool
Football Score Predictor – The Ultimate Winner's Tool
In a game of guesses, people often think that the luckiest prevail and take that large winner portion home. This is true. In Hollywood movies! Football betting may seem easy and some people could have a few lucky guesses but there is no such a thing as a lucky all-the-time winner. In order to become successful, you need to become a pro football score predictor. And that, my friends, is not an easy task at all!
Football Score Predictor – I was just born under a lucky start
You know, every once in a while, there is a guy that is like:
"Dude, I was just born under a lucky star".
"I didn't need to study for the exam."
Or my favourite:
"Dude, trust me, I studied for three hours and I passed. It's such an easy exam. Don't stress on it."
Yeah right. I was one of these "Dudes". Unfortunately!

Since I was a little kid, my mother used to tell me how I was born under a lucky star because I was always so lucky. And I grew optimistic due to this horrific lie. However, as time progressed, I also realized that because I started believing in this "born under a lucky star" idea, I actually didn't regard my successes as mine but as "being lucky".

Therefore, even if I spent 10 hours studying like a madman for an exam, I still regarded that as "just luck" and not as my accomplishment. You see, I never credited myself for the win. And there is no luck without effort. Luck comes only after you put a lot of effort at stake. Becoming a world-class football score predictor takes ages, and let me tell you, software to overcome. The software you ask?
Yes, you need software in order to run complex statistical predictions. We run our own football score predictor that is being used by numerous tipsters out there and you can read more about that here.
Predicting – Clairvoyant or a Genius
I remember one guy, he gave such great betting tips that everybody went to him for football predictions. He was, what you would call, a true tipster in his soul. He had the game in his tiptoe. But he spent every hour of his life dedicated to just football. I remember how we used to kid around and guess if he was clairvoyant or a freaking genius because he had an amazing streak of guesses. Every day, we came to him for a tour of predictions for today and best football tips out there.
For a month or two, he didn't make a single mistake. To this day, I am amazed at how this person's mind worked. Honestly, all of us believed that he was a genius.
He wasn't. He was an average looking guy with average intelligence. What he had was determination, focus and passion. Every day, he worked on increasing his knowledge and acquiring new skills.
It stands to show you that focus and desire prevail over intelligence and talent. They lead to it. We were all born as babies. With proper guidance, we grew up as strong, focused individuals.
Without proper guidance, we need to do it by ourselves. It will be harder but can be accomplished. And let me tell you, that guy, we were not sure if he just dropped out of the Matrix or what?
To make a truly long story short, after some time, he got married and started working as an account. He progressed and now is one of the best in the world of statistics.
Stats make football, not luck! And perseverance creates success and not talent! Nobody was born as an artist or as a footballer, or as a singer. They chose to become one.
Tell me more about the Stats
So, you want to learn more about the world of statistics? Well, let me tell you, you came to the right place. Here, at StatisticSports, we have an Artificial Intelligence statistical tool that covers all of the in-play and pre-game football statistics. And you can get all of that for 7 days free. Try it and enter the world of stats.

If you want to read more about stats check Betting statistics and its importance in football.

You can also read more about the most common Football betting mistakes and how you can avoid them.

For further strengthening your betting curriculum, you can read about Soccer Betting Systems. Soccer betting systems could help you increase your odds and up your winnings. They are not something to be overlooked. Some people don't use them. Most bettors have their own systems. And I highly recommend creating your own system. But how do you create your own system without the prior knowledge of other soccer betting systems? Knowledge leads to success. Remember that!

A Potential Fixture – Team A vs. Team B
Basically, think about a game that is being played between two teams. Let's say that these teams are of equal strength. They have a long history and team A has won 100 games with 15 draws and 25 wins for the B team. Team A is worth twice more than team B at the moment. They brought some new players this year. Expensive ones! However, team B has won every game in the past 5 years. And team B has changed only three players in the previous 5 years. They have had the same manager too. The game is being played at a neutral terrain but team B has passionate supporters. What do you think? Can you predict the outcome?

Basically, team B is traditional and family-alike. These guys have been playing for a long time. They know each other. Therefore, even though that team A has a stronger team, I would opt for team B due to their connectedness and strength. You see, in the end, the human factor carries a lot of weight. If a team has a lot of amazing players, they may lack great results if there are frequent fights between their star players. Imagine working at a place and hating several of your colleagues that you have to see and interact with every day. It is a horrifying thought! And I am sure you have been there. I have. Never again! Never! I'll rather work for a minimum wage than in a hostile environment. I prefer my happiness and health.

When it comes to football and betting, as well as in life, you need to know how to pick a right "horse".
How to Pick a Right "Horse"
They say that when you are buying a horse, you need to take a look at his teeth. Why? Well, it seems that teeth tell us everything about horses from their age to their health condition. It is actually quite similar to people. A rotten tooth can cause a lot of problems in our organism. We are just not aware of it.
Anyway, if we observe a team as a horse, and yes, I know, it is a strange comparison but bear with me. So, the inside of the team is represented by its manager, the decisions that the higher management does are also going to reflect on the team as a whole. Therefore, the inner circles of the team are its owner(s), manager, management, doctors, and others. They are the teeth. If they are not rotting but healthy and work with reason and care, the horse will be healthy and strong. It will win numerous races and have plenty of rewards, respect, and love.
Think about the team
So, when you are thinking about a team and its success, take a look at who is running the team, how is the team being managed? Have they had a lot of changes and where the changes good or whimsical? You know, you see a team changing managers every 6 to 12 months. Well, maybe, just maybe, if you gave time to the manager, he would create an amazing team of individuals. I believe that we forgot about the human factor in football. Nobody ever thinks about whether the players have a good atmosphere in the locker room. Why not?
I think that a good atmosphere among the players will result in their finding each other on the battlefield. Their passes will have eyes on the back of their heads and they are going to sync perfectly. Look at Ajax this season. Amazing performance! Juventus, on the other hand, just lacked that something. And they have much better players, more expensive team, etc.
League Tables and Football Score Predictor
Observing the league tables can mean a lot to every bettor but to a football score predictor, it is merely just one of the many phases of analysis. You see, if you, for example, take a look at the league table at the start of the championship and then, again, at the end of the season, I most certainly believe that the situation will differ by a lot. Saying this, timing is of the essence. Making football predictions and assumptions merely based on a league table condition at one moment will lead to mistakes. And mistakes lead to less cash.

Who wants that?

If you want less cash, please contact me. I can carry your weight. Just kidding!

Anyway, league tables can and are a powerful asset of every football score predictor, be it a machine or human type of predictor. Take my advice: what is usually the starting point of every consideration is usually the starting point of every mistake too. I know, I am getting a bit mystical with you but it is a fact that the most important things are often the least important too. That is why there are so many other stats such as head-to-head, form, and others. Football is a complex game being played by 22 players on the field. Therefore, even with the best football score predictor tool, such as the one that we have, we can only analyse so much because you can never entirely factor the human effect. The human effect, or the human factor, carries a lot of weight. Think about the final games of theChampions League in the season 2017/2018 and 2018/2019.



Liverpool Won, But What About Last Year?
To make a point strong, take a look at last year's Champions League Final between Real Madrid and Liverpool FC. Real won the game with two help of two giant mistakes by the poor (truly feeling sorry for this guy) goalkeeper Karius. What type of football score predictor could predict not one but two mistakes of these proportions?
These kinds of things occur quite often in football which is why even the best football tips can sound like rubbish sometimes. Imagine somebody telling you prior to that game:
"Trust me, this will be a strong game with little goals."
Maybe! But maybe it will have 3+ goals because of the human error. Who could have foreseen such an outcome? It's crazy. But that's football. And our football score predictor takes all of these strange occurrences as stats and adds that to the equation too.
Why? Well, once in a thousand or once in a million is still statistically observable. It is 0,001% or 0,000001%. It carries its own statistical significance. Small, yes, but significant too.
You see, football is predictable! It truly is. There is always a margin of error just like with every mathematical operation but depending on the quality of your entry parameters, the margin of error may decrease or increase. If you have 50 years of statistics covering pretty much everything, your margin of error will be significantly lower than of another tool that has 2 years of data covering. That is just common logic and mathematics.
Feel like checking our tool? Sign up for a 7-day free trial now and get access to our artificial intelligence statistical tool.
But the season has ended, what now?
The season in Europe may have ended but some leagues in the world are still active such as Singaporean, Norwegian, Chinese, etc. You can freely follow-up on these leagues and their corresponding league tables. If you are in need of some betting tips, feel free to read our article Today's Top Football Tips You Should Know.
Still, now may be the time to go for a vacation and get some time away from football and betting tips. Football predictions for next season are already underway and constantly changing with new transfers arising and changes being implemented in clubs. We are yet to see the newcomers to the first league tables of their countries and if a surprising team may arise. Some clubs, such as Ajax, are going to sell some of their key players, so feel free to follow-up on them and try to predict their outcomes in the upcoming seasons. You also need to ask yourself, is this a club that is aiming at a Champions League Title or just constant exposure in the Champions League?
By understanding the motives behind a club and how a club is being managed, you'll know where their focus is. Some teams will bring their second team in some games; you need to know how to predict that. Maybe they are playing Champions League and they already won the first place in the group and want to rest their players? Or maybe they are at the lowest position and want to focus on their League. Think of a team, and try to understand their politics.
The Most Powerful Statistical Software – Our Predator – The Football Score Predictor
In football, statistics play an important role. It is a key determinant in odds regulation as well as in every aspect of the game. Mathematics of everyday life is something not commonly enough used as a term because we are truly a part of equations every day. You may dislike math, I did too, but when you are sitting down, drinking that pint of beer with your mates and talking about the upcoming fixtures, you'll most likely be doing some kind of math.
Regarding football betting, no matter if it's done by a laic or a pro, it involves math. If you want to read more about the use of statistics in math, do read one of my previous posts Betting statistics and its importance in football.
Here, at StatisticsSports, we try to provide true value to our readers and a brilliant statistical tool to our users. If you would like to read an article on a specific topic please comment below and we'll do our best to accommodate you.
---
Sie können auch mögen
Kategorien
Beliebte beiträge
Autor