English Premier League football rankings for 2018-2019 season.
Premier League is in full swing once again and long waited season have had 4 game days already. I love to compare the squads, football rankings, market values and actual performances of the clubs. Of course, after the summer, Liverpool and Manchester City were doubted as main candidates to win the league. I strongly believe that one of them will win it in the end. Liverpool had tremendous transfer summer and although City was quite quiet, they managed to keep the core and added one proven star in the league. Football rankings, let's check the team's total value and average age. Top 6 teams have all very similar average age and basically no difference there. The city has, of course, the most expensive squad and there's quite a big gap between others. Liverpool, Manchester United, Chelsea and Tottenham have all very even market values and then there's again big difference and Arsenal not keeping the tempo.


Pure football rankings by the market values, of course, doesn't show the whole picture. How on earth did Leicester manage to nick the title in front of powerhouse teams in a 2015-2016 season then? It was a big surprise of course. Last time similar happened in Premier League in 1995-1996 season. Blackburn won the title with Alan Shearer scoring 34 goals.
Premier League 2018-2018 season
Manchester City dominated in last season with 100 points and 106 scored goals. They were main favourites in football rankings at the start of the season and didn't fail to provide. Manchester United finished as a runner-up with 81 points and Tottenham was third. The City has invested a lot in the squad in recent years and this the reason they didn't need to invest a lot of money for this season. The team has great depth and world-class players waiting on the bench. Sergio Aguero as teams top scorer finished only as third with 21 goals behind Salah and Kane. They had 3 main goal scorers in the top 15 and 6 players who scored at least 8 goals. That's a lot of goal threat and big domination.
Manchester United finished second, ahead of Tottenham and Liverpool..and Chelsea. All these teams needed to make some big investments in order to keep the tempo and raise in the football rankings. I would say that only Liverpool have managed it so far and Chelsea should raise in the football rankings with their new coach.

Biggest chance to fight for Champions League places according to my football rankings
Mancester City and Liverpool of course, no doubt for me. City managed to keep the core and Riyad Mahrez with around 60m. Great squad depth and should be able to play strong in all competitions. Especially important in the Champions League and maintaining the quality in the league at the same time.


Liverpool
Liverpool was 2nd in the league last season and played in the Champions League final against Real Madrid. There were some surprisingly overachieving players in the midfield and defence for them. They addressed the issues and reinforced strongly with 163m on 4 players. Goalkeeper Alisson from Roma was one of the best between the sticks in last season. Keita and Fabinho will help well in the midfield, both can create and support the defence. Keita has started the league already with a bang! Liverpool has raised in the football rankings with these reinforcements. Let's not forget also Xherdan Shaqiri, who had superb World Cup and joined the club with the discount price due to his last year in the contract with Stoke. They managed to keep Salah, Firmino and Mane, the deadliest front three currently playing football Also important to note that their coach has had now more time to implement his tactics and vision and actually have created a team he prefers to have. There's also plenty of depth to rotate in league and cup games where needed and give some rest for the core players. Although Keita already took a small vacation with his red card in last league game.


C
Chelsea
Despite fo football rankings according to market value, I would pick Chelsea as a third team. I really like what Sarri has done already with the team and how they play. Pedro has found himself once again and there's room for improvement, as Fabregas, Moses, Drinkwater, Zappacosta and Emerson haven't featured basically just yet. Kepa was a must have buy, as their former number one goalkeeper, Courtouis left the team. Jorginho was exactly what they needed in the midfield and Sarri was his former manager. They also loaned Mateo Kovacic from Real Madrid, who needed some game time behind Kroos, Casemiro and Modric. A clever move to get a player his calibre and eager to get some running miles behind him.
Additionally to Courtois, centre back Zouma left with Bakayoko and Batshuayi. Two Bs didn't manage to impress so far and were loaned out to get some game experience to come back for the next season and prove themselves.
Once again, great depth in the squad despite Emerson haven't had a proper chance yet and Cahill is already 32 years old. 2 absolute beast defensive midfielders with Hazard and Pedro on the wings and if Morata and Giroud will start putting these chances in, they will play for title, but I afraid that it's two teams race this season. Just Sarri needs some more time with the team.


Very
very hard to pick the
4th
team here
By the football rankings, it's Manu. I don't believe in them at the moment and I'm sure most of the fans don't believe. Tottenham just punished them 0-3 at Old Trafford and it's clear that Mourinho has lost it already. He started complaining already in preseason. All they added to the team were Fred from Ukraine League and young defender Dalot from Porto. Lukaku, Sanchez and World Cup sunshine Pogba have had good starts, but there are some obvious issues inside the team. Mourinho and Pellegrini are the shortest odds to be sacked at the moment. I think it would be a miracle if Mou would continue as manager until the end of the season. Arsenal also changed the manager, au revoir Wenger! Arsenal added ageing Lichtsteiner, Sokratis and Torreira to save the team. All good additions, but Leno haven't taken the gloves from Cech yet. Guendouzi came from Lorient and is still only 19 years old. It's a huge jump for him and those shoulders are not yet ready to carry a team in the Premier League. On paper it's the weakest midfield for me from the top clubs and defence has been an issue for them for some season already. Ok, Arsenal had 2 tough games to start the season and had 2 wins in a row after losing to City and Chelsea. They will need some great improvement in their game.
Tottenham

So ill rank Tottenham as the 4th in my football rankings. No signings and no important players left, but proven squad who knows each other inside out and also coach have had time with the team .
Their squad is a bit thin compared with other top teams, but Lucas has already shown his worth and can be taken as an important addition with young central defender Sanchez. Son won the Asian games and will be joining the team instead of the army, so they will get another good gear and goal threat to the team. Hope that they will add some depth during the winter transfer window because otherwise, the second part of the season will be very hard for them with Champions League games.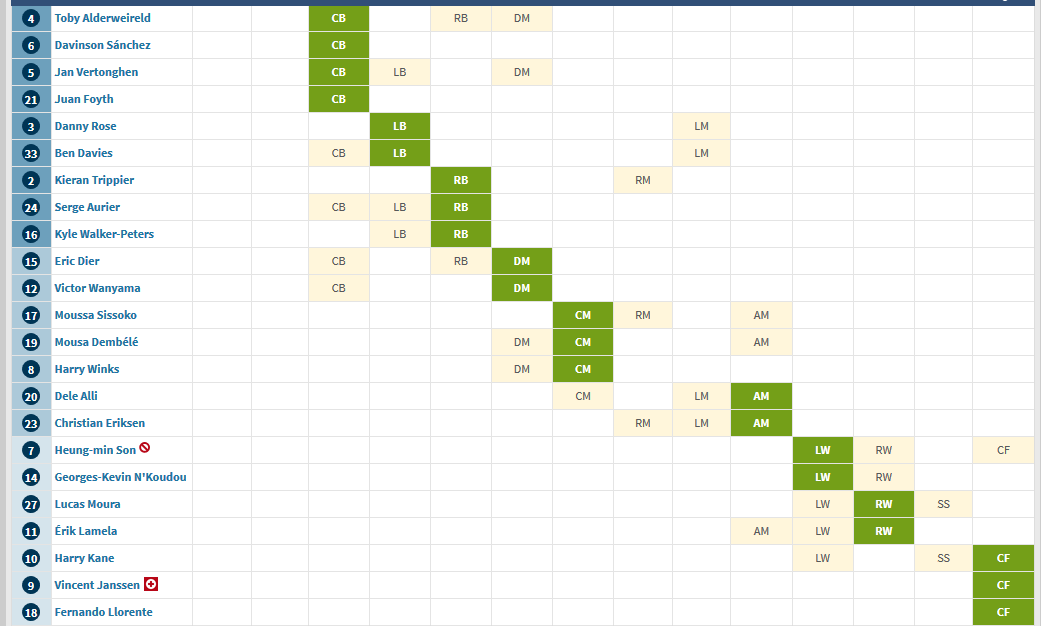 ---
También te puede interesar
Categorías
Entradas populares
Autor